New settings in iOS 8: Auto-delete texts, camera privacy controls, 'Hey Siri' voice activation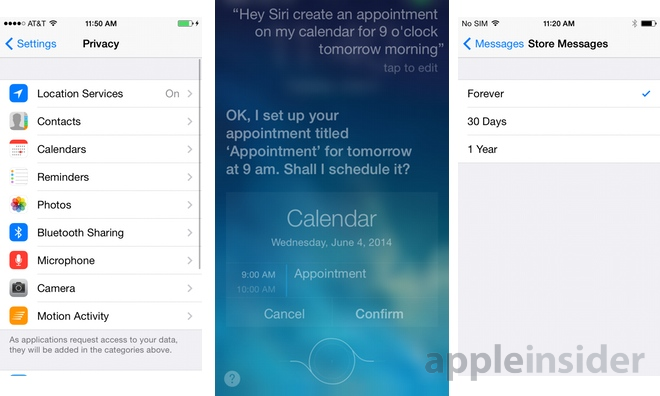 Apple's upcoming iOS 8 update will give users better control over their mobile devices, with new customizable settings that address longstanding issues with old text messages, privacy concerns related to camera access, and the convenience of voice-activated Siri controls.
Store Messages
One new setting that some users will find particularly useful is an option to control how long text messages and picture messages are stored on a device. For heavy texters, a backlog of messages can balloon over time and take up a considerable amount of space not only on an iPhone, but also in the form of iCloud backups.
Apple has addressed this in the first iOS 8 beta by including a "Store Messages" option that can be found in the Messages section of the Settings app. Here, users can choose whether messages are saved forever, for 30 days, or for one year.
As of iOS 8 beta 1, the default setting on "Store Messages" is forever.
Camera privacy controls
Upon booting iOS 8 and launching the native Camera application for the first time, developers testing the software will be met with a new prompt asking if they want to allow the Camera app to access the cameras on their iPhone or iPad.
Strangely, the forward and rear facing cameras on the iPhone and iPad were not previously controlled through the Privacy setting in iOS. That's set to change with iOS 8, as the first beta adds a "Camera" section to the Privacy settings.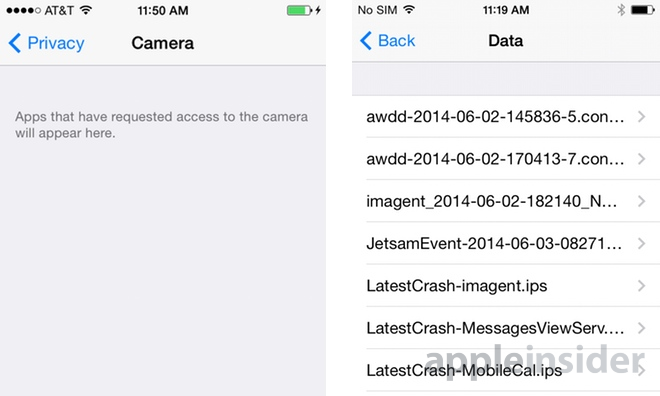 From there, users will be able to control access for third-party apps that have requested the right to tap into their device's cameras. The Camera setting remains alongside previously existing options such as Contacts, Photos, Microphone, and Motion Activity.
Diagnostics and Usage sharing controls are also included in the first beta. Users can turn off sending diagnostics from the Privacy section, and also view specific data that may have been sent to Apple.
"Hey Siri"
With iOS 8, users won't have to have their iPhone or iPad in their hands to invoke Siri. Instead, the device will listen for the voice prompt "Hey Siri" to initiate.
In order to preserve battery life, Apple requires that the device be plugged into power for "Hey Siri" to work. This stands in contrast to Google's Android search function, which responds to the word "Google" and is always on, regardless of power state.

"Hey Siri" can be enabled in iOS 8 beta 1 by opening the Settings app, choosing General, then Siri, and switching on the "Voice Activation" feature.
Voice activation for Siri works as advertised in the first iOS 8 beta. Saying "Hey Siri" at any point while the iPhone is plugged in, even while the screen is locked and dark, will automatically bring up Siri voice controls.
WWDC Attendees: feel free to share your unique experiences and comment on the vibe of this year's conference (but please don't violate your NDA) by mailing us at [email protected], and we'll include them in our coverage this week. And make sure you're always up to date on the latest Apple news by signing up for our newsletter, following us on Twitter, or by downloading the official AppleInsider app for iPhone and iPad.