UK leads North America in iOS 7 adoption as iPhone distribution nears 90%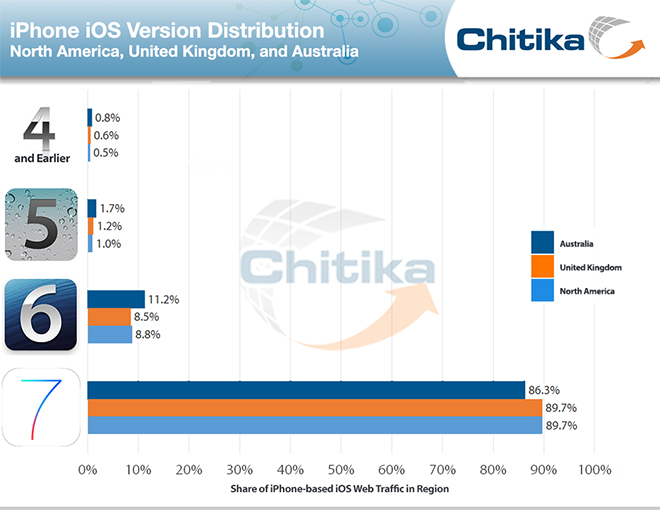 According to a recent study conducted by ad network Chitika, iOS device owners in the UK lead both North America and Australia in adoption of the company's latest iOS 7, with iPhone version distribution nearing 90 percent of surveyed users.
In a follow-up to an earlier report on North American iOS 7 distribution, Chitika's research arm Chitika Insights examined Web traffic generated by iOS devices in the UK and Australia, highlighting key similarities and differences between the three smartphone and tablet saturated regions.
Chitika found in a prior report limited to North America that iOS 7 users generated 89.7 percent of iPhone Web traffic on its network, while iPads running the latest iOS version represented 84.8 percent.
Adding to those numbers, the firm took measurements from millions of UK and Australia iOS online ad impressions generated from May 22 through May 28, dates that correspond with the data from the Americas.
Looking at iPhone distribution, the UK's adoption of iOS 7 was exactly the same as North America's metrics during the week-long period. Australia trailed with an 86.2 percent adoption rate. Chitika guesses the higher share of Australian iPhones running previous iOS versions may be due to the integration of Apple Maps, which has suffered a rash of negative press for country-specific inaccuracies since launching in 2012.
As for the iPad, iOS 7 adoption from UK users came in at 87 percent, more than two points higher than the Americas. Australia trailed with an 83.3 percent distribution rate, again possibly due to the Maps situation.
Interestingly, North American iPad owners led the pack in users still using iOS 5 or iOS 4 and below. One explanation for the metric may be early U.S. availability of the original iPad, which shipped one month ahead of the UK and Australia. Since the first-gen iPad can't run iOS 6 or 7, a greater percentage of U.S. users are limited to older versions of the mobile OS.
As Apple continues its annual OS refresh cycle, a growing number of iPhone and iPad owners will be unable to upgrade to the latest iOS version. Compared to fragmentation experience with Google's Android operating system, however, Apple's situation is not nearly as dire thanks to the company's comprehensive vertical integration.