Apple makes new low-end 1.4GHz iMac official with $1,099 starting price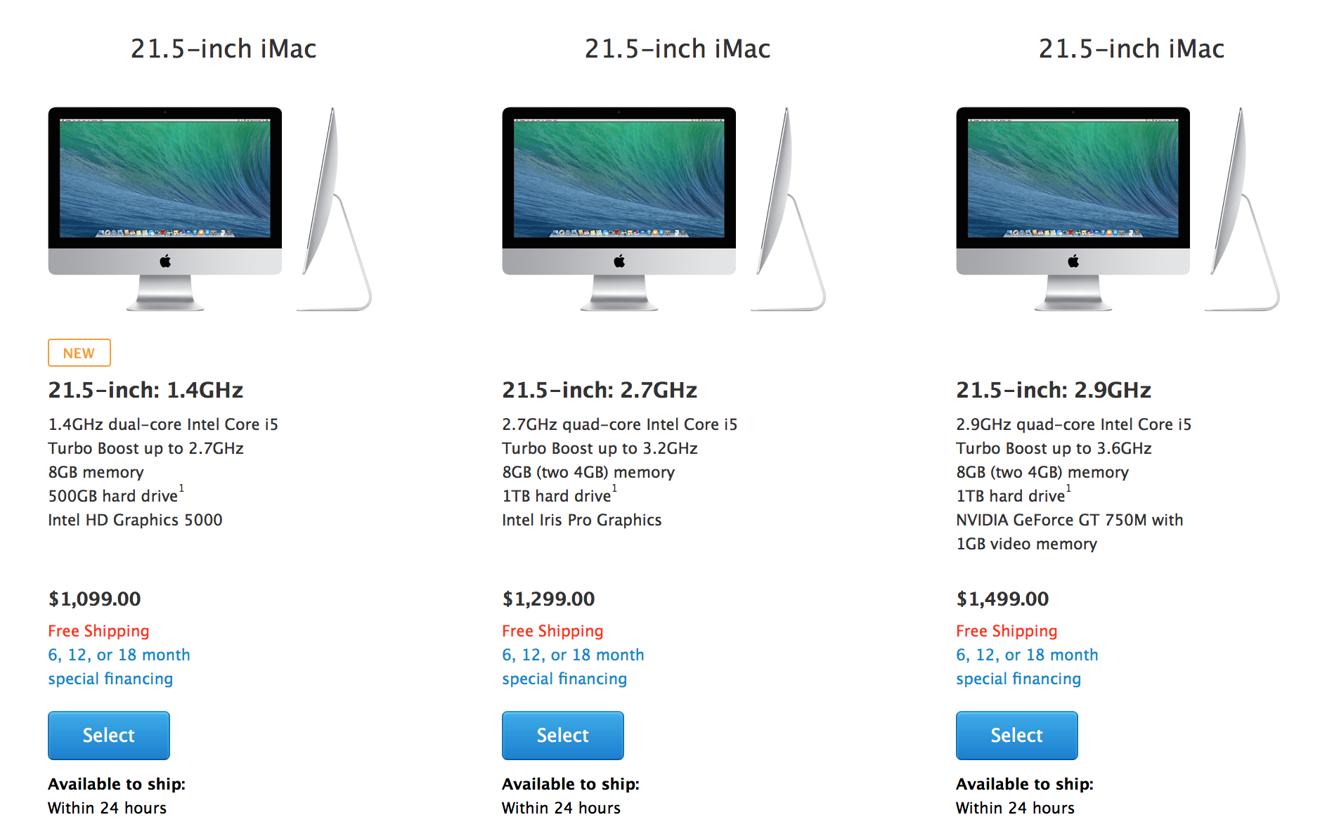 Apple on Wednesday formally launched its anticipated new low-end 21.5-inch iMac with a lower entry price of $1,099, boasting a 1.4-gigahertz dual-core Intel Core i5 CPU, a 500-gigabyte hard drive, and 8 gigabytes of RAM.
The new machine comes in a full $200 cheaper than the 21.5-inch 2.7-gigahertz model, which served as the previous low-end model. That faster model, along with Apple's other all-in-one desktop configurations, remains unchanged.
For $200 savings, users will downgrade from a faster quad-core chip to a dual-core CPU. RAM stays the same, but hard drive space is cut in half from 1-terabyte on the $1,299 model. Graphics are also downgraded from Intel's Iris Pro integrated solution to Intel HD Graphics 5000.
The new model can be upgraded with a 1-terabyte Serial ATA drive for an additional $50, a 1-terabyte Fusion Drive for $250, or a 256-gigabyte flash drive for $250. The 1.4-gigahertz processor and the 8 gigabytes of RAM cannot be upgraded.
Despite the new lower pricing, authorized Apple resellers are already offering a much better deal on the the more well equipped 2.7-gigahertz Core i5 model, boasting a 1-terabyte hard drive and dedicated Nvidia GeForce GT 640M graphics. As can be seen in the AppleInsider Price Guides, that configuration can be purchased for just $999 after a $70 mail-in-rebate (PDF) through MacMall, making it a much more powerful computer at $100 less, and tax-free in 41 states.
Apple issued a press release Wednesday morning touting the machine as "the perfect entry-level Mac desktop." Sporting the same thin design as all other current iMacs, it features 802.11ac Wi-Fi, two Thunderbolt ports, and four USB 3.0 ports. It also comes with iLife — featuring GarageBand, iPhoto and iMovie — as well as the iWork suite of Pages, Numbers and Keynote.
The new 21.5-inch iMac also comes with OS X Mavericks, and can be upgraded for free later this year to OS X Yosemite. In addition to being available through Apple's online store, it will also be available at Apple retail stores and authorized resellers.
The last time Apple offered a $1,099 iMac was in early 2013, but that model was only available for sale to educational institutions. Apple hit that price point with a dual-core 3.3-gigahertz Intel Core i3 processor and Intel HD Graphics 4000.