Samsung & Quinn Emmanuel ordered to pay Apple, Nokia over $2M for leaking secrets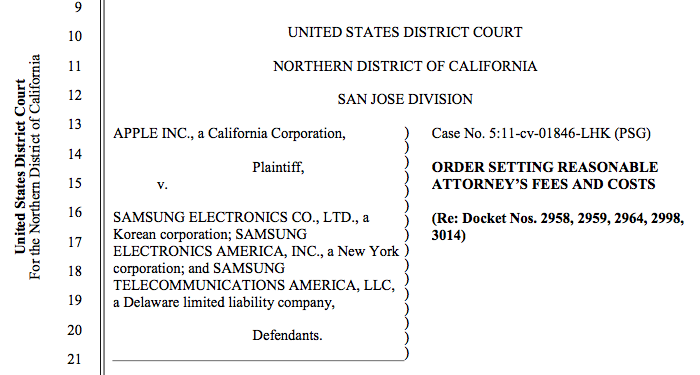 AppleInsider is supported by its audience and may earn commission as an Amazon Associate and affiliate partner on qualifying purchases. These affiliate partnerships do not influence our editorial content.
Samsung and its Quinn Emmanuel attorneys have been ordered to pay over $2 million in legal fees to Apple and Nokia related to the leaking of their confidential patent licensing agreement.Â
The leak, dubbed "Patent Gate," was first revealed when Samsung's Dr. Seungho Ahn told Nokia's Chief Intellectual Property Officer Paul Melin during negotiations last summer that he knew the confidential terms of the earlier licensing agreement reached between Nokia and Apple.Â
Dr. Ahn reportedly claimed to have access to the terms of the settlement, "because all information leaks," but the court noted also that Samsung's representative "recited the terms and indicated that his lawyers had told him what they were."
An investigation into the matter indicated that the leak occurred because Samsung's Quinn Emmanuel lawyers failed to respect the confidentiality of the documents Apple was required to provide "for attorneys' eyes only" during the discovery phase of the iPhone patent infringement trial.
The documents were shared with Samsung by Quinn Emmanuel and then casually passed around internally within Samsung, even to the point of being openly used as a bargaining tool against Nokia in subsequent patent negotiations. Quinn Emmanuel didn't inform Apple of the breach until months later, and Apple subsequently asked the court to sanction both Samsung and its attorneys as a public shaming for their behavior.
Quinn Emmanuel was sanctioned by the court in a ruling that initially did not appear to also address Samsung as bearing direct responsibility in the matter.
However, as noted in a ruling by U.S. District Court Judge Paul S Grewal this week, "after reviewing the materials unearthed by discovery, the court granted Apple's motion for sanctions against Samsung and its counsel on two grounds: (1) failure to institute sufficient safeguards for third-party confidential information and (2) failure to comply with the notice and cooperation requirements set forth in Section 18(a) of the protective order entered in this case. The court ordered QE to reimburse Apple and Nokia any and all costs and fees incurred in litigating this motion and the discovery associated with it."
Quinn Emmanuel fails to convince the court it shouldn't have to pay
Apple and Nokia claimed extensive legal fees related to their investigation of the issue, resulting in figures that were twice reduced under numerous objections asserted by Quinn Emmanuel.
Samsung's attorneys urged the court to "substantially reduce Apple's and Nokia's fee requests" in part because it was found that "Apple itself mistakenly failed to redact the terms of its license with Nokia from a document filed on the public docket in October," four months after Samsung announced to Nokia that it had the information. The court rejected this logic.
A second objection by Quinn Emmanuel argued that the investigation was "unnecessary work" with "limited success," claims that the judge ruled were "simply incorrect," noting that "The court's eventual order noted specifically that Samsung and QE's 'willful failure to institute sufficient safeguards for the information warrants sanctions when considered in light of the vast distribution of confidential information that occurred because such protections were not in place.'"
Quinn Emmanuel also argued "that the court should reduce the fees and costs requested because the billing records submitted are insufficiently detailed to allow anyone to evaluate their reasonableness," a third line of logic largely overruled by the court outside of a series of "limited exceptions" detailed in the order.
Judge Grewal completed a final review of the legal fees and has now ruled that Samsung and its attorneys must pay the amount claimed by Apple and Nokia within 30 days.Â
"No later than 30 days from this order, Samsung and QE are to pay Nokia a total of $1,145,027.95 and Apple a total of $893,825.77 in fees and costs," the judge wrote in his order.Â