Apple's gross margins likely to decline this fall with new product designs, but quick rebound expected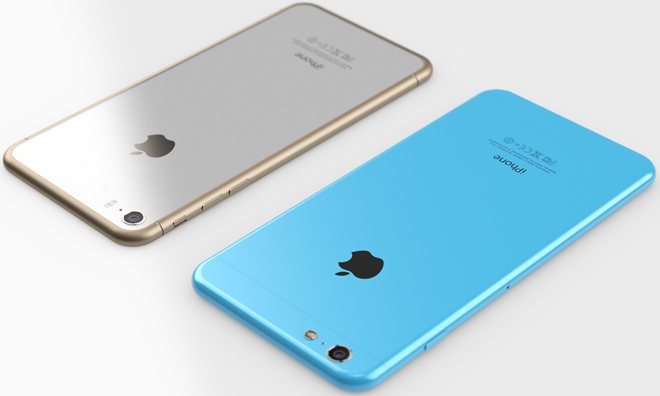 AppleInsider may earn an affiliate commission on purchases made through links on our site.
It's expected that Apple will see its gross margins shrink at the end of 2014 as the company is expected to introduce a completely redesigned "iPhone 6," though one analyst sees margins trending upwards once again by the March 2015 quarter.
Gene Munster of Piper Jaffray issued a note to investors this week, a copy of which was provided to AppleInsider, in which he said it's likely that Apple's margins will in fact see a quarter-over-quarter decline in the three-month period to end 2014. He believes this will be driven by the "iPhone 6," which is anticipated to have a new design that would negatively affect the company's margins at launch.
The last time Apple introduced a revamped iPhone model came in 2012, when the iPhone 5 debuted. Looking back at late 2012 heading into 2013, Munster believes the same trend will continue, but that margins will immediately begin to improve by early 2015.
Apple's own guidance for the current September quarter calls for margins between 37 and 38 percent, which would be a decline of 190 basis points quarter over quarter from June. In comparison, for the iPhone 5 launch in 2012, Apple saw its margins decline by an even greater 280 basis points sequentially.
But 2012 also saw the launch of the iPad mini, a product that Munster believes further reduced Apple's margins. It debuted in the December 2012 quarter, when margins slid by another 140 basis points sequentially. Margins fell again in the March 2013 quarter by 110 basis points, which he also said was likely a result of the iPad mini.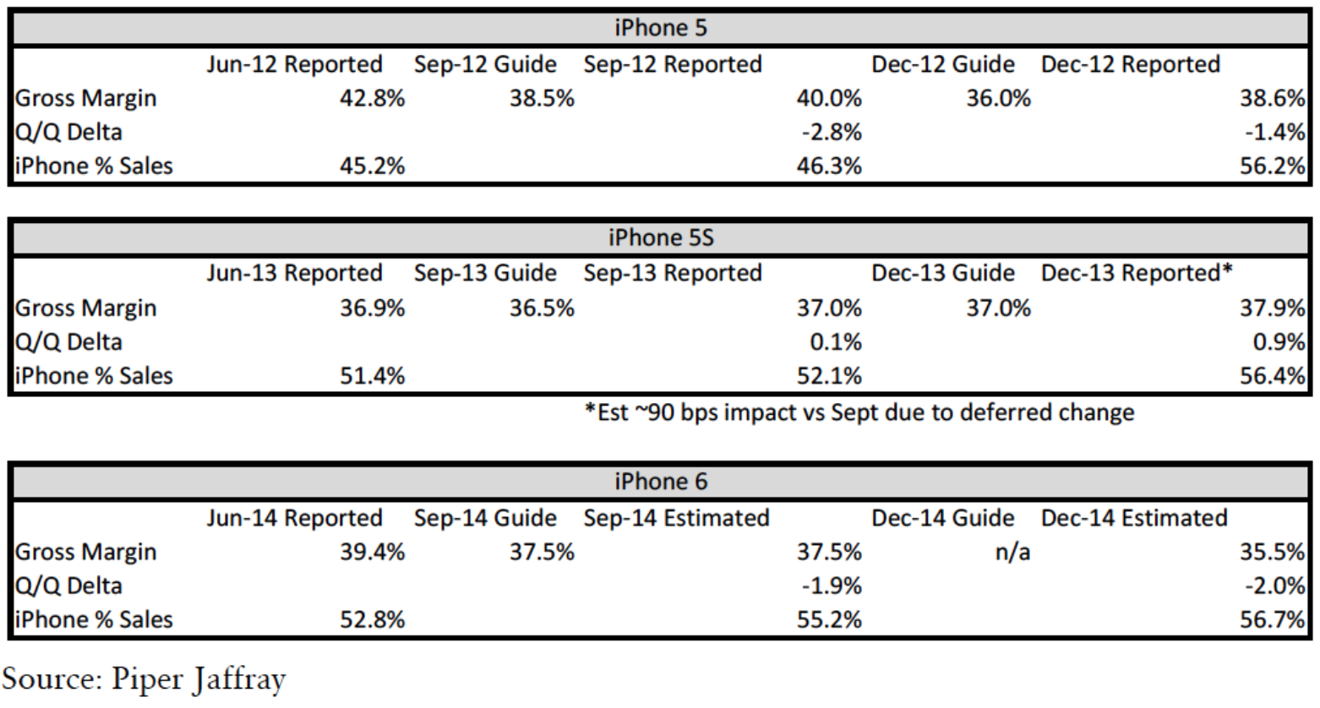 Because of those historical trends, key differences from 2012 product introductions, and Apple's ability to quickly improve margins following new product launches, Munster isn't concerned about any short-term fluctuations. He noted that iPhone margins remain above other Apple product categories, and higher overall sales would offset total impact to gross margins.
For his "base scenario" forecast, Munster sees margins dropping 200 basis points sequentially in the December quarter. He sees the company selling 54.5 million iPhones in the three-month period, which would be 7 percent year over year growth.
And headed into the March 2015 quarter, Munster doesn't believe that new iPads or even the mythical "iWatch" will hurt margins as much as the first iPad mini did. As a result, he sees Apple increasing its gross margins from 35.5 percent in the December quarter to 36 percent in the March 2015 period.
Piper Jaffray has maintained its "overweight" rating for AAPL stock, with a price target of $105 per share.