Rumor: Apple to redesign U.S. charging adapter for 'iPhone 6'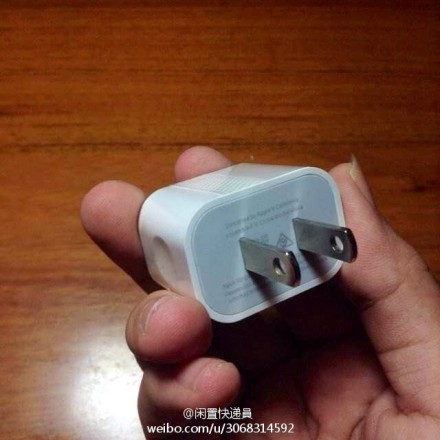 An unsourced photo that surfaced Saturday from Asia indicates that Apple may be planning to redesign the iPhone charging adapter — at least in the U.S. — alongside the release of its next-generation handset, which is expected to sport a larger battery that may include increased charging requirements.
The part depicted in the photograph, which appeared on Chinese microblogging site Sina Weibo, bears the same physical design as Apple's current charging adapter in Australia. It is slightly wider than the current U.S. model, with notches on either side to allow a more solid grip when plugging and unplugging.
There is no word on why Apple would make such a move, though it is possible that the company plans to increase the charger's capacity above its current five watts. The so-called "iPhone 6" is rumored to ship with a battery some 46 percent larger than the battery in the iPhone 5s.
Also shown is a new Lightning charging cable with a reversible, USB Type-A plug at one end. A number of similar items have shown up in recent days — and the company has been seen expressing interest in reversible designs — though this design would not be compliant with official USB specifications.
Apple is expected to unveil the iPhone 6 at a media event on Sept. 9, with availability likely to begin on Sept. 19.