Apple rolls out TestFlight beta testing app, reportedly preps iOS 8.0.1 for carriers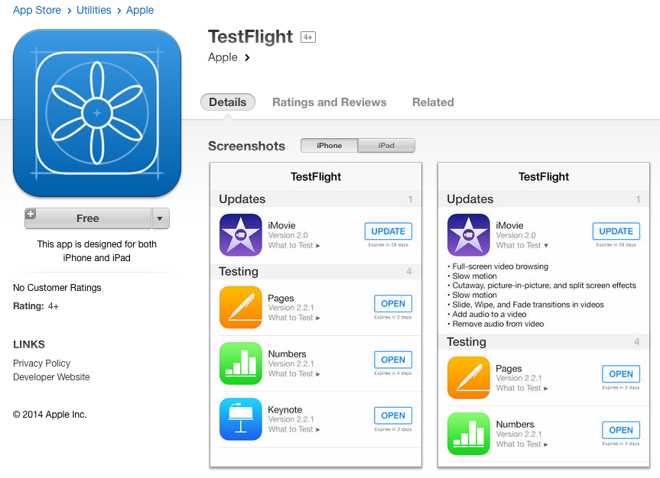 AppleInsider may earn an affiliate commission on purchases made through links on our site.
In advance of next week's iPhone 6 unveiling, Apple on Friday released a consumer-facing app for the TestFlight beta service that will come online alongside iOS 8, and is also said to have begun preparations to seed carrier partners with beta builds of iOS 8.0.1.
TestFlight, which Apple acquired alongside parent company Burstly in February, is a platform that allows developers to easily create and manage public app beta programs. Developers will be able to add beta testers using only their email address, and beta versions can be managed within the TestFlight app itself without the cumbersome provisioning processes used today.
Beta testers will be notified as new app versions are released and can perform in-place upgrades. Developers can also deploy multiple builds of their app simultaneously.
TestFlight is available now as a free, 2.4-megabyte download from the App Store.
Meanwhile, the Cupertino company is believed to be preparing to seed iOS 8's first maintenance update to carrier partners, identified as iOS 8.0.1, according to BGR, even before iOS 8 has been released to consumers. Carriers are one of the first to receive beta builds, as they must be tested for network compatibility.
If Apple follows its usual release pattern, the golden master of iOS 8 will be provided to developers after next Tuesday's keynote presentation, and the operating system update would become available to the public the following Wednesday, Sept. 17.