Amazon slashes subsidized price on Fire Phone to 99 cents ahead of Apple's 'iPhone 6' unveiling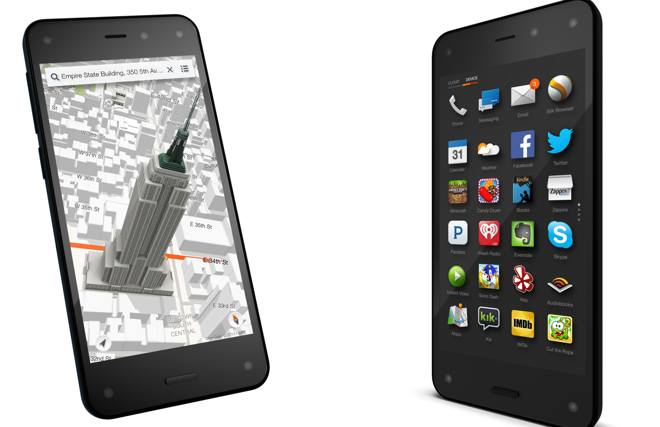 AppleInsider may earn an affiliate commission on purchases made through links on our site.
With hours to go before Apple is expected to unveil its next-generation iPhone, Amazon slashed the price on its first foray into the smartphone market, the Fire Phone, to just 99 cents with a new two-year service contract.
The Fire Phone sale comes just a month and a half after the handset first shipped to consumers, sporting a 4.7-inch display with an array of cameras for 3D head tracking. Previously, the 4G LTE Amazon Fire Phone was priced at $199 with a two-year service contract, matching the entry price of Apple's flagship iPhone 5s but offering twice the storage at 32 gigabytes.
Amazon famously does not reveal sales figures for its hardware, including the Fire Phone, Kindle Fire, or Kindle e-readers. But data tracked by research firm Chitika in August found the Fire Phone accounting for about 0.015 percent of all U.S. and Canadian smartphone traffic.
Those figures, coupled with the swift discount on the Fire Phone, could suggest that Amazon's first stab at the smartphone market hasn't sold quite as well as the online retailer hoped it would.
The price cut also comes just as Apple is expected to announce its own next-generation handset, known informally as the "iPhone 6." Apple is set to hold a keynote presentation Tuesday in Cupertino, Calif., where it's widely expected to show off its redesigned new iPhone in two new screen sizes of 4.7 and 5.5 inches.
The Fire Phone represents Amazon's latest attempt to compete with Apple in the hardware market, attempting to tie customers into its stores and ecosystem of services with tightly integrated software and devices. The company also competes with Apple's iPad with a range of Kindle Fire devices.
The Fire Phone and Kindle Fire all utilize Amazon's low-margin, high-volume strategy. Some have speculated that some of its devices actually lose Amazon money, in hopes that they will be able to sell customers in to services like Prime, as well as content sales for books, movies and music.