Apple issues iOS 8.0.2 with fixes for iOS 8.0.1 cellular and Touch ID bugs [u]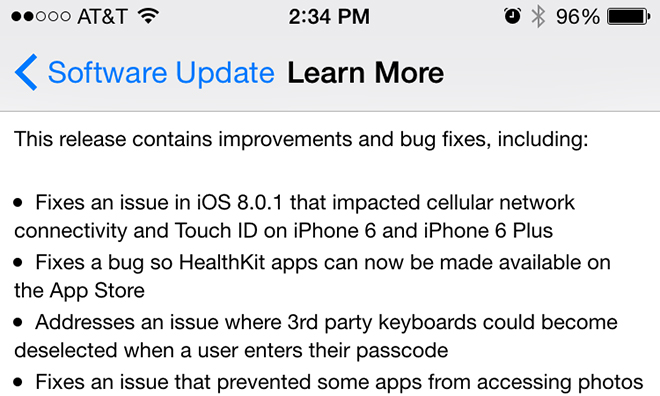 AppleInsider may earn an affiliate commission on purchases made through links on our site.
One day following the botched iOS 8.0.1 update release, Apple on Thursday issued iOS 8.0.2, essentially a fix for the prior fix targeting issues with the HealthKit framework for connected wellness apps and devices.
On Wednesday, Apple released iOS 8.0.1 to address problems with the iOS 8 rollout last week, but the software came with a bug that disabled cellular connectivity and Touch ID drivers for many iPhone 6 and 6 Plus users.
Less than an hour after launch, Apple was forced to pull the over-the-air update, later promising a patch would hit servers within "a few days." A Support Pages document also outlined a downgrade process to get iPhone 6 and 6 Plus users back to stock firmware.
As of this writing, iOS 8.0.2 is currently rolling out and has yet to reach all areas.
Update: According to CNBC, Apple said the iOS 8.0.1 bug affected less than 40,000 iPhone 6 handsets.