Despite faster A8, higher pixel count of iPhone 6 Plus drives lower FPS benchmarks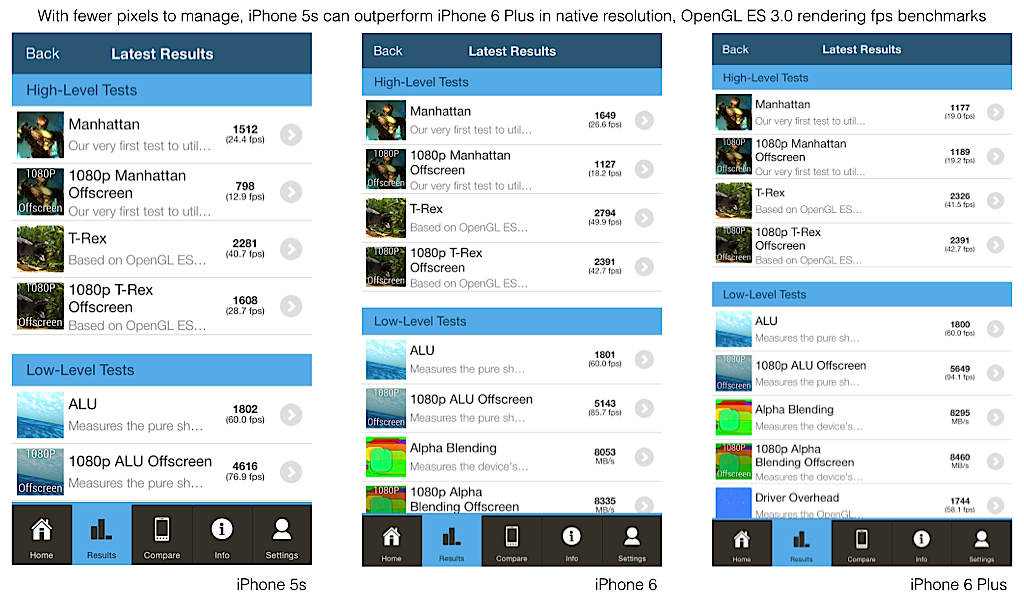 With 2.1 million pixels, the Retina HD resolution of iPhone 6 Plus demands a lot more GPU performance than either iPhone 6 or iPhone 5s to render 2D and 3D graphics at its native resolution, resulting in benchmarks with— in some cases— lower frames per second rendering results in native resolution GPU tests.
The original GFXBench 3.0 GPU benchmarks AppleInsider published in our initial reviews of iPhone 6 and iPhone 6 Plus showed moderate to significant GPU improvements over iPhone 5s across the board.
However, one of the benchmark's developers, Eszter Szilva, contacted us to report that the current, public version of the app did not yet support the native resolutions of the new models' displays. Kishonti provided a prerelease GFXBench version 3.0.2 that does. The benchmark app should be released publicly soon, but the developer shared a prerelease copy so we could update our benchmark scores.
More horsepower, but far more pixels to push
The adjusted benchmarks show that the A8 Application Processor used in iPhone 6 and iPhone 6 Plus is around 24 to 46 percent faster at low level tasks, and around 50 percent faster at higher level OpenGL ES scene rendering than the A7 chip introduced in last year's iPhone 5s, at least when rendering at the same 1080p resolution.
Apple's design of the A8 uses a four core Imagination Series 6XT GPU: reportedly the GX6450. The A7 introduced the same Series 6XT "Rogue" GPU family, but used a less capable GX6430 GPU. The A8 is also clocked slightly faster than last year's A7: 1.4 GHz versus 1.3 GHz. Both the A7 and A8 are much faster than the earlier 32-bit A6 used in the original iPhone 5 (over twice as fast).
While faster overall than the A7 iPhone 5s, the new iPhone 6 models are tasked with a more difficult job because they push significantly more pixels. While iPhone 5s has 0.7M pixels in its display, iPhone 6 has 1M and iPhone 6 Plus has over 2M.
Additionally, the 6 Plus actually renders graphics internally at an even higher 2.7M pixel resolution, then scales the results down to the physical resolution of its screen (its internal 2208x1242 rendering resolution is scaled down to fit its 1920x1080 display).With so many more pixels to push, the new phone can't always beat the "frames per second" performance of iPhone 5s at its native resolution
The engineering choices behind how iPhone 6 Plus draws its screen should make it easier for Apple and its third party app developers to evenly scale up existing titles or create custom, higher resolution artwork that looks great on the larger screen. It also appears to make it easier for Apple to release higher resolution iPhones in the future that use the same 2.7M pixel rendering without any scaling, so apps created today for the 6 Plus will look great automatically in the future.
The downside is that iPhone 6 Plus has to render more pixels than it actually has, and it already has nearly three times as many as last year's iPhone 5s. With so many more pixels to push, the new phone can't always beat the "frames per second" performance of iPhone 5s at its native resolution.
Adjusted native resolution benchmarks
Specifically, in "on-screen" native resolution tests using the OpenGL ES 3.0 API, iPhone 6 Plus delivered a score 22 percent lower than last year's iPhone 5s, rendering the "Manhattan" test scene at 19 fps (at its 1920x1080 display resolution; Apple's documentation clarifies that both OpenGL and Metal APIs can render directly to the resolution of the display without any intermediary scaling), compared to the 24.4fps (albeit at a much lower 1136x640 resolution) achieved by iPhone 5s. iPhone 6 rendered the same scene at 26.6 fps (at its native 1334x750 resolution), delivering a score 9 percent higher than the 5s.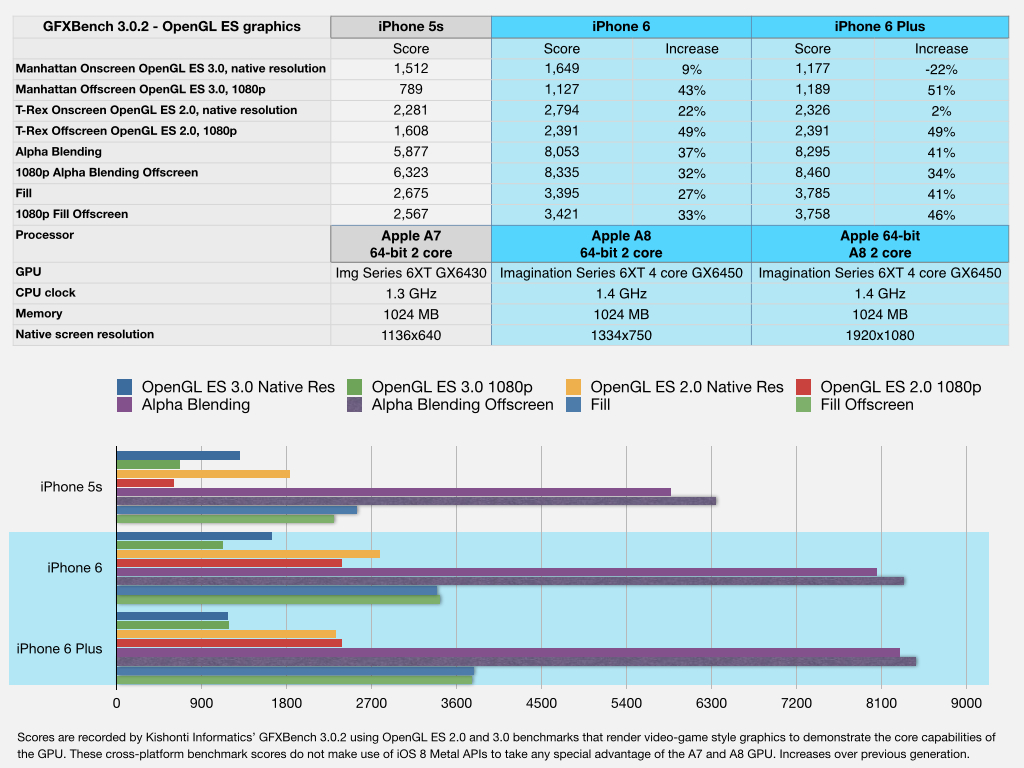 This means games using the newer OpenGL ES 3.0 API may render the same scene more smoothly, albeit in less detail, on both iPhone 5s or iPhone 6 than on the larger and more pixel dense display of iPhone 6 Plus (if they render their graphics at the native resolution of the new displays; most existing games currently do not).
Any existing games that don't render graphics to the devices' native resolutions but instead just present the same graphics blown up to fit the larger display of the two new models should run faster and more smoothly than they can on iPhone 5s.
Of course, the GPU benchmarks only emulate the rendering of a canned scene; in an actual video game, the graphics would be rendered alongside other calculations typically performed by the CPU, such as physics and game AI. The A8's CPU is around 20 percent faster at both integer and floating point calculations on both new models compared to the A7 used in iPhone 5s.
Apple has also noted that the newer A8 chip is far more power efficient and designed to achieve maximum performance for longer periods of sustained use than last year's A7. That should help both new models achieve better gameplay with less battery consumption, despite their higher resolutions.
Benchmark tests based on the earlier (and less sophisticated) OpenGL ES 2.0 API render slightly faster on the 6 Plus (41.5fps) than iPhone 5s (40.7fps), delivering a score with a 2 percent improvement. However, the 6 Plus was still beaten by iPhone 6 (49.9fps) given that its 4.7 inch screen has less than half of the pixels to render onscreen compared to the 5.5 inch 6 Plus. iPhone 6 turned in a score 22 percent higher than iPhone 5s.
In GFXBench's "offscreen" tests (which render the same scene at 1080p resolution regardless of the device they are run on), iPhone 6 rendered OpenGL ES 3.0 tests 43 percent faster than iPhone 5s, while the 6 Plus was 51 percent faster. In the simpler OpenGL ES 2.0 tests, both iPhone 6 and 6 Plus rendered the test scene 49 percent faster than iPhone 5s. Both also turned in alpha blending and fill scores that were 32-46 percent faster.
Pedal to the Metal
One feature GFXBench is currently unable to benchmark is how much faster games can perform when using Apple's new Metal API, announced this summer at WWDC. Using Metal, developers can bypass OpenGL ES entirely, achieving massive increases in graphics performance on the same hardware.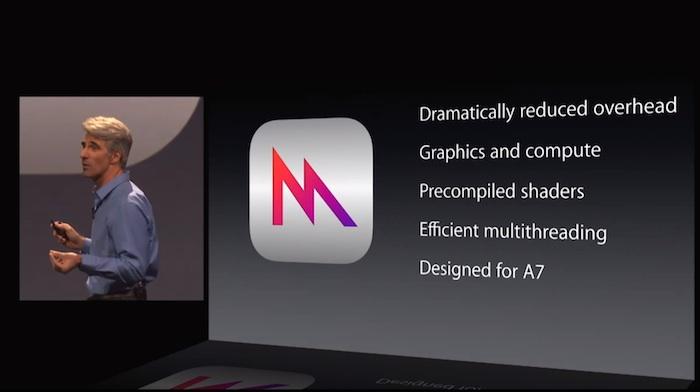 Apple developed Metal to specifically achieve performance gains on the A7 and A8, and the first games to make use of the new technology are just now arriving alongside the release of iOS 8. Apple is currently featuring a half dozen free and paid titles that already use Metal.
Using Metal, games and other graphics-intensive apps can fully exploit the GPU, and can also take advantage of the integrated memory architecture between the Application Processors' CPU and CPU cores. This allows Metal to coordinate the CPU's feeding of the GPU with instructions without needing to constantly pass data back and forth between a central system cache and a dedicated graphics cache.
Kishonti said it is currently working to add Metal API support to its GFX Bench tool, to enable users to see how much faster Metal-enhanced games and apps can run on their hardware compared to existing, cross platform OpenGL ES APIs.