Purported next-gen iPad Air logic board shows 2GB of RAM, A8X chip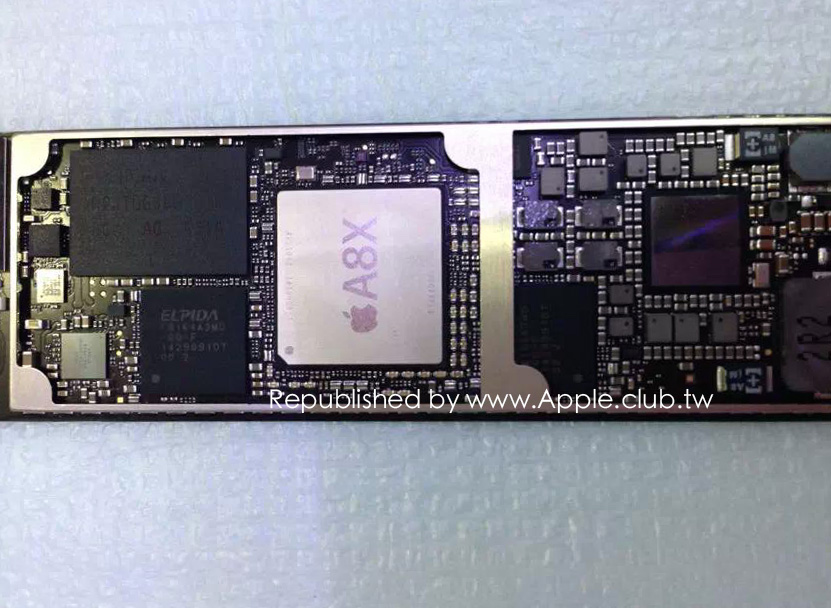 With new iPad Air and iPad mini models expected to be introduced on Thursday, a newly leaked logic board claimed to be from a 2014 iPad Air purports to show an A8X processor, as well as an Elpida RAM module with 2 gigabytes of memory.
The alleged iPad Air board was discovered on Monday by Apple.club.tw, which took a closer look at the Elpida RAM module. The numbers on the chip suggest that it hosts 2 gigabytes of RAM, which would be double that of previous generation models.
The iPhone 6 and iPhone 6 Plus both have one gigabyte of RAM, as did iPhone models before them dating back to the iPhone 5.
Also of note is the chip, identified as "A8X." The A8 processor was introduced with the iPhone 6 and iPhone 6 Plus, but the labeling on the alleged iPad Air logic board would suggest that the new iPads could receive beefed-up versions of the A8 CPU.
Last year, the iPhone 5s, iPad Air and iPad mini with Retina display all ran the same A7 processor, though clocked at different speeds. The last time Apple used an 'X' signifier on one of its custom processors came in late 2012 inside a fourth-generation full-size iPad, boasting a 30 percent larger chip and faster graphics than the A6 chip that was in the iPhone 5.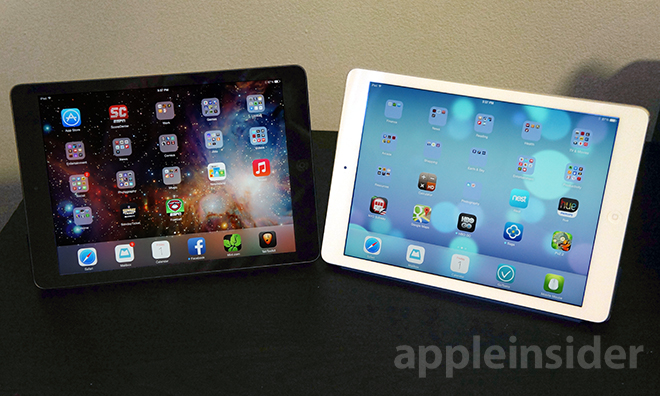 Separately, Macotakara reported on Monday that Apple is also set to introduce a third-generation iPad mini with high-resolution Retina display this week. The debut of a new iPad mini would not be surprising, given that the first two models were both introduced in October, but some recent reports had suggested that it may not launch until 2015.
It's expected that both the new iPad mini and a next-generation iPad Air will feature Touch ID fingerprint sensing home buttons.
Monday's report claimed that the side buttons on the new iPads will be slightly modified. It's expected that new recessed buttons will be featured on the next-generation models.
Finally, the report also vaguely indicated that Apple's lineup of magnetic Smart Covers and Smart Cases will be "slightly changed," but didn't offer any further details.