Aaron Sorkin reveals details of Steve Jobs biopic, says he helped 'fix typos' in famous Stanford commencement speech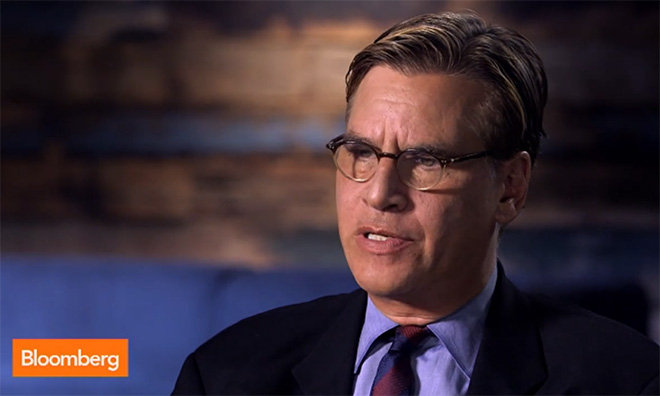 AppleInsider is supported by its audience and may earn commission as an Amazon Associate and affiliate partner on qualifying purchases. These affiliate partnerships do not influence our editorial content.
In a Bloomberg Televesion interview with host Emily Chang, Academy Award winning screenwriter Aaron Sorkin revealed a few plot details on the upcoming Steve Jobs biopic, which is slowly making its way toward production.
Sorkin said saying the Apple cofounder's story is so rich that it could yield ten more movies, each one as interesting as the next.
As for the movie's storyline, Sorkin said Jobs will interact with seven other characters, including cofounder Steve Wozniak, former CEO John Sculley and Joanna Hoffman, Apple's original head of Mac marketing.
"In in this movie Jobs has conflicts with all of them that get dramatized and worked out in a very compressed, very claustrophobic environment," Sorkin said.
The acclaimed screenwriter said the pressure to write Jobs' story for the big screen only adds "a little bit of sauce on top," because the tech guru was such a polarizing figure. Sorkin himself spoke with Jobs three times.
The first conversation was to thank Sorkin for saying that he only writes on Macs, which subsequently resulted in Jobs sending out a pre-release MacBook for testing. The second call came as an invitation to visit Pixar's campus to pitch a movie idea, and a third was to ask for help in writing Jobs' memorable Stanford commencement speech.
"Honestly, I fixed a couple of typos in the speech," Sorkin said. "I don't want to suggest for a moment that any of those thoughts were my thoughts. That is the brain of Steve Jobs. And helped him put the music to it."
So far, a number of big-name directors and actors have been attached to the project, though many have ultimately dropped out. Most recently, Christian Bale was in talks to play Jobs, but passed on the role, saying he wasn't right for the part.
The full version of Sorkin's interview is set to air as part of Bloomberg's Studio 1.0 tonight at 8:30 p.m. Eastern/5:30 p.m. Pacific.