Review: Pioneer's AppRadio 4 with built-in support for Apple CarPlay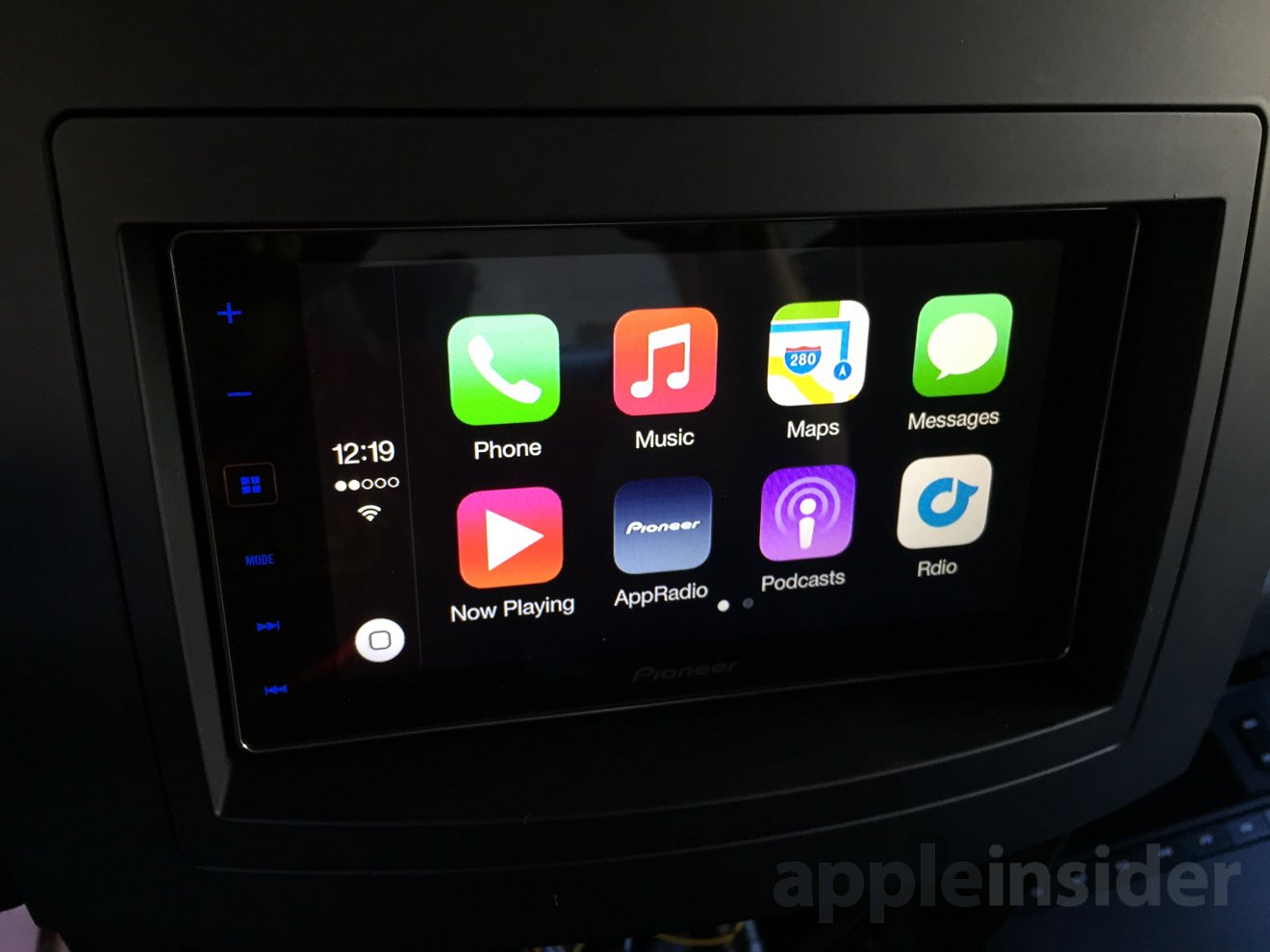 Pioneer was the first to market with third-party CarPlay-compatible systems, and AppleInsider has put its new AppRadio 4 model to the test, to see how it — and Apple's new vehicle-based infotainment system — measure up.
For our review, Pioneer provided AppleInsider with the AppRadio 4 head unit, which we installed in our Cadillac CTS. It was a fairly easy installation to perform, provided you use the appropriate third-party wiring harnesses, like those from PAC-Audio. We'll be covering a PAC-Audio product that we used in installation soon.
The reasons we use third-party products are that we need to adapt the wiring harness from the Pioneer provided pigtails to the factory radio connectors. If the factory unit is a Bose system, there's a Bose amplifier somewhere in the trunk (usually), and it's best to make all these signals match up. If your car doesn't have the amplifier, it's still easier, just to have the cleanest installation.
Another word on installation: Touchscreen systems like this that can play video have safety lockout features associated with the parking brake. Make sure you connect the parking brake wire properly. In Pioneer's case, they want to be very sure that it's connected, so they require a double-pulse on the brake before enabling all the features.
Installation went smoothly, and we connected all the provided cables to the headunit:
microphone for handsfree calling
GPS antenna
Aux cable
USB extension cable
Lightning cable
HDMI cable
PAC-Audio OS-2C-cTS audio interface
PAC-Audio steering wheel controls
Pioneer microphone (used for automatic EQ adjustment)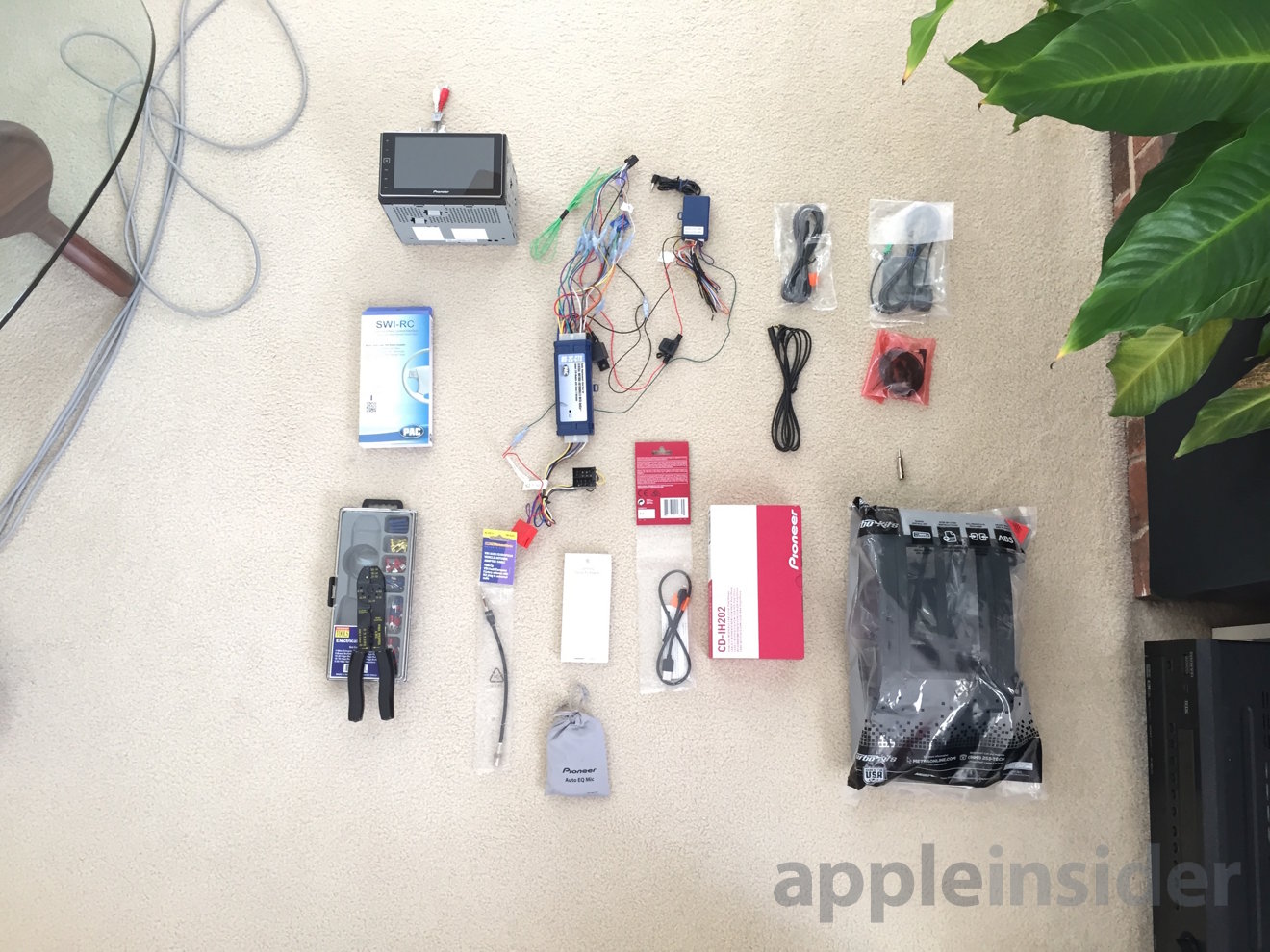 Note: The Pioneer AppRadio has a rearview camera input as well as a connection to the gear lever of your car to detect when you're in reverse gear and switch to the camera input. We do not have a rearview camera and were not able to test this feature.
The Pioneer AppRadio allows for a rear seat display to be connected to show video content to the rear passengers. We do not have video monitors in the front seat headrests, and were not able to test this feature.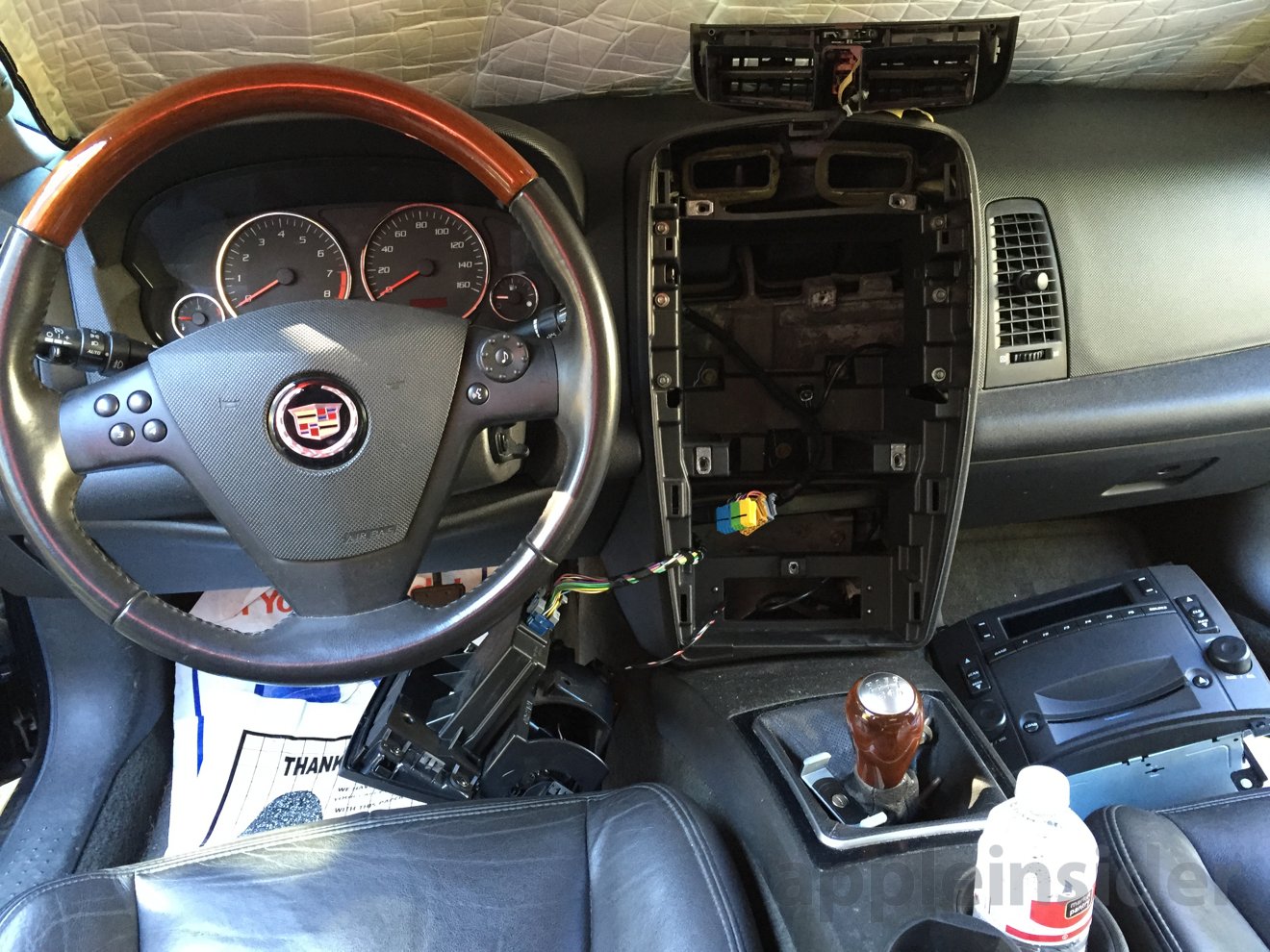 CarPlay works with iPhone only, not iPad or other iOS devices.
When using a navigation application, the application should use both the phone's GPS antenna and the AppRadio 4's GPS antenna. One augments the other.
When using handsfree, the AppRadio mic is the primary mic. The phone's mic appears to be either turned off, or used as a second mic for noise cancellation.
When using CarPlay, Bluetooth is turned off at the AppRadio. All call audio is routed over the Lightning cable connection.
Bluetooth call audio uses the Wideband Speech Profile, which delivers better call quality.
Bluetooth audio uses uses AVRCP 1.4, for data viewing/searching and control all without being tethered.
AppRadio
The AppRadio naming conventions are confusing. AppRadio applies to the hardware device, the non-CarPlay interface, and a series of AppRadio phone applications that can work in conjunction with the headunit as the phone's external display. Pioneer uses the term AppRadio for all three of these behaviors, and even uses the same icons for the non-CarPlay mode as for the apps.
Allow us to illustrate occasions when this was confusing:
In CarPlay, there's an icon for Pioneer, labeled "AppRadio." Tapping this doesn't let you launch AppRadio apps, it takes you to the non-CarPlay Pioneer interface. Pioneer told me it was labeled like this because the device is named AppRadio.
The Smartphone Setup screen requires you to select whether you're using an iPhone or Android phone, and whether you connect via USB, Digital AV connector, or BT Wireless. If you select iPhone, USB, the CarPlay icon is enabled, and so is the AppRadio icon. If you select Digital AV Connector, CarPlay is disabled, but AppRadio remains enabled. This is confusing, because AppRadio apps do not work over USB alone: they only work when CarPlay is disabled and the Digital AV Connector and Lightning and HDMI are in use. Pioneer is using the AppRadio icon alongside CarPlay to mean the Pioneer non-CarPlay interface, and when CarPlay is disabled, to mean the AppRadio apps interface. This is seriously messy, since you get to choose one method only. Choosing to switch methods means choosing to disable one path, and then redo the cabling to include HDMI and the Digital AV adapter.
We tested both the CarPlay functionality of the Pioneer unit and the AppRadio apps functionality of the unit.
CarPlay was simple to set up. We connected the Lightning cable to USB port 1 on the back of the AppRadio. When we connected the iPhone, CarPlay launched automatically. A CarPlay icon briefly appeared on our iPhone.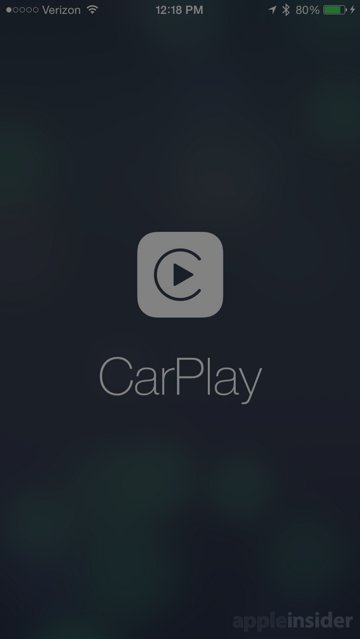 CarPlay on the AppRadio includes ten icons:
Phone
Music
Maps
Messages
Now Playing
AppRadio
Overcast
Podcasts
Rdio
Spotify
This is partly a reflection of the apps we have installed on our iPhone. Apps that are compatible will simply appear.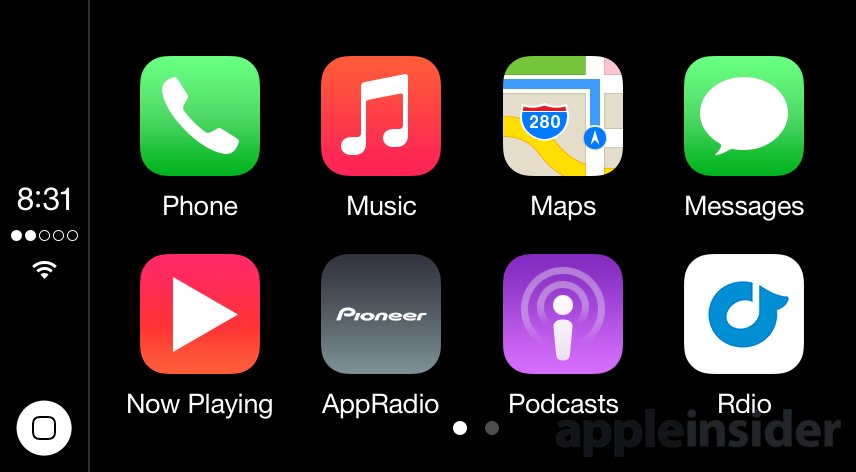 Other audio sources can also be accessed with the AppRadio when you are not using CarPlay. They are:
Pandora (built into the AppRadio non-CarPlay interface, but not requiring the AppRadio Apps setup)
Radio
Aux
iPod (iPhone is recognized as an iPod)
To use those, you switch to the AppRadio non-CarPlay interface by using Pioneer's Home button (not the CarPlay Home button), the MODE button directly below Pioneer's Home button, or the Pioneer AppRadio icon in CarPlay. Did we mention this could be slightly confusing?
Once in the Pioneer interface, switch to the audio input, and in Pandora's case, start the Pandora app on the iPhone, and then switch back to CarPlay, and audio will keep playing, and display on the Now Playing screen.
It's weird that Pandora requires launching the app on the iPhone. The one thing this saves is not having to enter account details on the Pioneer screen, but as we were looking through the licenses, we realized that the AppRadio 4 is an Android-based unit. We guess the other thing saved by requiring the iPhone app is that it means Pioneer doesn't have to update the Pandora app on the head unit.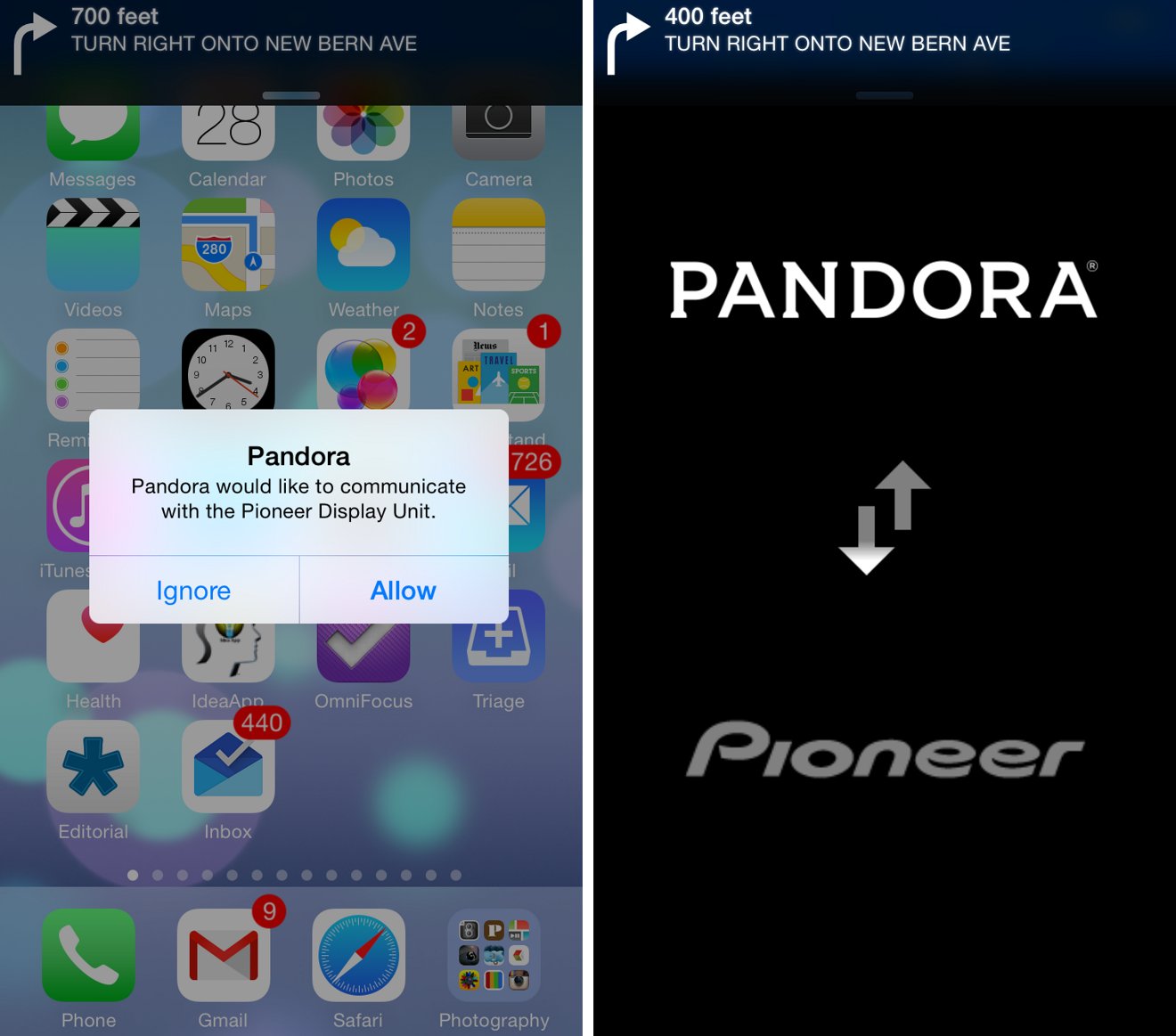 When using CarPlay, switching to an app that is one of the nine icons causes both displays, phone and Pioneer, to switch to that app. When using Messages, both screens display the list of conversations. When switching to Maps, the phone displays the list of turns, which is handy for a co-pilot passenger to read from. Switching to an app that isn't one of the 9 causes the car display to return to CarPlay's home screen. This makes it very hard to photograph, not that you mind in actual use.
Siri is mostly the same for CarPlay, although not every command works, notably, "Launch" or "Open" with an application name. We found that "read unread messages" was very useful.
If Apple Maps works for you, then this is really quite good. Everything is easy, feels like iOS, other than the confusing AppRadio naming, and Pioneer's AppRadio volume control interface that pops up at the bottom of the screen in CarPlay mode. Honestly, it's really likeable.
Incoming text messages are read aloud by Siri, calendar reminders and notifications slide down from the top of the display as they do on iOS, and in all other ways, it feels like the right way to use iOS in the car.
What if Apple Maps don't meet your needs? What if you really like Bluetooth and not having to plug the phone in to have call audio work through the microphone and speakers?
If you like Google Maps navigation and don't need to see the map display on the Pioneer screen, start a route from your iPhone and the Maps voice navigation will play over the built-in speakers. This is true whether connected in CarPlay mode, Bluetooth audio mode, or AppRadio Apps mode.
AppRadio 4 has Bluetooth provided by Parrot, the long-reigning Bluetooth handsfree experts. Pairing and connecting your iPhone via Bluetooth means address book syncing, music playback, and handsfree capability. It's only when connected to CarPlay via Lightning cable that the Bluetooth is disabled.
It's worth commenting on the very different Pioneer in-call interface versus CarPlay in-call. In CarPlay, the interface is designed by Apple, and looks good. The Pioneer in-call interface fits with everything else Pioneer's interface designers have made, but it's very jarring visually to go from one to the other.
AppRadio Apps Mode
Suppose that you wanted a good app-enabled headunit, and didn't care about CarPlay or Apple Maps at all. When connected through the Apple Digital AV connector to Lightning and HDMI, it's possible to use AppRadio compatible apps, such as Waze, NavFree, iGo, and others.
This isn't without a little clunkiness: The Digital AV connector is a little chunky for the car, and so we placed our iPhone upside down in the cupholder to let the cables be strewn along the console. We had not used rotation lock. Waze on the phone oriented itself correctly - Waze on the Pioneer unit displayed upside down.
Curiously, NavFree implemented their own iOS6 dialogs for downloading maps data. Note to app developers: It's great to fit in with the iOS, but if you do custom work, it's noticeable when you don't keep up with the changes.
Also with regard to NavFree, there were options on the touchscreen that resulted in error messages stating that the feature wasn't available when used on the headunit. Right. This isn't Pioneer's fault, but it is a part of the whole experience, since Pioneer curates the compatible apps list in the AppRadio app.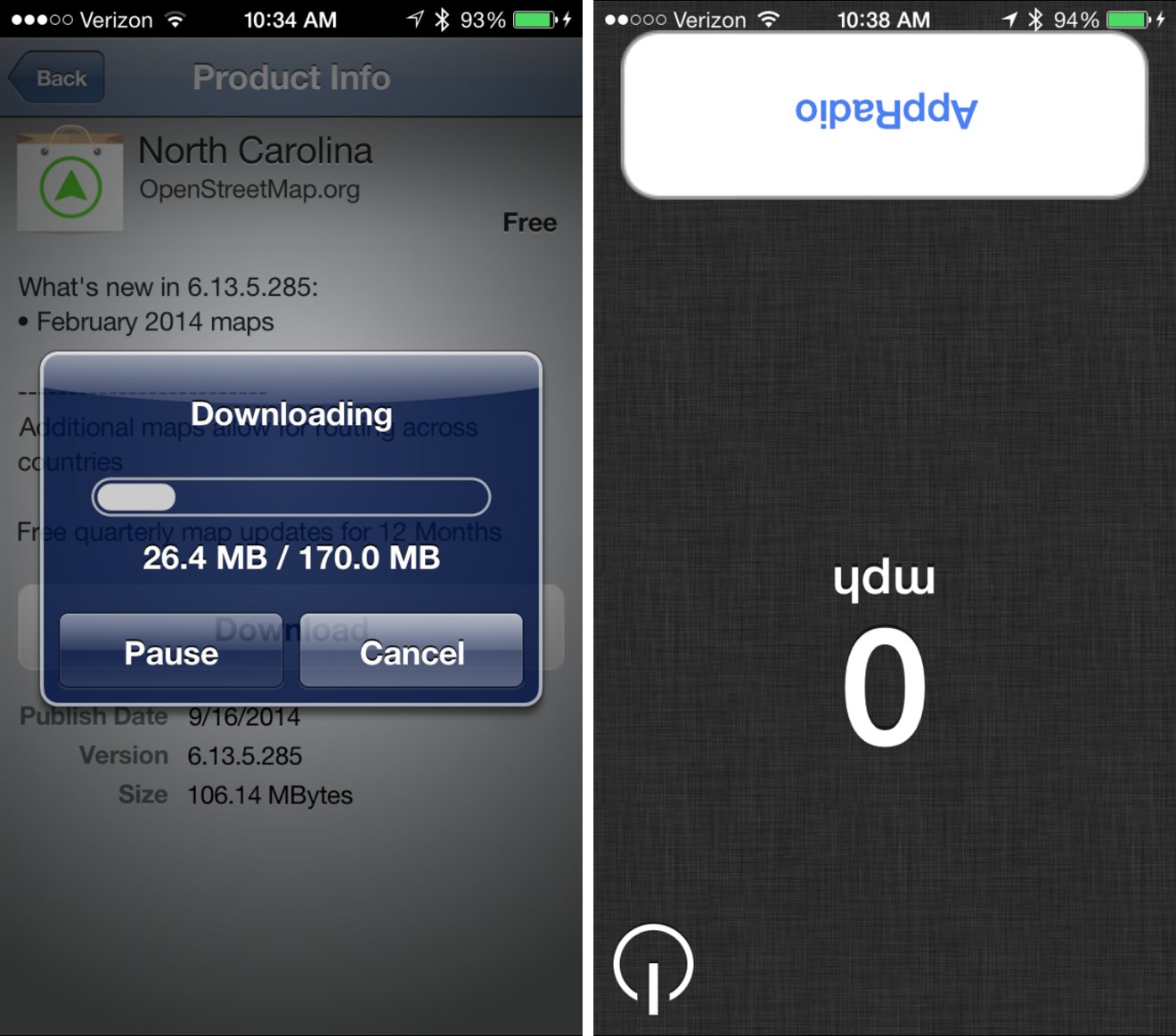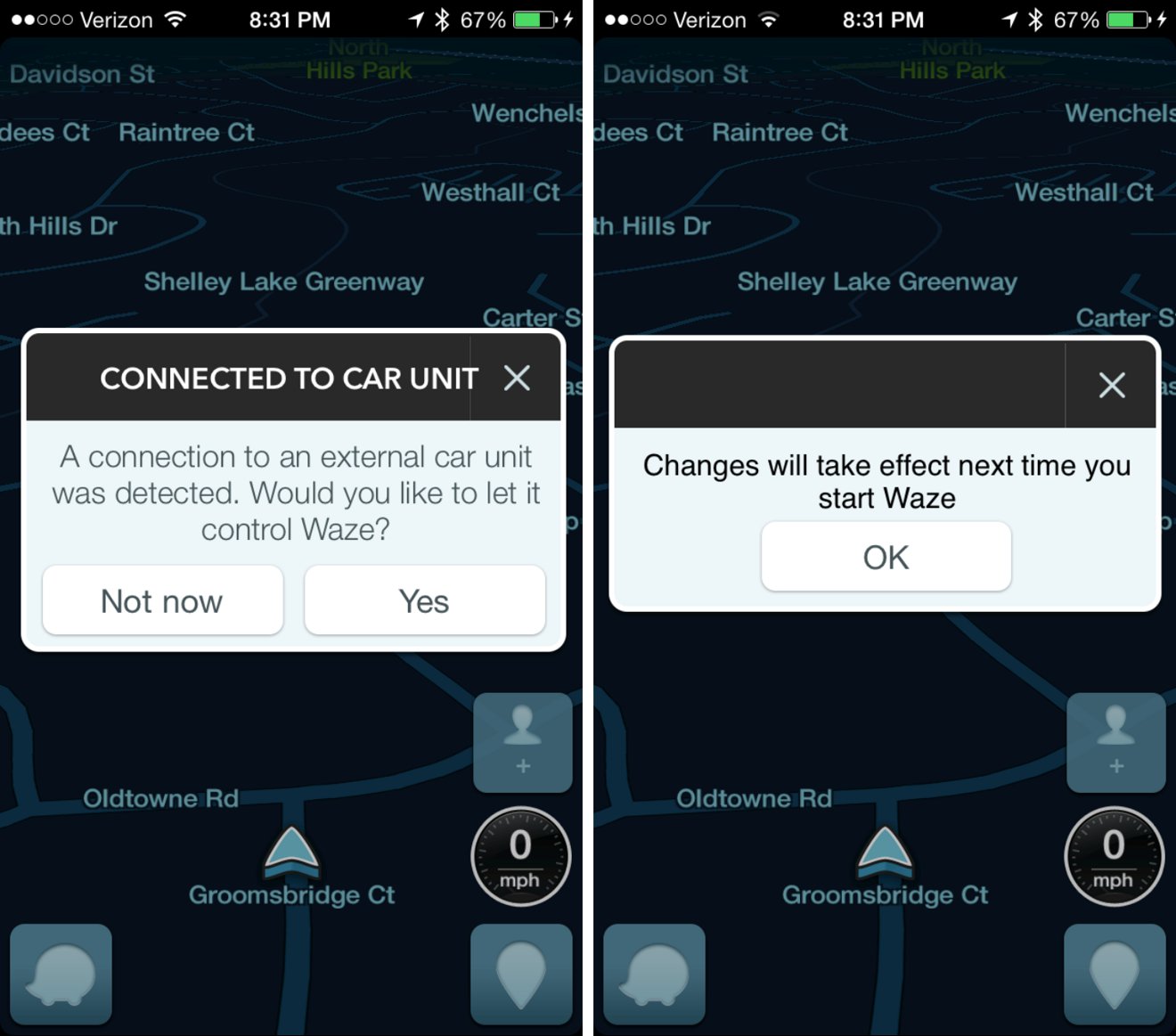 There is a built-in Maps application to the AppRadio Apps mode. We launched it, and got a Pioneer-emulated iOS 6 dialogue stating that no GPS signals were found.
We checked in the Pioneer System > Connection Status menu, and found that we had 11 satellites of the red variety and 3 of the yellow variety. While we're not sure what red and yellow denote, we were told by Pioneer that it should have worked, that we had enough satellites.
At times when parked we saw the iPhone home screen mirrored on the main display, but the real utility here was the ability to play back video files. We don't intend to do this, but it was nice to see that it was possible. This isn't available in CarPlay. This makes sense from the standpoint that CarPlay is about simplicity and safety.
Managing rear inputs and secondary video displays isn't what we would characterize as simple. Granted, Pioneer handles it adeptly, we surmise from not being able to view on the Main Pioneer display unless the parking brake has been applied twice.
AppRadio Live
AppRadio Live is one of the compatible AppRadio Apps for the AppRadio 4. Did we mention the nomenclature is a little repetitive?
The AppRadio Live application runs on the iPhone and launches an interface on the headunit that attempts to do it all: music, navigation, everything. It has icons in the corners of its interface, but unfortunately for students of Fitt's Law, they're not at the corners or edges of the actual unit, so you do have to point and aim at the targets. It was functional, but not amazing, and more than a little busy to look at. Each time we tapped on the screen, we got a new interface.
Interface
Pioneer has designed their own interface button, borders, window decoration, color scheme and font choices.
iOS has always used rounded rectangles for button edges. Pioneer uses hard angles, and favors non rectangular shapes with 3D borders. It's particularly jarring to switch between them.
It's most noticeable when adjusting volume in CarPlay mode. Then, the angular Pioneer volume control appears across the bottom of the screen with Apple CarPlay as the source label and a separate angular button to adjust alert (voice navigation guidance, for example) volume. Tapping on this alert button brings up angular Pioneer up and down arrows.
So, the + and - controls on the radio move volume from left to right, adjusting alert volume uses up and down buttons. It's not incredibly confusing, but it is a noticeable difference to adjust left-right for one volume and up-down for another. Helpfully, there are arbitrary numbers for each volume level, so you can figure out that you like alerts at 04 while you listen to music at 07, for example.
What's good about the Pioneer interface is that they've made the touch targets large enough. Because the finger is imprecise, you really need an invisible target that's larger than the finger, so if you miss the graphic of the button the system acts on what you intended. Here, Pioneer have given buttons borders, but they're really large buttons. That works.
In CarPlay, Apple's interface, there are buttons with borders, buttons without borders, buttons with light colored backgrounds, and buttons with dark colored backgrounds. We couldn't actually see the dark colored backgrounds until we adjusted the display's brightness and contrast appropriately, but they're there. We mostly had issues with CarPlay recognizing our taps for transport controls like Next Track (>>) in Now Playing. Otherwise, it also had large enough tap targets.
The reason why having invisible larger targets matters is, it's hard enough to use a touch screen when it's in your hand (seriously, turn your iPhone upside down and try and tap the interface upside down), it's exponentially harder when you're in motion and want to tap quickly without taking eyes off the road. Tapping with your arm outstretched, trying to hold your hand still, is harder.
Thankfully, for transport controls, the capactive sense ">" that Pioneer provides on the left of the headunit work in Now Playing. If it sounds like we're being picky, it's because we simply want the very best.
AutoEQ-TA
One of the really attractive features of the AppRadio 4 is the ability to connect a microphone sold separately by Pioneer and have it automatically EQ the system for your speakers and car interior's audio idiosyncrasies. This is a feature we've seen primarily in home theater receivers, and it's nice to see it in a car.
Of course, the car is a wildly variable environment, and sitting with the engine off is different from sitting with the engine running, is different from the road and wind noise generated while driving. Pioneer's method of doing this is to let you initiate the automatic adjustment, display a countdown timer to get you out of the car, and then play white and pink noise through the speakers as it adjusts.
Once done, if you don't like the outcome, it's possible to tap on EQ from the main screen of AppRadio non-CarPlay mode and pick one of their preset curves or create custom EQ patterns. As a part of the setup, it asks for driving position as well. They've really accounted for almost everything.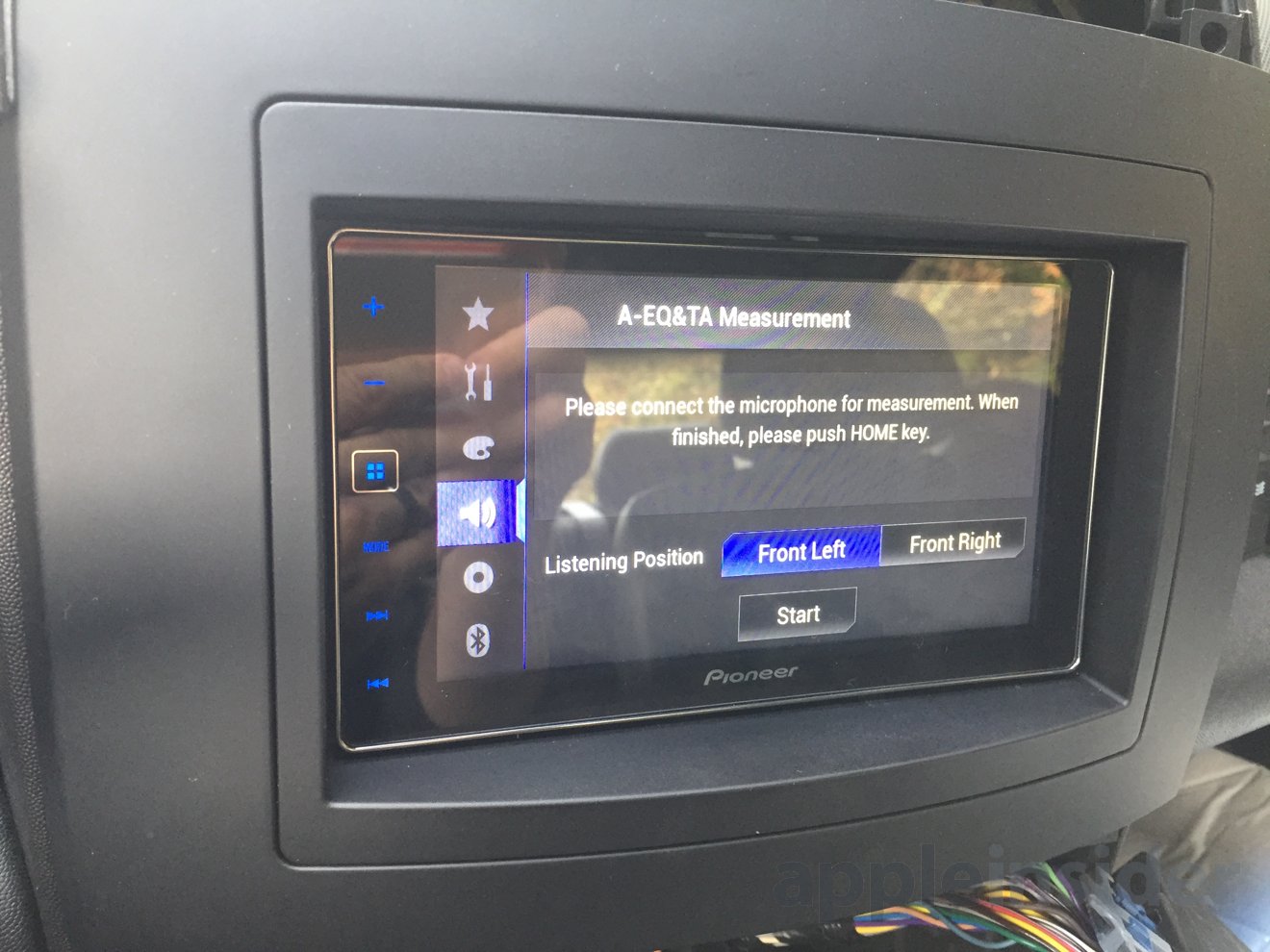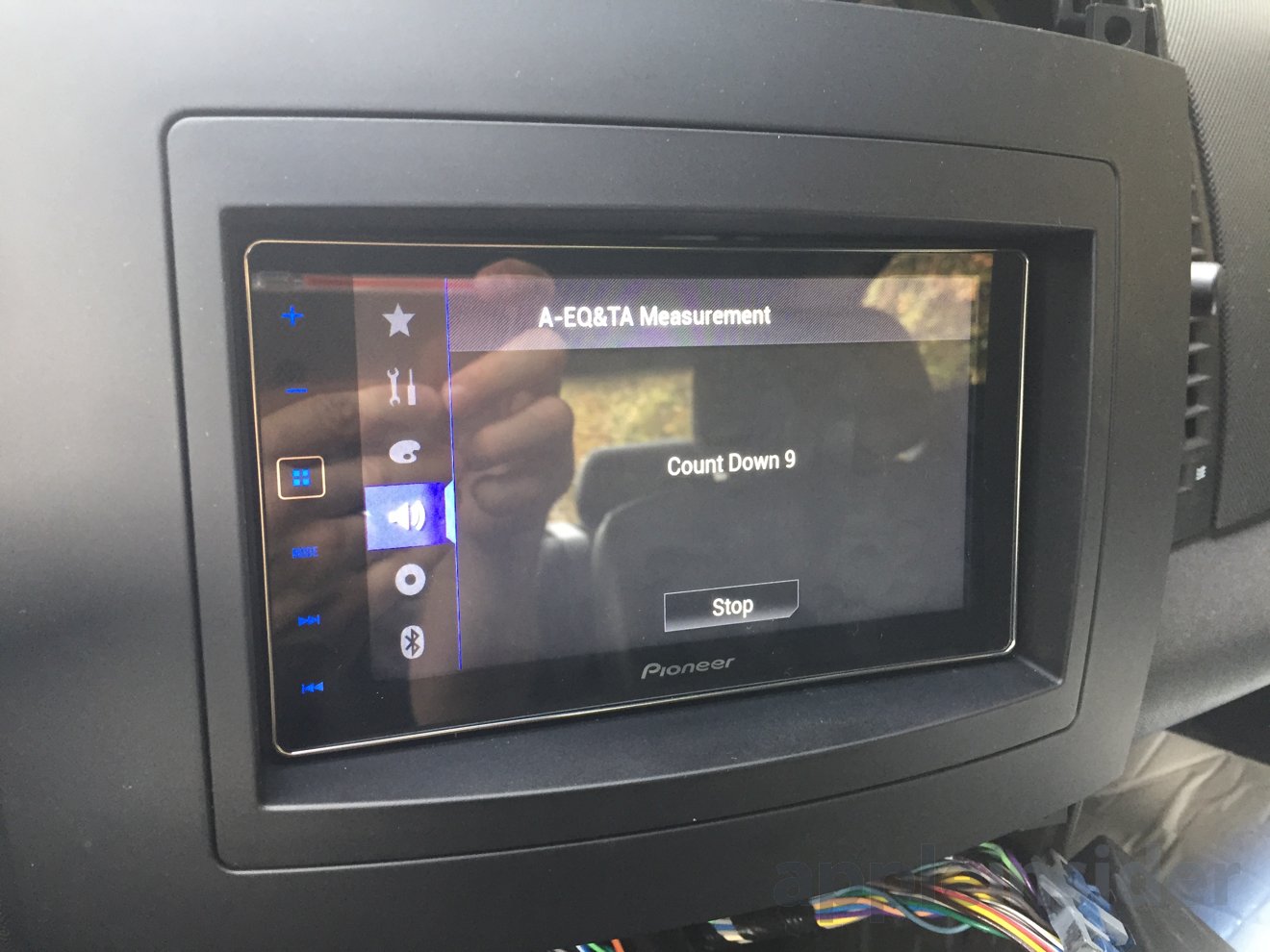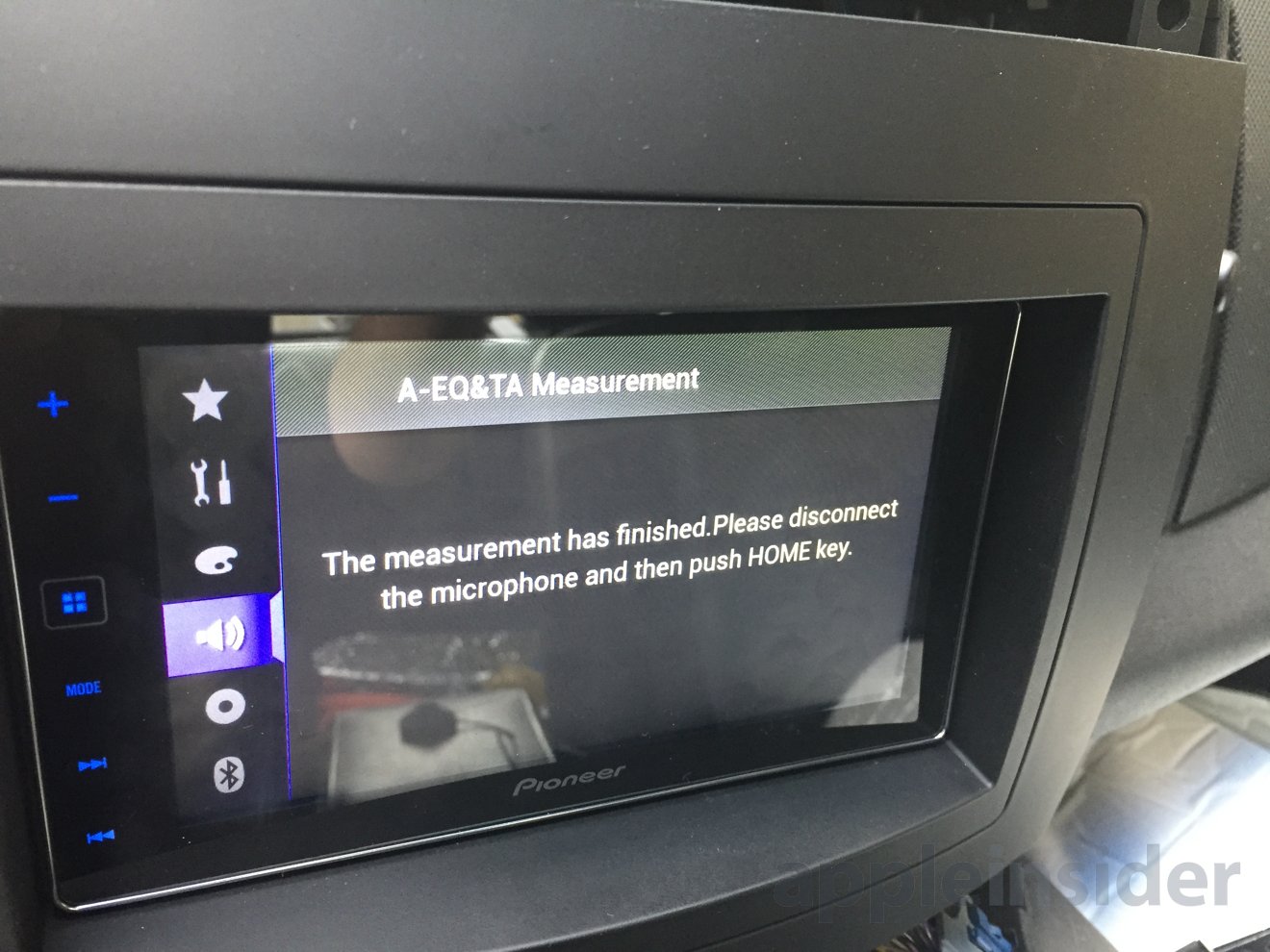 We really liked the Auto-EQ and time adjustment feature, and the only downside of our install is that our factory subwoofer is controlled by the Bose amplifier rather than the Pioneer headunit.
We're not perfectly convinced that it was able to EQ as best as possible — but the sound is very balanced, and we're glad that we had this option. In years past, we adjusted things to be balanced and where it sounded close to right. Now, we have a method that has science behind it, and that's more reassuring than guessing at what EQ should be.
HDMI and Display adjustments
By default, we felt the Brightness, Contrast, and Color weren't adjusted as best as they could be on the display. This was true whether using the AppRadio mode or CarPlay, although it's less of an issue when using CarPlay.
The downsides in CarPlay mode would be the difficulty of seeing album art behind the play/pause transport controls of Now Playing or Music and the dark backgrounds of some buttons in the CarPlay interface that weren't apparent before we adjusted Brightness and Contrast. With AppRadio mode, if you're playing video, you really should consider adjusting the display.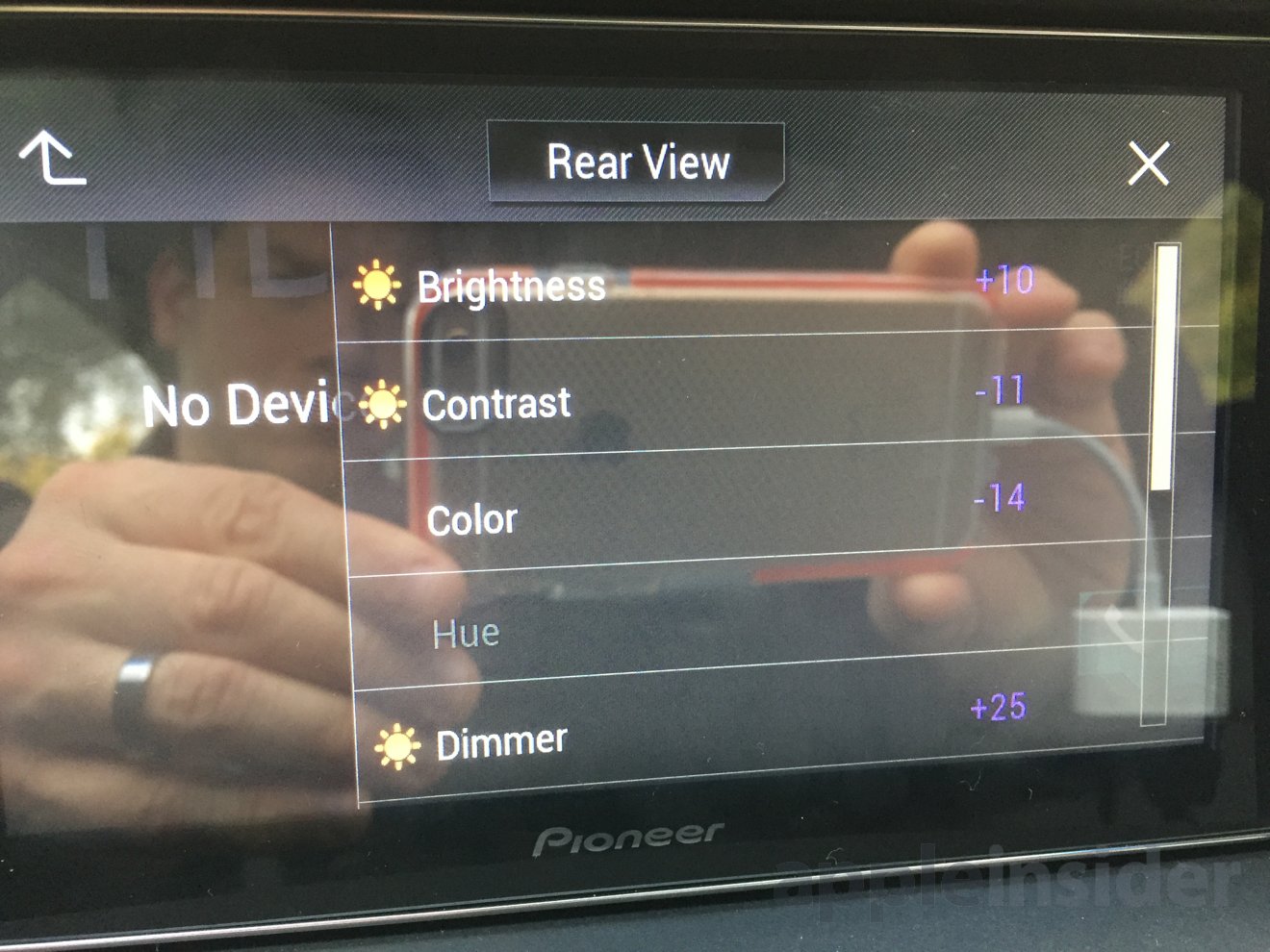 To correct this, we used AppRadio mode with the Digital AV connector and the THX tune-up app. Playing the videos and using the camera functions of THX's app displayed grayscale images and colors we could use with its guidance to get the display better calibrated.
We did this for the HDMI input on the AppRadio, and then tapped on the label at the top of the Display Adjustments sub-menu to change the video mode of the radio we were adjusting. Once we had the numbers for HDMI, we cycled through all the video modes and put in the same numbers for each.
Honestly, most people may not have noticed this as a problem at all, but we did want to be thorough in this review and address everything we could.
Android
The firmware update for this unit was named in the file as an AVIC-5000NEX, a unit which has CD/DVD capabilities that this one does not, and is priced around $150 USD higher.
Looking through the licenses, we saw references to AOSP, the Android Open Source Project. This is an Android-based radio, running CarPlay, blessed by Apple as a licensee to the Made for iPod, iPhone licensing program.
It was a little surprising to realize this, because we'd heard a lot about CarPlay running on QNX-based systems, and because there's something a little ironic about Apple approving of an Android-based system.
Conclusion
The AppRadio 4 is very well done with only a few rough edges. You have to choose whether you wish to live with the refined experience that is CarPlay or re-cable and re-configure inputs to use the AppRadio Apps.
For us, we like CarPlay. We will continue to pair and connect Bluetooth, not because we like Bluetooth, but because we want to have handsfree if we forget to connect the Lightning cable.
CarPlay feels like the safer, smarter way to use the iPhone in the car, and we really like that CarPlay launches automatically when the iPhone is connected. If all you ever use is CarPlay, it's possible to mostly ignore the discord between it and the Pioneer interface, and it's really very good.
We appreciate the effort that Pioneer put into the AppRadio portion, but find it to be not as nearly well refined as the CarPlay interface. This isn't Pioneer's fault: They have to get a lot of different app developers on board, and what those developers will choose to support or implement may vary in terms of the user experience.
Score: 4.5 out of 5
CarPlay is easy, elegant, and we like it a lot.
Getting started with CarPlay doesn't require Bluetooth pairing, just connect Lightning and it's ready to go.
Pioneer integrating Auto-EQ and auto-launching CarPlay when Lightning is connected are great choices.
AppRadio requires purchasing compatible apps from the App Store.
AppRadio apps don't always work well with the headunit - we keep the iPhone in the cupholder upside down with the cable coming out the top - rotation screws up AppRadio apps displaying on the headunit.
AppRadio as a naming convention is confusing, and the headunit initially misled us into thinking we could use both modes without changing wiring and AV configuration.
Where to buy
Pioneer's AppRadio 4 is available for $489.99 from Amazon.com.