As Apple still struggles to meet iPhone 6 demand, Canaccord raises price target to $135
Investment firm Canaccord Genuity raised its price target on shares of Apple to $135 on Tuesday, citing its latest survey showing supply constraints for the higher-capacity iPhone 6 and iPhone 6 Plus, signaling higher average selling prices and greater profits for the company's handset division.
In a note to investors, a copy of which was provided to AppleInsider, analyst Michael Walkley revealed the results of his latest November smartphone survey, which shows continued strong demand for both the iPhone 6 and iPhone 6 Plus. In particular, Apple has still not caught up with demand for the larger-capacity 64- and 128-gigabyte models.
With continued demand for more storage, Walkley has increased his average selling price assumptions for the iPhone, as well as his overall Apple estimates. He now predicts that the iPhone will have an average selling price of $700, on sales of 63 million units, in the December quarter.
Walkley's survey found that the 4.7-inch iPhone 6 was the top-selling handset at the major four U.S. carriers in November — Â AT&T, Verizon, Sprint and T-Mobile. Taking second place was the 5.5-inch iPhone 6 Plus, while the Samsung Galaxy Note 4 came in third.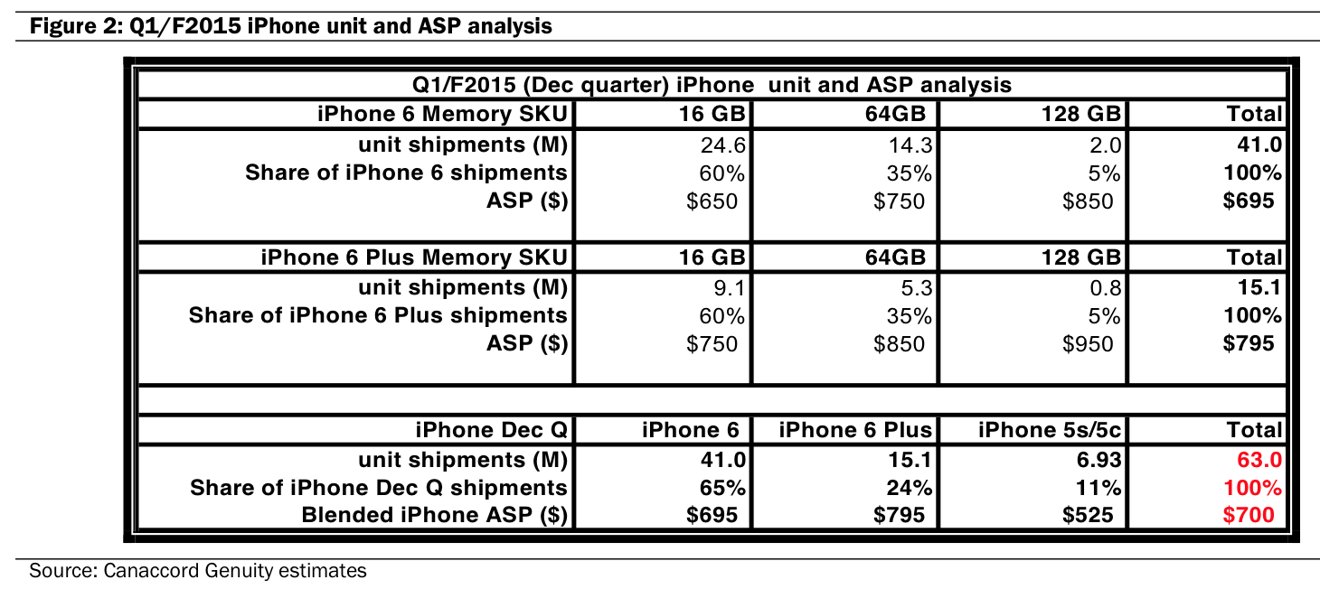 A survey of 75 AT&T stores conducted by Canaccord Genuity on Nov. 26 found that 44 percent had the 16-gigabyte iPhone 6 in stock, but just 8 percent had the 64-gigabyte model, and none had it in a 128-gigabyte capacity.
Store representatives for all four carriers indicated that the 64-gigabyte capacity has proven extremely popular with consumers. Those models are said to remain constrained, with wait times stretching as long as a few weeks depending on the carrier and iPhone model.
With strong demand for more expensive iPhone models, Walkley has increased his price target on AAPL to $135, with a fiscal 2015 earnings per share estimate of $8.50. He also believes consumer preferences for higher-capacity, more expensive iPhone models will continue for future upgrade cycles, allowing Apple to reap the benefits for years to come.
"We believe Apple will continue to garner the majority share of handset industry profits and maintain and even grow its share of high-end smartphone market with the new larger screen SKUs continuing to sell well," the analyst wrote. "In fact, based on our analysis, we believe Apple dominated the handset industry operating profits and captured a remarkable 86% of (third-quarter) 2014 handset industry profits and should grow its share of industry profits during Q4/2014."