New Microsoft site targets users looking to switch from MacBook to Surface Pro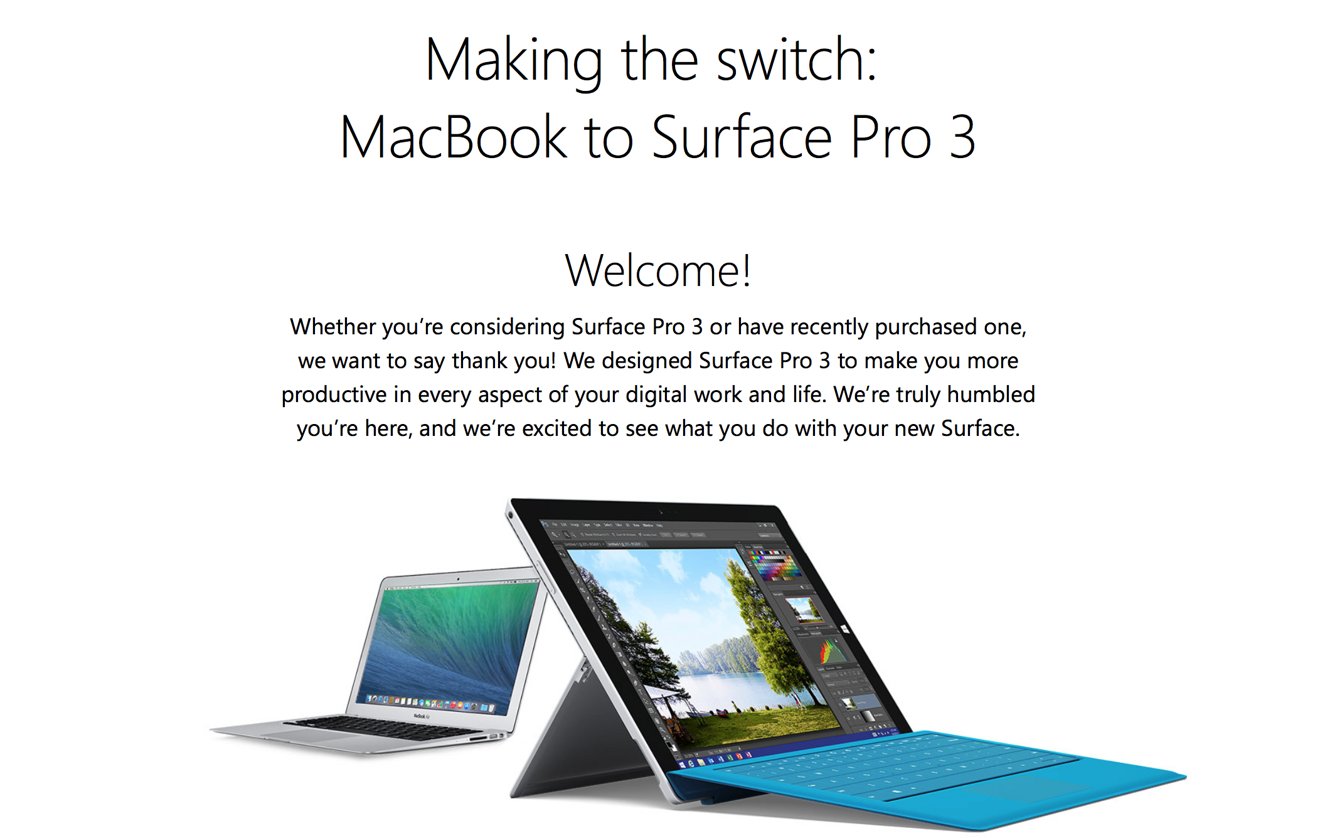 While it was Apple who for years targeted Windows switchers to the Mac platform, the tables have turned as now Microsoft is now the underdog, focusing its efforts on trying to win over MacBook users with its Surface Pro hybrid computers.
In its latest effort to attract potential switchers, Microsoft has debuted a new website called "Making the switch: MacBook to Surface Pro 3." The site aims to ease the transition from one platform to another, providing information on making the jump to the latest-generation Surface Pro 3.
The help guide is divided into four sections explaining the basics of Windows 8.1, what MacBook users need to know, how to move their content to the new hardware, and how to use the Surface Pro 3 with Apple products and services like the iPhone, iCloud and iTunes.
In particular, the "Surface Pro 3 for MacBook users" section of the site explains unique Windows features that could confuse users making the jump from a Mac, including right-click, keyboard shortcuts, searching, and installing applications. There's also a section devoted to viruses that notes "most computers, including Macs, can get malware," before detailing the protection tools included in Windows 8.1.
The new website is just the latest part of an ongoing campaign by Microsoft which has pitted the Surface Pro 3 directly against Apple's hot selling MacBook Air. The ads espouse the virtues of the Surface Pro 3 over the MacBook Air, including its tablet-style touchscreen capabilities, removable keyboard, integrated kickstand, and Bluetooth stylus.
The Surface-versus-MacBook Air campaign has been running for months, though it's unclear how well the company's efforts have been received. Microsoft's entire Surface strategy has appeared ineffective at times, with NFL announcers continuing to call the Surface an "iPad" — despite a sponsorship deal worth hundreds of millions of dollars — while news anchors on CNN continued to use their iPads even as Surface devices sat on the table in front of them.