Cheap Chinese Apple Watch copycat appears at CES, less than 4 months after Apple unveiling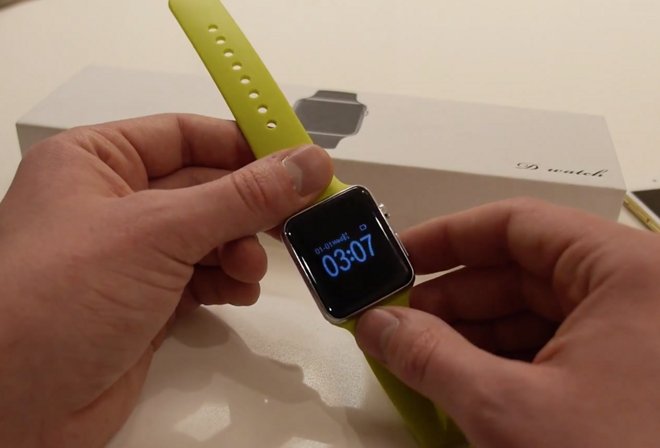 AppleInsider may earn an affiliate commission on purchases made through links on our site.
Before the Apple Watch hits the market early this year, a Chinese company was at this week's CES selling a knock-off version of the highly anticipated wearable for less than one-tenth of the price.
Thrown together and manufactured in time for CES at a rather remarkable pace, the fake Apple Watch being peddled by China's Hyperdon was sold under the name "Smart Watch." Less than four months after the Apple Watch was unveiled — and before anyone in the public can get their hands on one — Â the wrist-worn device copies the general look of Apple's upcoming accessory.
When worn on the left wrist, Hyperdon's mimicry of Apple's "Digital Crown" is located in the same spot, on the upper right side of the device. Located below it is the multi-purpose action button, just like on the Apple Watch.
The as shown by German site Bild, the Chinese "Smart Watch" device also sports a color display, vibration, and an internal speaker. It even includes a pedometer for step tracking, and has an "Anti Lost" mode that will let the user know when their iPhone is out of range.
Unsurprisingly, their tests found the cheap counterfeit device's feature set "seemed incomplete and sometimes even useless," according to a machine translation.
Even the asking price for the accessory seems to have been cobbled together: While Bild said they paid $40 at CES, Mashable bought the "Smart Watch" for $27. A representative for Hyperdon — Â a woman who was wearing sunglasses indoors — reportedly attempted to raise the price to $30 before agreeing to the originally promised price.
The Apple Watch, in contrast, will have a starting price of $350.
Hyperdon claims that its device overs over 180 hours of uptime on a single charge, though neither site put those tests to the claim. Notifications were made possible through some third-party apps like WeChat, but doing so required a "sketchy-looking APK" to be installed on a jailbroken handset, according to Mashable.
Hyperdon claims that its device is available in some retail stores around the world, though it had not been widely seen prior to this week's CES. Of course, the legality of selling such a blatant copyright infringing device would be in question, at the very least.
The actual Apple Watch has a self-imposed "early 2015" launch window. One report this week suggested that Apple might be eyeing a March release for the anticipated accessory.