Google joins Apple, Microsoft, others in student data privacy pledge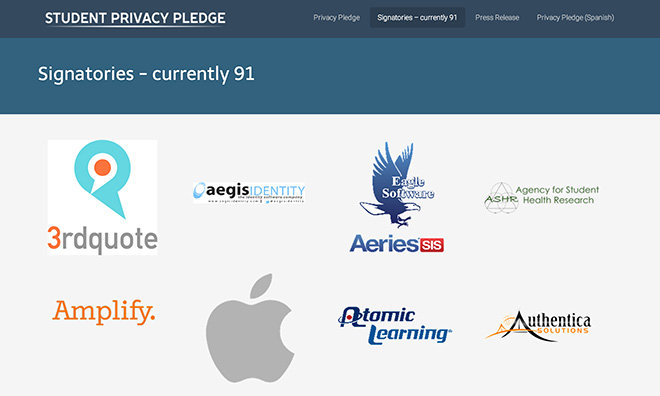 AppleInsider may earn an affiliate commission on purchases made through links on our site.
A number of tech industry heavyweights, including Apple, Microsoft and Google, have pledged support for a data privacy initiative aimed at keeping student information safe.
After passing on the opportunity to sign on to a student privacy pledge endorsed by President Barack Obama last week, Google on Tuesday changed course and is now part of a list of 91 companies supporting the initiative, reports The Wall Street Journal. Apple, Microsoft and 73 other big education technology firms signed on last week.
The Student Privacy Pledge was introduced last October as a joint project from the Future of Privacy Forum (FPF) and the Software & Information Industry Association (SIIA). It holds signatories accountable for a variety of privacy issues facing today's students, including provisions for greater transparency on data collection and use, implementation of comprehensive security standards, set limits on data retention and promises to not sell student information.
Prior to today's announcement, Google maintained that its internal policies were enough to demonstrate a commitment to student data privacy. The report notes, however, that the Internet search giant is likely hesitant to agree to broad industry pledges after being fined $22.5 million by the Federal Trade Commission in 2012 over cookie-based Web tracking. Coincidentally, that particular issue was related to an exploit discovered in Apple's Safari browser.
"We've signed the pledge to reaffirm the commitments we've made directly to our customers," a Google spokeswoman said.
For its part, Google has promised that its Google Apps for Education program, which has some 40 million student, teacher and administrator users, does not and will not implement ads.
As of this writing, the Student Privacy Pledge has 91 signatories covering a broad swath of the tech sector. Among the 15 companies that signed up on Tuesday was YouTube-based Khan Academy, which recently released its entire course lineup to iPad users via an app update.