Apple poaching suit potentially tied to A123's high-performance electric vehicle batteries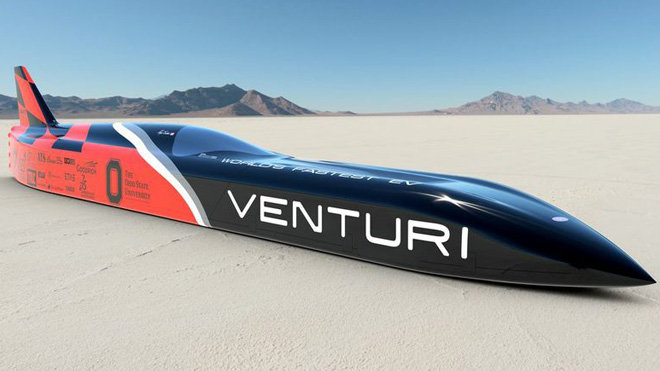 A123 Systems, which filed a lawsuit this month accusing Apple of unfairly poaching its engineers, is best known for creating large lithium-ion batteries used in futuristic high-performance electric automobiles, a specialty that may have played a key role in Apple's interest in its employees.
The lawsuit from A123 comes as a flurry of rumors have claimed Apple has begun work on a top-secret electric car project codenamed "Titan."
While A123's complaint does not say exactly what its supposedly-poached engineers were working on, the lawsuit accuses Apple of hiring high-level employees "under suspicious circumstances." And A123 has an established track record of building batteries for a variety of vehicle types, ranging from passenger cars to commercial trucks.
In one particularly impressive example, A123's prismatic batteries power the Venturi Buckeye Bullet 3, an electric land speed racing vehicle. As noted by MacPlus, the Venturi team hopes to make the VBB-3 reach a record shattering ground speed of 700 kilometers per hour, or 435 miles per hour.
A123's batteries were already used in part of the 2010 land speed challenge in the VBB-2.5 model, replacing the fuel cells of Venturi's previous model. That posted a then-record speed of 307.58 miles per hour.
For more traditional consumer-focused vehicle uses, A123's nanophosphate lithium-ion batteries are also found in the Chevrolet Spark EV, which was released in select markets in the U.S. in June 2013. The plug-in hybrid Fisker Karma also utilizes A123 technology, among other vehicles.
Batteries, of course, are a core part of almost all of Apple's products, including the iPhone, iPad, and its MacBook lineup. So it would come as no surprise that Apple is interested in hiring engineers experienced in advanced battery technology.
But A123 and its engineers have historically specialized in bigger batteries — the type that are well-suited for electric and hybrid cars.
And Apple is now heavily rumored to be experimenting with an electric, self-driving car featuring "several hundred" workers, some of which were formerly employees of Ford, Mercedes-Benz, and Tesla.
Filed earlier this month, the lawsuit from A123 Systems accuses Apple of poaching workers with proprietary information vital to its operations. Specifically, key members from A123's advanced System Venture Technologies Division were said to have been hired by Apple, and their loss was so devastating that the company shut down individual projects assigned to each worker.
A123 Systems went public in 2009, but by October of 2012 it filed for bankruptcy. Since then, it has been gradually selling off its assets, including the automotive division, which was purchased by Johnson Controls.
A123's complaint specifically mentions Johnson Controls in the suit, along with LG, Panasonic, Samsung, and Toshiba, saying that Apple has targeted employees from those companies who have knowledge of A123's battery technology.
The lawsuit claims that Apple's "aggressive campaign to poach employees" started in June of 2014, well after the bankruptcy filing came. The complaint also accuses former A123 employees of violating non-disclosure, non-competition, and non-solicitation agreements.
For now, the market leader in electric vehicle battery technology is Panasonic, which has helped create much of Tesla's technology through a joint venture. Panasonic is also a partner, set to invest hundreds of millions of dollars, into Tesla's so-called "gigafactory" in Nevada.
If Apple does plan to release an electric car at some point in the future, Panasonic's close partnerships with Tesla, which see it supply 100 percent of the automaker's lithium-ion cells, could prove to be a roadblock. That's yet another potential reason for the company to recruit engineers and develop its own proprietary battery technology in-house.