Tim Cook says Apple Watch will replace electronic car keys, confirms Apple Store revamp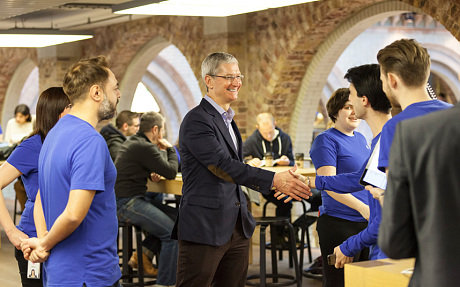 AppleInsider may earn an affiliate commission on purchases made through links on our site.
Apple is already attempting to eliminate the need for consumers to carry a wallet and may soon extend its assault to the second pat of the venerable three-pat technique, as Apple chief executive Tim Cook said this week that the company designed its forthcoming Apple Watch to replace electronic car keys and fobs.
Cook's automotive revelation came during an interview with the Telegraph in London, where the Apple chief stopped en route back to Cupertino. He had been in Germany and Israel, inaugurating the company's new research and development center in Herzliya.
It is unclear whether Apple intends to deploy technology that duplicates the functionality of current-generation keyless entry systems, or if it will seek to convince automakers to integrate Apple Watch compatibility in future vehicles. Some have speculated that the current spate of rumors surrounding the development of an Apple Car actually point to an expansion of CarPlay, with a new mandate to completely replace existing in-vehicle infotainment and telematics systems.
In addition, Apple will "tweak" its retail strategy to fit the Apple Watch, Cook confirmed to employees during a visit to the iconic Covent Garden Apple Store. Previous reports have suggested that design czar Jony Ive and retail chief Angela Ahrendts are working side-by-side on a revamp designed to make the stores appeal to potential Apple Watch buyers more accustomed to shopping in boutiques.
"The new spaces will surely become a more natural setting for vitrines filled with gold (and perhaps less welcoming, at least in some corners, to tourists and truants)," The New Yorker's Ian Parker said of the changes last week.
Cook also let slip a few new Apple Watch tidbits, noting that the device's battery will last all day, and will require less charging time than an iPhone. The charger is said to use a "special magnet technology."
Apple will discuss the Watch in detail during a special event set to be held in San Francisco on March 9. AppleInsider will bring live coverage from that presentation as it unfolds.