Apple Watch featured in UK's Style magazine, Space Gray Sport version quoted at $349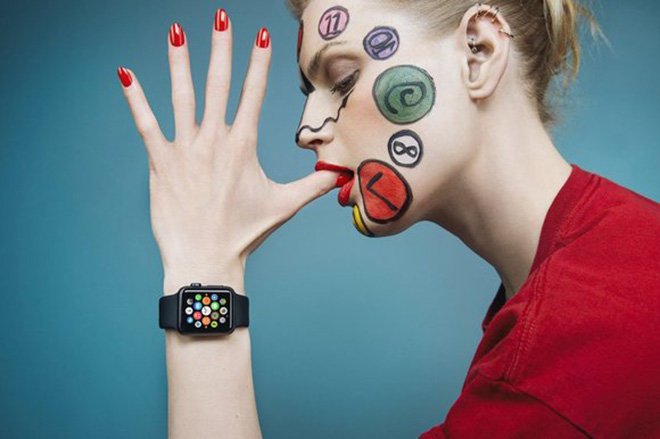 AppleInsider may earn an affiliate commission on purchases made through links on our site.
Following cover stories in major publications across China, France and the U.S., Apple Watch made its big UK debut on Sunday with a three-page spread in widely circulated fashion magazine Style.
Apple Watch dominated "The Big Spring Issue" of Style magazine with two separate stories in the fashion-oriented standalone included with weekly UK broadsheet publication The Sunday Times.
The first article, which relates to one of four covers created for the magazine's special edition, offers a broad overview of Apple's upcoming device and highlights a picture of model Guinevere Van Seenus wearing a Space Gray aluminum Apple Watch Sport. Interestingly, the accompanying caption quotes the device at $349, a price that runs counter to recent rumblings claiming the Space Gray model could be more expensive than its silver counterparts.
In February, well-connected journalist John Gruber speculated that Apple could be planning to charge more for the Space Gray Sport version as it only has one band color option, compared to multiple choices for the "raw" aluminum model.
At the Apple Watch unveiling in September, Apple said its wearable would start at $349, but failed to mention which of the three tiers — Apple Watch, Apple Watch Sport and Apple Watch Edition — would carry that pricing. Pundits subsequently associated the starting price tag with the Sport edition as it uses cheaper aluminum and glass build materials, not stainless steel, gold and sapphire.
It is unclear if Style confirmed Space Gray Sport cost with Apple, but the publication's second story, which concentrates on the tech behind Apple Watch, notes pricing has yet to be announced in the UK, and points out U.S. pricing is slated to start at $349 for the "basic model."
Apple is expected to reveal additional details about Apple Watch at its "Spring Forward" special event scheduled for March 9. AppleInsider will be on the scene at San Francisco's Yerba Buena Center for the Arts with live coverage starting at 10 a.m. Pacific.