Apple launches unprecedented campaign across storefronts to hype iTunes debut of 'Star Wars'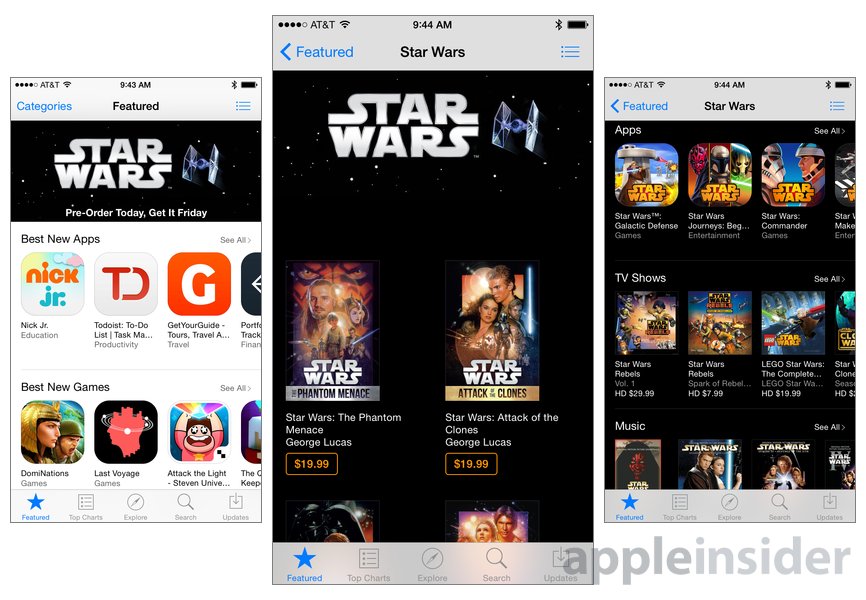 AppleInsider is supported by its audience and may earn commission as an Amazon Associate and affiliate partner on qualifying purchases. These affiliate partnerships do not influence our editorial content.
All six "Star Wars" films are being promoted and can be preordered from the App Store, iBookstore, and iTunes Store, as Apple is heavily hyping this Friday's digital debut of the legendary film series.
A new "Featured" section for "Star Wars" content can be found across all of Apple's major digital storefronts on both iOS and OS X. Tapping the advertisement brings users to a landing page with a plethora of "Star Wars" content available from across Apple's digital businesses.
The listing is particularly unique because it allows users to preorder the films from within the App Store or iBookstore. Typically, content from Apple's different storefronts is segregated, meaning movie purchases must be made from the iTunes Store and not the App Store.
Set to arrive on iTunes on Friday, all six films from the "Star Wars" saga are available to preorder for $19.99 each. They are: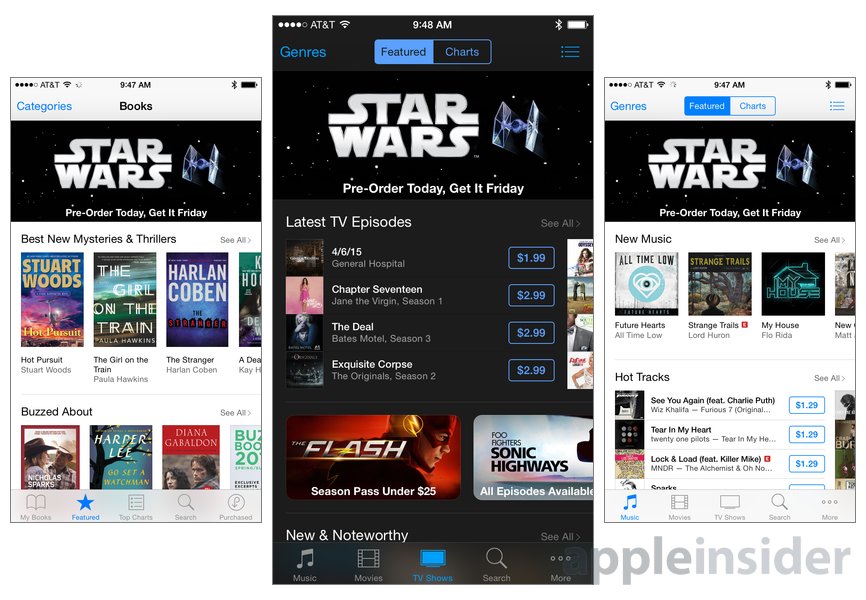 Beyond the upcoming digital release of the films, Apple is also promoting the wide range of "Star Wars" content available from its other storefronts. Content based on the films is available in the form of apps, TV shows, music, ringtones, and books.
Disney announced on Monday that all six "Star Wars" films would go digital for the first time this week. The movies are not exclusive to Apple, as they will be available on other storefronts such as Google Play and Xbox Video.
When they launch on Friday, customers will not be able to rent the films, as they are only available for purchase. And the digital release represents the "Special Edition" versions of the film, with enhanced special effects and new scenes that have been derided by some "Star Wars" purists.