Apple promotes Beats 1 Radio in behind-the-scenes Snapchat story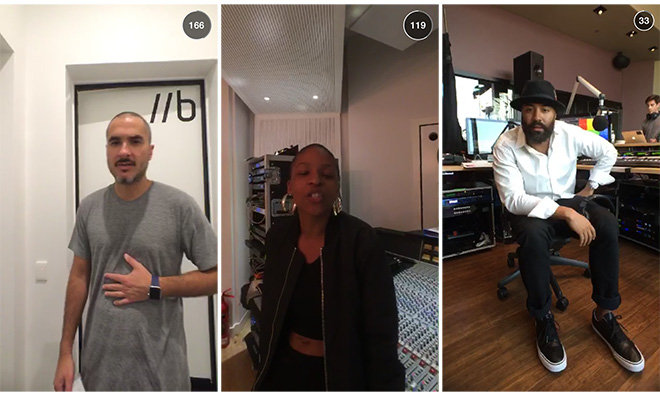 Apple Music on Wednesday published a series of short videos to social media platform Snapchat showing behind-the-scenes looks at Beats 1 Radio stations in Los Angeles, London and New York, illustrating the audio division's willingness to embrace alternative forms of promotion its parent company has yet to explore.
Starting at the Beats 1 Radio flagship in Los Angeles, Apple Music's Snapchat account (username "applemusic") took viewers around the world over the course of a day as DJs Zane Lowe, Julie Adenuga and Ebro Darden streamed top tracks live on air.
With ten-second clip limits, Snapchat is an ideal platform for filming behind-the-scenes footage. In its narrative, Apple Music broke each DJ's session up into three basic parts: a brief introduction showing Lowe, Adenuga and Darden walking into their respective studios; a few clips of on-air antics; and a brief outro. Because of their position in the Beats 1 Radio lineup, Lowe and Adenuga had the chance to throw to the next presenter, preserving the Snapchat story's continuity.
As can be expected from an Apple enterprise, each Beats 1 studio is professionally furnished and decked out with the latest broadcasting equipment, including copious amounts of Mac and iOS gear.
Since being brought into the fold, Beats' software arm has become an increasingly important cog in Apple's music products division. For example, Apple Music, a subscription-based streaming service boasting human-curated content discovery features, is based on the erstwhile Beats Music service. Playing partially on brand recognition, Beats 1 Radio is built into Apple Music as a driver of exclusive free-to-stream content, with Dr. Dre, Drake, Disclosure, St. Vincent, Josh Homme, Pharrell Williams and Elton John.