Intel announces Skylake processor lineup with new Core M subfamilies, speed & graphics boosts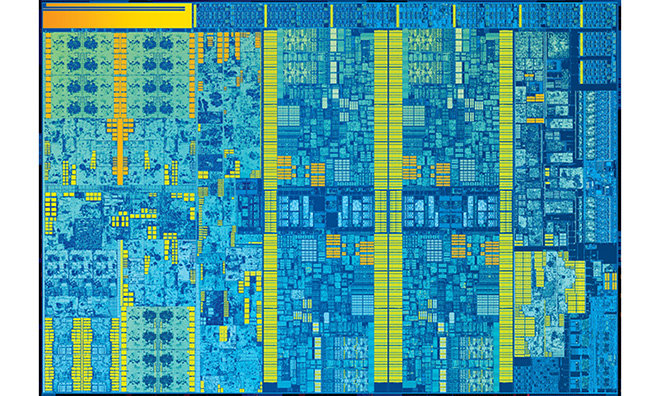 AppleInsider may earn an affiliate commission on purchases made through links on our site.
After months of waiting, Intel on Tuesday officially revealed a bulk of its 6th generation Core processor lineup, with special attention paid to laptops, offering a look at what Apple will likely use in forthcoming MacBook updates.
Built on Intel's Skylake microarchitecture using a 14-nanometer fabrication process, the chips announced today promise graphics and raw computing enhancements with unparalleled power efficiency.
Intel is revising its dual-core Core M (Y-series) naming convention with Skylake, breaking the category down into subfamilies dubbed Core m3, m5 and m7. Four chips are being offered: a 900MHz Core m3, two 1.1GHz Core m5 versions differentiated by Intel vPro and Intel TXT support, and a 1.2GHz Core m7 option. Each CPU sports Turbo Boost technology, 4MB of L3 cache and Intel HD Graphics 515. A Pentium version is also lumped in with the low-power mobile processor line, but lacks Turbo Boost and carries only 2MB of L3 cache.
The rebranded Y-series silicon is designed for use in low-power installations and should be bound for Apple's next-gen 12-inch MacBook with Retina display. Clocked at the same base frequency as current Retina MacBook models, Intel says Skylake can extend battery life to ten hours in normal use cases and boost graphics performance by some 40 percent. For example, the Core m3, m5 and m7 boast top graphics chip clock speeds of 850MHz, 900MHz, and 1.0GHz, respectively.
Moving to the U-series Core i3, i5 and i7 CPUs, Skylake is bringing steady increases to base clockspeeds, but again with high efficiency architecture and better graphics processing capabilities. This year Intel is pairing either Intel HD 520 or Intel Iris 540 integrated graphics with its Core i5 and i7 processors. Apple uses Core i5 and i7 U-series SKUs in its MacBook Air lineup, with comparable Skylake parts clocked at 1.8GHz for the i5 and 2.2GHz for the i7. Intel claims the new U-series chips are ten times faster than their predecessors and come with a 34 percent increase in graphics performance thanks to clock speeds above 1.0GHz.
Finally, Intel's H-series Core i5 and i7 models get modest speed gains with Skylake. On the low end is a 2.3GHz Core i5 version, while Core i7 speeds come in at 2.6GHz, 2.7GHz and 2.9GHz. Other mainstream chipsets were announced, including Intel's first Xeon laptop offering. A full list of SKUs can be found on Intel's website (PDF download).
It's not clear when Apple intends to refresh its various MacBook lineups, but Intel's production capacity is in question as Skylake has been slow to market. Apple most recently introduced the 12-inch Retina MacBook and added updated internals and Force Touch trackpads to its 13-inch MacBook Pro and MacBook Air lines in March. The 15-inch MacBook Pro received a similar refresh in May.