Teardown of Apple's iPad mini 4 reveals 5,124mAh battery, 2GB of RAM, refined layout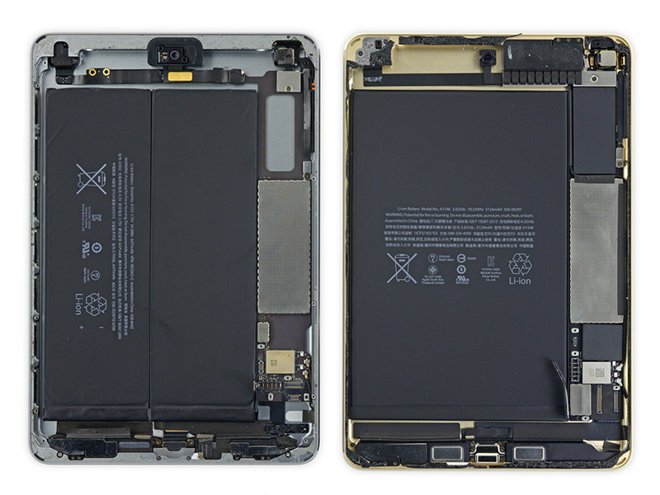 AppleInsider may earn an affiliate commission on purchases made through links on our site.
A teardown of Apple's new iPad mini 4 shows the tablet is indeed a shrunken hybrid version of last year's iPad Air 2, but comes with a few surprises like a slightly tweaked component layout.
While Apple gave a fairly comprehensive hardware rundown of the iPad mini 4 during its announcement last week, repair firm iFixit cleared up a few points of contention by disassembling the device on Thursday. Perhaps most notable is confirmation that iPad mini 4 sports 2GB of RAM, a welcome addition that should boost performance system wide.
Aesthetically, the device is 1.4mm thinner than the iPad mini 3 and features round speaker ports to match iPad Air 2 and the upcoming iPad Pro. For its latest mini tablet, Apple opted to go with a fully laminated Retina display that providers users with a better visual experience.
Inside is a thin 5,124mAh single-cell battery putting out 19.1-watt-hours of energy. Apple claims the battery is good for ten hours of use on Wi-Fi models or nine hours for cellular versions. The previous iPad mini 3 used a double-cell battery with a capacity rated at 6,471mAh.
Apple worked some miniaturization magic and reduced the front-facing FaceTime camera's footprint substantially. Interestingly, the new mini's Wi-Fi antenna arrays are split — at least in the Wi-Fi only version — one on top next to the camera and another on the bottom near the speaker. Previously, both modules were positioned at the tablet's base, while iPad Air 2 keeps its antennae up top. Other interesting parts include Apple's A8 SoC, an 8MP iSight camera and Touch ID module integrated into the display cable.
Apple's iPad mini 4 takes the place of iPad mini 3 and starts at $399 for a Wi-Fi model with 16GB of storage. Higher capacity 64GB and 128GB variants come in at $499 and $599, respectively, while Wi-Fi + Cellular models start at $529.