Latest Apple Watch ads mark shift in style, focus on Apple Pay, Siri, more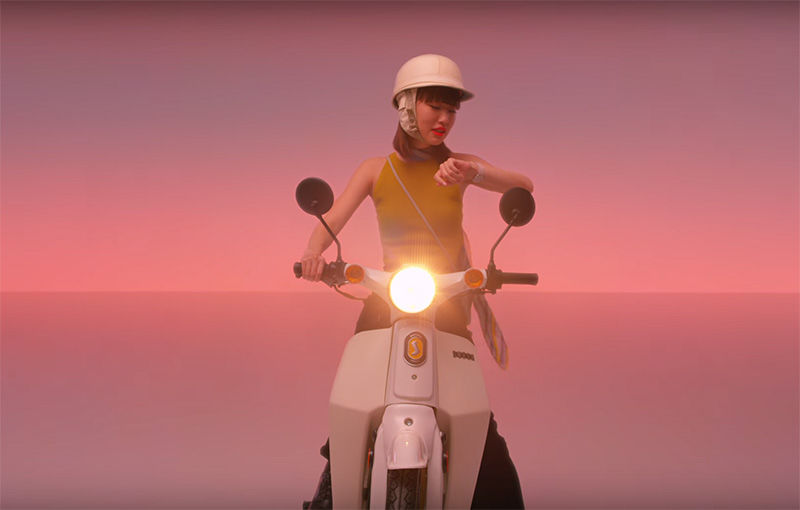 Apple released six new Apple Watch spots on Monday highlighting tentpole features like Apple Pay, Siri, fitness tracking and Maps presented in a fresh, somewhat abstract visual style set apart from current TV commercials.
Each of Apple's short 15-second commercials focuses on a specific Watch capability, with most starring only one or two characters acting out scenes on a minimalist set. Backdrops are similarly spartan, showing only gradients of pastel hues that jibe nicely with poppy music beds. The entire series evokes a nostalgic feel borrowed from early color television ads aired in the 1960s.
The first ad, "Sing" shines a light on Watch's voice messaging capabilities, with a young man singing a ditty to his girlfriend via Messages. The spot ends with the tagline "text your heart out." Apple's "Date" commercial also showcases messaging, or more specifically picture and text messaging.
Both "Train" and "Cycle" tout Watch's ability to track fitness metrics, in these cases heart rate monitoring and specific exercise logging for indoor cycling. Here, too, actors are seen interacting one-on-one with their Watch with no outside distractions, suggestive of a highly personal connection with the device.
"Ride" is all about Maps. A woman is seen tooling across the colorful set on a moped when she stops to ask Siri directions to Piazza Navona in Italy. The Maps app pops up with the requested route highlighted in bold blue.
"Sprinkle" features the largest cast with a mom who has her hands full — literally — with her two young daughters. One daughter drops her ice cream cone, but luckily mom has Apple Watch with Apple Pay. Incidentally, the ad is one of the first to show a left-handed user wearing Watch on their right wrist.
Apple is in the midst of an advertising push for Watch after announcing new Apple Watch Sport colors and accessories last month. The company just today started sales of special Hermes Watch editions to consumers and official "Made for Watch" band lugs to third-party accessory makers.