Microsoft unveils Surface Book laptop & Surface Pro 4 tablet with new Surface Pen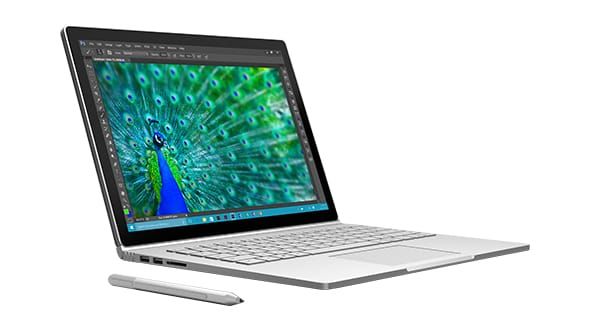 Microsoft took direct aim at Apple's MacBook Pro and iPad Pro at a press event Tuesday, revealing the Surface Book — its first-ever laptop — and the Surface Pro 4, an updated tablet matched by a redesigned stylus.
Surface Book
The Surface Book sports an optically-bonded 13.5-inch display, with 3,000 by 2,000 screen rated at 267 pixels per inch. The screen section can actually be removed for use as a pure tablet — alternately, a flexible hinge lets users bend the display all the way back, with the keyboard section serving as support.
The Book's backlit keyboard is claimed to be almost completely silent during typing, and comes paired with a glass trackpad with five points of touch sensitivity.
Microsoft's biggest selling point however is performance, as buyers will have access to Intel Skylake-based Core i5 and i7 processors, plus an Nvidia GeForce graphics chip with GDDR5 memory. The Book is claimed to be the fastest 13-inch laptop ever made, and twice as fast as Apple's MacBook Pro — its Nvidia GPU is located in the keyboard section however, which means that users will need to keep the computer together to get maximum performance.
Bundled with the computer is a new Surface Pen, also included with the Surface Pro 4, which has 1,024 levels of pressure sensitivity and an "eraser" on top. Holding down a button on the Pen triggers Cortana voice commands.
Preorders for the Surface Book start Oct. 7, with prices beginning at $1,499 for a Core i5 model with 128 gigabytes of storage and 8 gigabytes of RAM. The computer should ship Oct. 26.
Surface Pro 4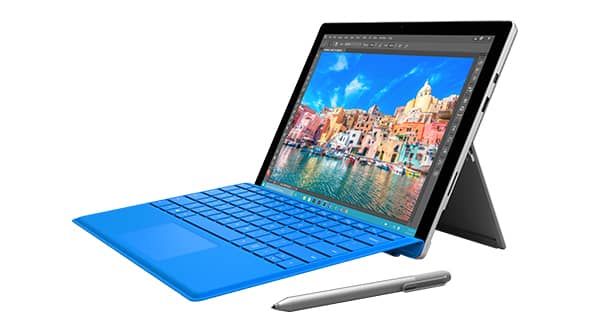 The Surface Pro 4 has a 12.3-inch display and occupies the same gereral footprint as its predecessor, but is also said to be thinner and lighter, despite improvements like faster Intel processors and new storage and RAM options. While the cheapest configuration includes an Intel Core M chip, 4 gigabytes of RAM, and 128 gigabytes of storage, buyers can scale up to a Core i7, 16 gigabytes of RAM, and/or a 1 terabyte drive. Microsoft claims that the Pro 4 can be up to 50 percent faster than the MacBook Air.
Separate keyboard cases, meanwhile, come with enhancements like built-in fingerprint sensors.
Preorders for the Pro 4 launch today. Prices start at $899, but range up to $2,699 for a fully-equipped configuration.