Facebook adds support for 3D Touch on iPhone 6s, Office for iOS gets automatic font downloads
Facebook on Monday added basic 3D Touch commands to its iPhone app, while Microsoft updated the iOS version of its Office suite with features like automatic font downloads, and quicker document navigation in Word.
The updated Facebook iPhone app currently only supports 3D Touch for homescreen launch shortcuts. These allow users to jump into shooting or uploading photos and video, or else making a regular text post, without having to wait for the News Feed to load.
The app still lacks promised support for animated Live Photos. During Apple's Sept. 9 press event, the company said Live Photos would work with Facebook by the end of 2015.
The new version is free to download and runs on any device with iOS 7 or later. 3D Touch, however, requires an iPhone 6s or 6s Plus.
Office for iOS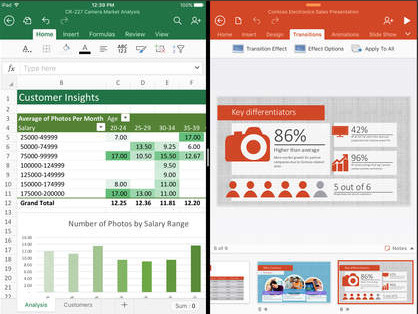 Two of the core apps in the suite, Word and PowerPoint, will now automatically download any missing fonts in a document or presentation. All three — including Excel — will let users rename files directly from the Open and Recent tabs.
Exclusive to Word is the ability to leap to a specific page by holding and dragging while scrolling. Excel, meanwhile, has a new Comments task pane on the iPad, enabling access to all user comments at once.
The three apps are free, and run on devices with iOS 8 or later.