iPad 2 still most used iPad model, early adoption rates for iPads on decline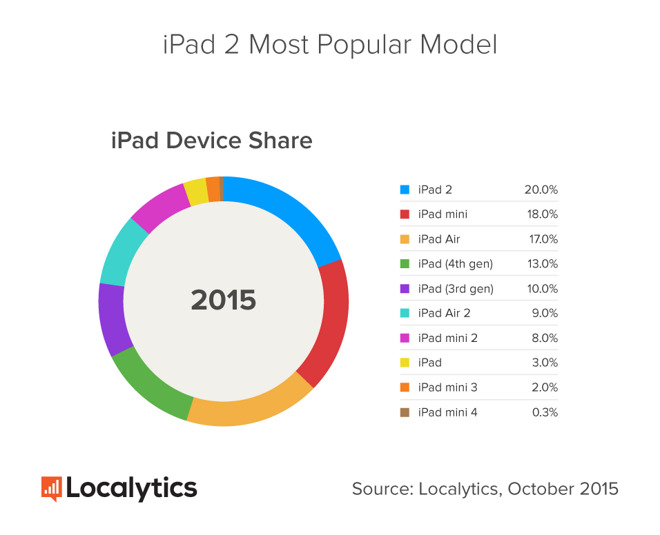 AppleInsider may earn an affiliate commission on purchases made through links on our site.
iPad 2 was still the most commonly-used iPad in October, despite the numerous other models shipped since 2011, according to a study published on Friday by analytics firm Localytics.
Based on data collected from over 50 million iPads, the iPad 2 represented 20 percent of devices in use, Localytics said. Following suit were the iPad mini at 18 percent, and the iPad Air at 17 percent.
Apple's current flagship iPads — the iPad Air 2 and iPad mini 4 — accounted for just 9 percent and 0.3 percent of usage, respectively. In comparison, the original iPad from 2010 claimed a 3 percent share.
Localytics suggested that the discrepancy is attributable to longer lifecycles, since unlike iPhones there aren't normally any contracts attached to an iPad. People are also said to be taking advantage of older models staying on sale at a discount — the iPad mini 2, for instance, can be had for $269, much less than the $499 Air 2 or the $399 Mini 4.
The firm added that first-month adoption of new iPads has been on the decline since 2012, and in fact declined precipitously in 2013. The only new iPad released in 2015 so far, the Mini 4, had early adoption of just 0.2 percent.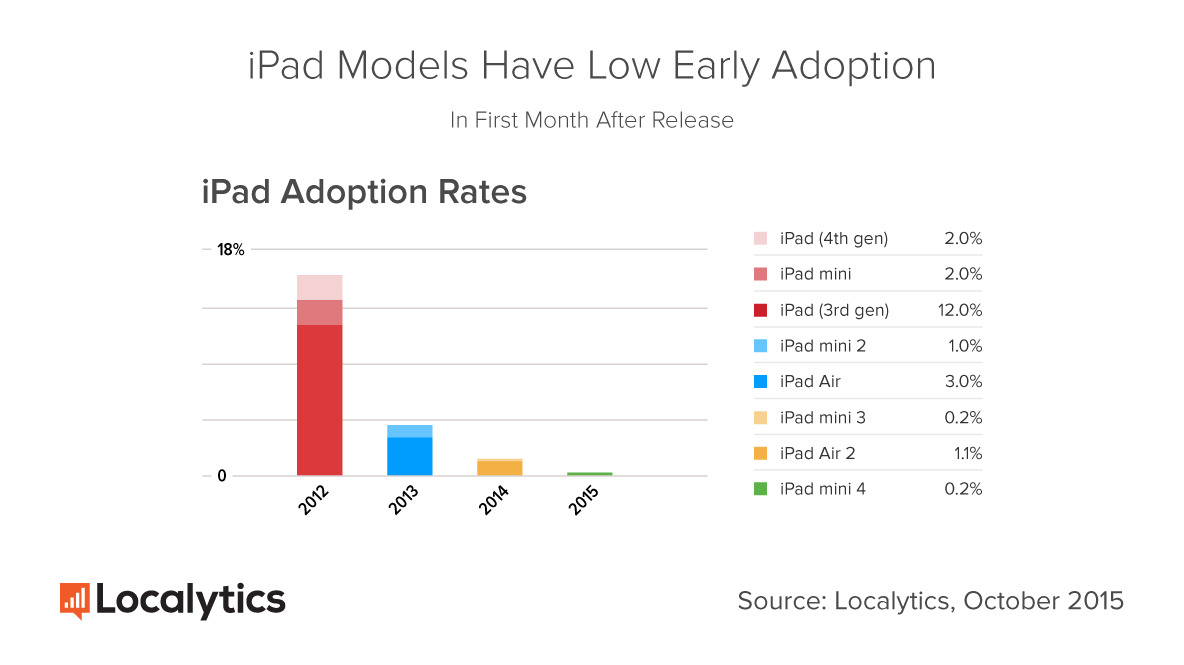 The iPad Pro could potentially make a bigger dent than recent models, Locayltics said, since it makes significant deviations, including not just a larger screen but first-party stylus and keyboard accessories. Apple is allegedly switching the iPad from a purely consumption-oriented device to one with work functions.
"Perhaps this transition will also prevent the tablet from being phased out by the 'phablet' by providing services that a phablet can't," Localytics concluded.