Apple highlights iPad Pro, new Apple TV alongside popular accessories in holiday gift guide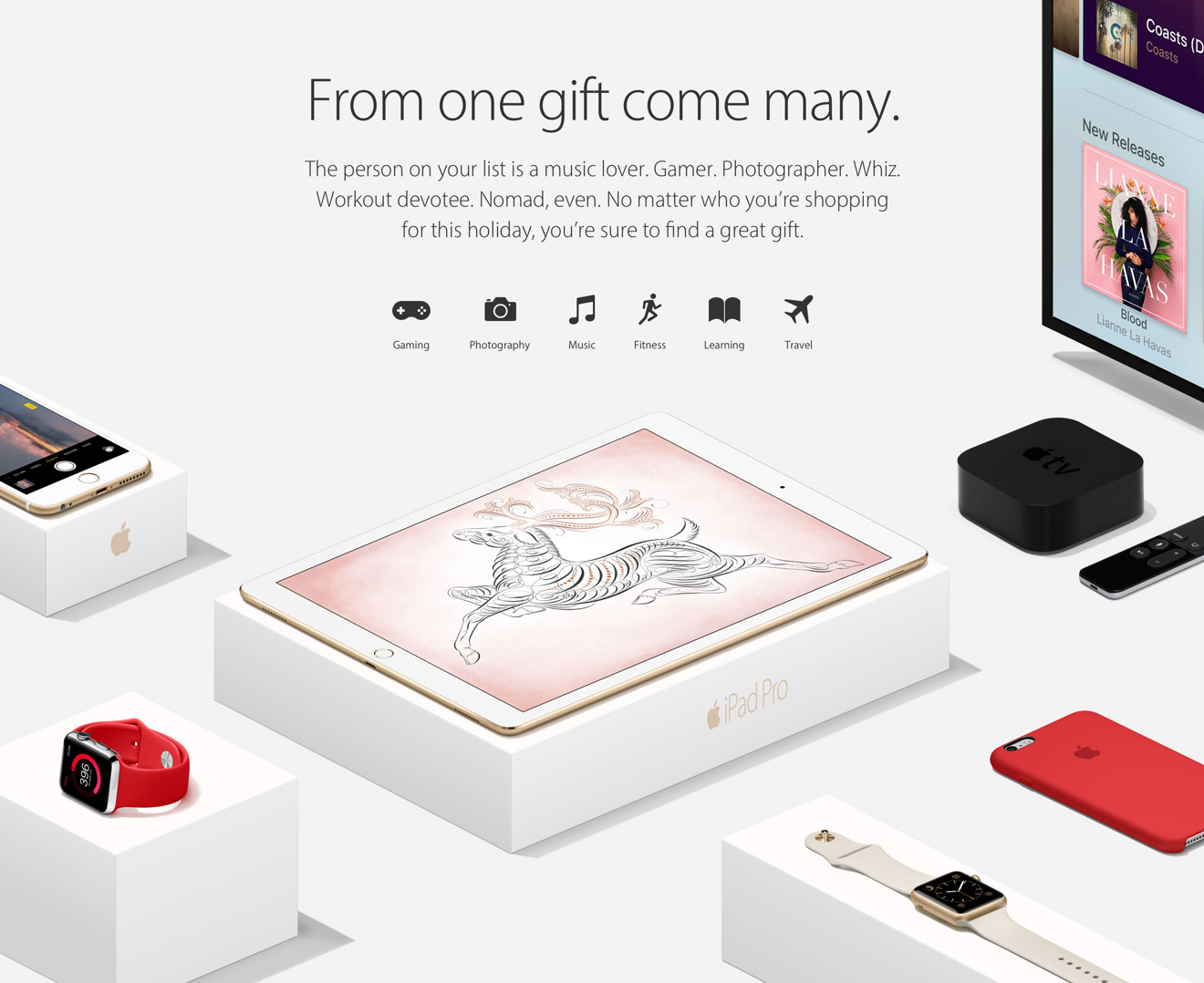 Apple has some helpful tips for consumers who are having trouble deciding on gifts for their tech-savvy friends and family, launching a new edition of its annual holiday gift guide featuring the latest from Apple and its favorite partners.
The 2015 gift guide is split into six focus areas: gaming, photography, music, fitness, learning, and travel. Each category features a selection of Apple hardware alongside popular third-party accessories.
The Apple TV and iPad Air 2 dominate the gaming category, with the SteelSeries Nimbus and Parrot Bebop drone sharing the spotlight. Photography is headlined by the iPhone 6s and iPad Pro, joined by the likes of olloclip, JOBY, and Shure.
Music spotlights the iPhone 6s, MacBook, and Apple TV along with speaker options from Bose and B&O and Apogee creation tools. The Apple Watch stars in Fitness along with the iPhone 6s, PowerBeats earphones, and the Wahoo Fitness KICKR SNAP bike trainer.
The learning category promotes the iPod touch and MacBook with the Sphero SPRK and Osmo genius kit. Finally, Travel shows off the Apple Watch again along with the iPad mini 4 and noise-cancelling headphones and external battery packs.
Coordination is a theme that runs throughout the gift guide. Apple makes a point of showing off how well its products coordinate with each other and third-party accessories, a reflection of the more fashion-focused direction of the company's retail strategy.