German government probes Apple's audiobook deal with Amazon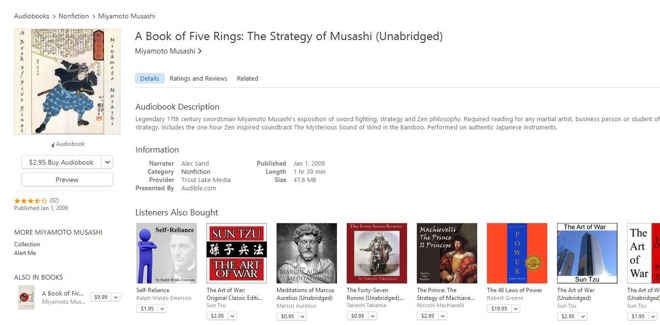 AppleInsider may earn an affiliate commission on purchases made through links on our site.
Germany's Federal Cartel Office is investigating the details of Apple's deal for purchasing audiobooks from Amazon, given the companies' market leading positions, a report said on Monday.
Apple has a long-term agreement to buy audiobooks from Amazon's Audible service, which it then offers via the iTunes Store, the FCO pointed out in a statement obtained by Reuters. The agency didn't immediately suggest any wrongdoing, but noted that Apple and Amazon have a "strong position" in the German digital audiobook market.
"Therefore, we feel compelled to examine the agreement between these two competitors in the audiobooks in more detail," said FCO head Andreas Mundt.
European competition monitors have been scrutinizing a number of major American tech companies in the past few years, including Apple. In August, for instance, Apple was cleared of concerns that it might be colluding with record labels to undermine free music streaming services.
Notably, Apple has previously been accused of colluding with book publishers against Amazon in the realm of e-books. In the U.S. the matter has reached the Supreme Court, with Apple hoping to avoid paying a $450 million settlement.