Review: Polar A360 fitness tracker makes ease-of-use a top priority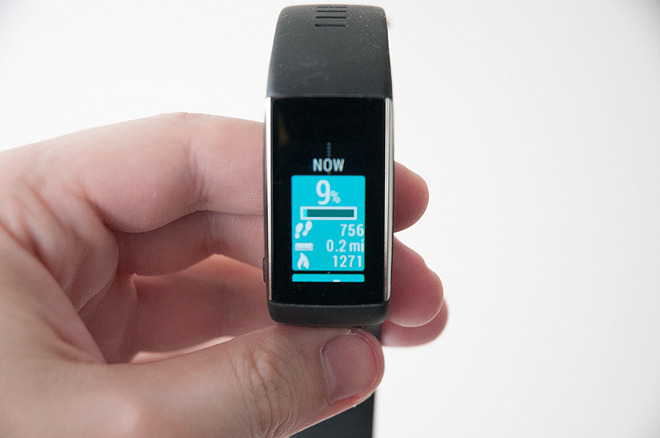 Polar A360 fitness tracker
4.0 / 5
---
AppleInsider may earn an affiliate commission on purchases made through links on our site.
Polar's A360 is one of the most user-friendly fitness trackers you can buy, and arguably one of the best on the market period, even if it lacks some of the features advanced athletes might want.
Setup & Wearability
Setup is fairly simple, done through a Mac/Windows desktop client — known as FlowSync — or the Polar Flow mobile app. Most people should probably choose the latter, since they'll end up syncing with the app anyway, but desktop sync (via micro USB) does offer the advantage of simultaneous charging and quick access to the Flow website, where people can track their long-term progress.
Our A360 shipped with two silicone bands in the box: one for regular wrists, and a second for larger sizes. We stuck with the first one, which popped on and off easily while staying in place when it needed to.
In several days of virtually non-stop wear, the regular band stayed comfortable the entire time, though the snug fit needed to make the heart rate monitor work means you have to take the product off occasionally to clean underneath or scratch an itch.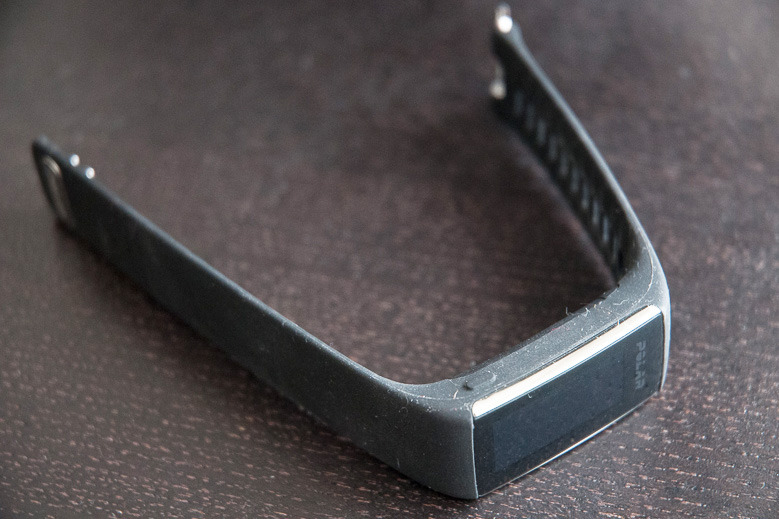 We did have some minor setup and wearability issues. The band's material is prone to collecting lint, and the size of the tracker itself can make it difficult to slide under long sleeves. During setup, we initially had trouble getting the A360 to sync with the Flow app on an iPhone 6. We solved this by going into iOS' Bluetooth menu while the tracker was searching for devices, and then forcing the iPhone to connect.
Everyday Use
One of the device's best selling points is easily its color touchscreen interface, which is responsive and intuitive. Arguably it's more intuitive than watchOS or Android Wear, though that's slightly unfair given how much more those platforms are expected to do.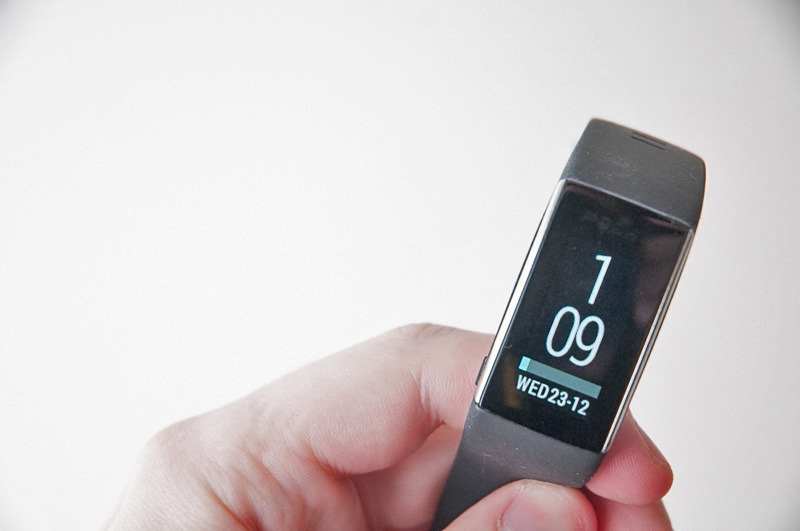 The UI's default view is a watch face, which can be triggered with a handy wrist-raising motion or the device's single hardware button. Tapping and holding on the watch view offers a choice of several different faces, though frankly, only one or two will probably be both attractive and useful.
Swiping up or down presents three options — "My Day," "Training," or "My Heart Rate." We'll cover the Training mode later, but the first provides stats summaries — including steps, calories burned, goal progress, and recent workouts — while the last lets you do an on-the-spot heart rate check.
In fact while the A360 has a heart rate sensor, this is the only way of getting it to do a reading outside of the Training mode. That may be a letdown for people wanting to monitor their overall heart health, but the tradeoff is vastly improved battery life. Polar quotes as much as two weeks, even with an hour of training per day, although realistically you'll probably be charging every 6-7 days if you want to take full advantage of the device's features, especially phone notifications.
Screen space is far too limited to see much notification content, but having it on is still useful for checking to see if you've received a call, text, email, or calendar alert.
Wearers can also turn on vibrating alarms, though don't expect any complex scheduling. Only one alarm can be set at a time, and repetition options are limited to weekdays or every day. Conceivably there's no reason why Polar couldn't improve on this with app or firmware updates.
Polar Flow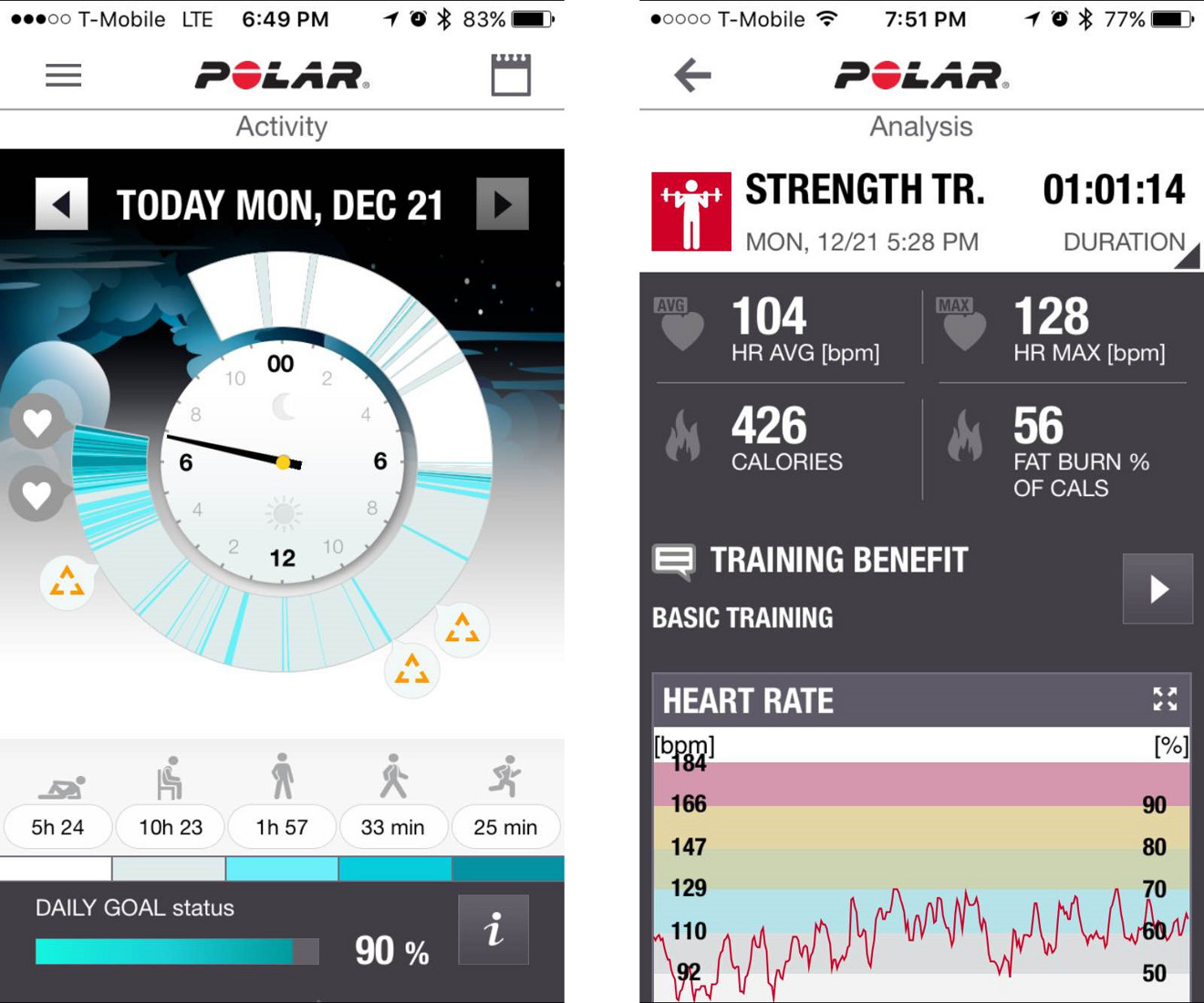 Nevertheless, both the Flow app and Web service may be another reason to go with Polar. The app lacks some of the features of other fitness platforms, like detailed coaching or sleep phase recognition, but it does show activity in an extremely readable fashion. With the A360, at least, you can also sync data at any time just by holding down its button for two seconds. Opening the app uploads data to the Flow website.
That service also lets users manage sport profiles, plan workouts, and see data broken down by day, week, or month. This is clearly geared toward people who see fitness as a long-term project.
It's worth noting that you don't have to use Flow much past the setup stage if you don't want to. The A360 supports both Apple HealthKit and Google Fit, meaning that any app capable of accessing those frameworks can make use of the same data.
If we had a wish list, it would be for full-blown coaching programs, more elaborate sleep tracking, and better control over alarms and phone notifications. Notifications are universally on or off, when it would be nice to silence some apps individually.
Training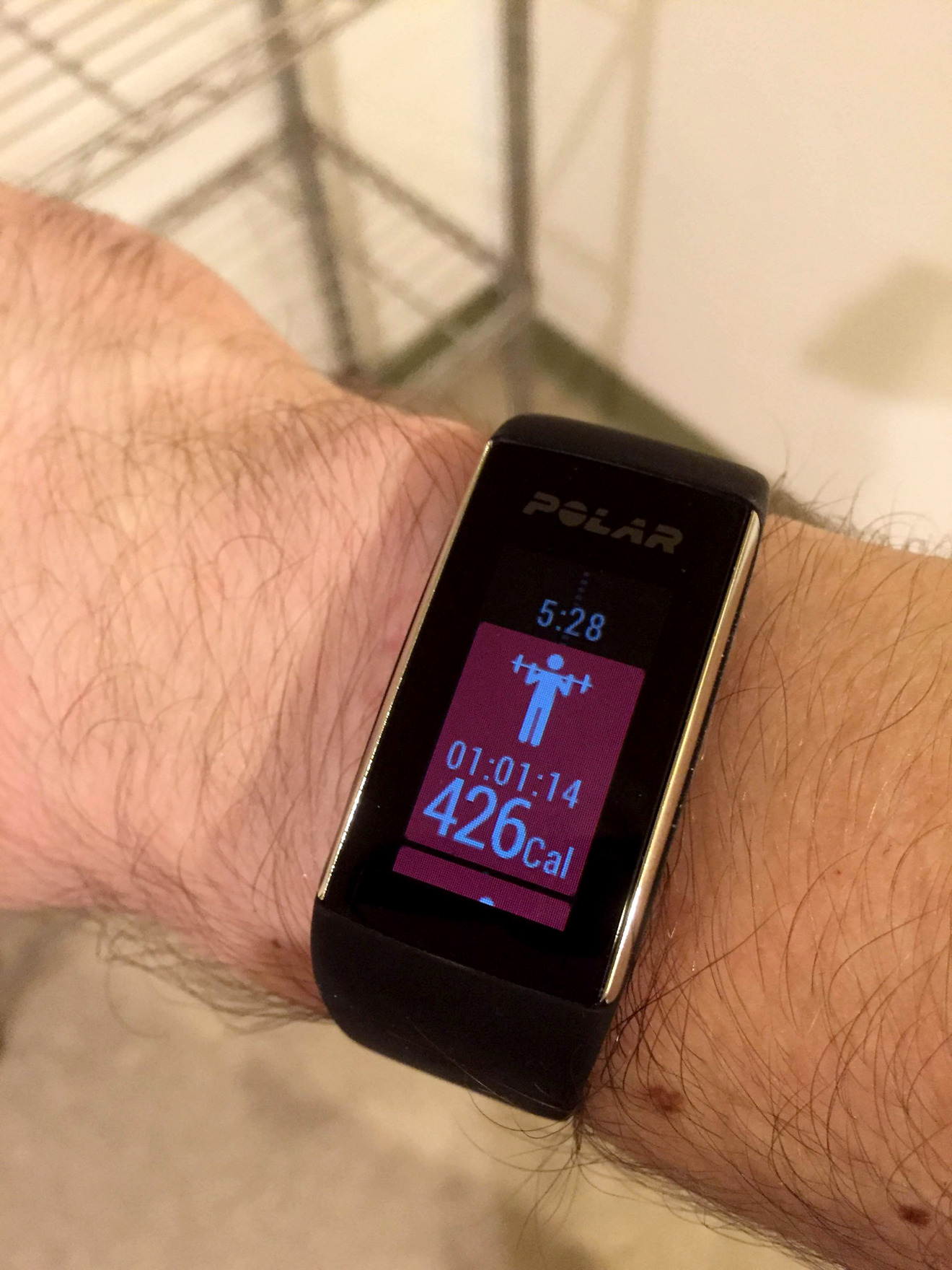 Before launching a workout the A360 asks users to pick a loaded sport profile, which not only marks it properly in Flow but brings up a different set of activity stats and controls. When walking, running, or cycling for instance, distance comes into play, but that info is left out for strength training.
A consistent feature is the monitoring of five heart rate "zones," useful for people who want to do that form of training or just control intensity. People can choose to use the A360's own sensor, or a Polar H7 chest strap, the second option being more accurate.
Since we didn't have any kind of chest strap available during testing, it was impossible to truly gauge the A360's accuracy. To us it seemed to respond quickly and as you'd expect for different levels of activity, but other users have complained that the A360 is only semi-accurate — so while it may do the trick for moderate fitness fans, serious athletes may need to buy an H7 or look elsewhere. That's slightly disappointing given Polar's reputation in the industry.
In fact, another problem for athletes (or at least regular runners) is the absence of any GPS functions. The device can only estimate distances based on motion, which means that people wanting to map their route will always need their phone and a third-party app with them.
That being said, fitness enthusiasts might still gravitate towards the product for its simple and data-packed UI. It's easy to start and stop a workout, as well as check a variety of stats mid-session without getting sweaty hands on a phone.
Another advantage: the device is waterproof to a depth of 30 meters, which means you can not only take it in the shower but use it to track swimming, unlike many of its rivals.
Conclusions
The A360 is a curious beast. At $200, it's a little pricey for casual fitness types who could spend $50 less and get a Fitbit Charge HR with many (though not all) of the same benefits. Hardcore athletes, meanwhile, may bemoan the average heart rate tracking and lack of GPS.
The product's ease of use, waterproofing, and Flow integration are strong points in its favor however, as is its excellent battery life, which puts most fitness trackers to shame, never mind the single-day battery of something like the Apple Watch. It's also worth noting that many competing trackers won't offer as much (or sometimes any) at-a-glance info.
That makes it a solid middleground buy, something that fixes the gaps of low-cost trackers but isn't as expensive as a Garmin Fenix or Atlas Wristband.
Score: 4 out of 5
Easy-to-use, info-rich graphical interface
Long battery life
Waterproof
Backed by great app and Web tools
Heart rate monitor semi-accurate, only on during workouts
No GPS functions
High pricetag for features
App could use better sleep and coaching functions
Where to buy