A smartphone was shipped for 1 of every 5 people alive in 2015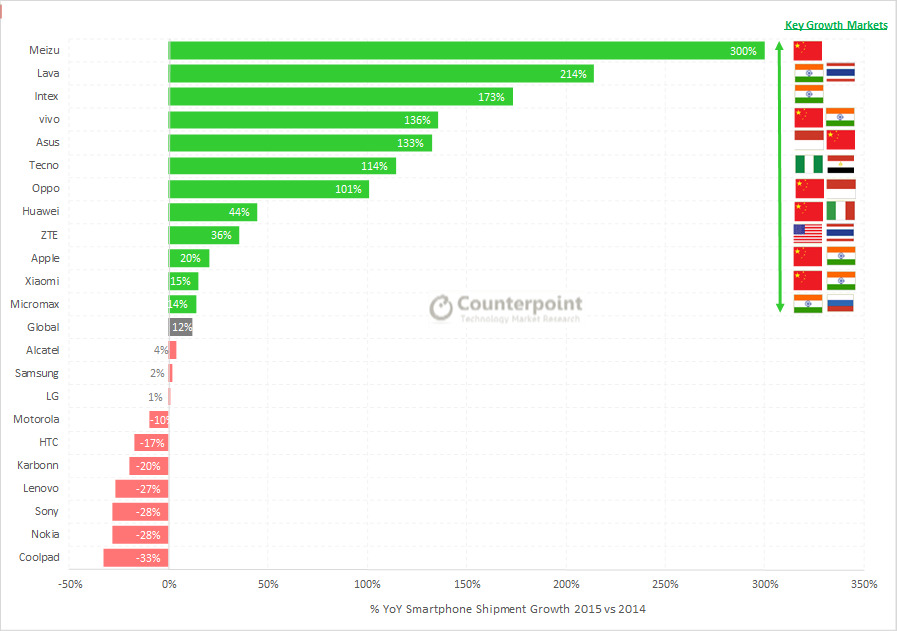 Manufacturers shipped nearly 1.5 billion smartphones to the world's 7.4 billion inhabitants in 2015 as consumers opted to replace older devices with newer LTE-equipped models or those with larger displays.
The massive, increasingly crowded smartphone sector now counts some 850 competitive brands, according to new data from Counterpoint Research. The market remains a mile wide and inch deep, however — the 20 largest companies account for nearly 85 percent of shipments.
Apple has been a major beneficiary of the exploding market, shipping a record 74.8 million iPhones in the holiday quarter. That's second only to Samsung's 81.5 million shipments, though arguably more impressive.
Apple sells just a handful of high-end models, the least expensive of which costs $450 without subsidies. In contrast, Samsung sells dozens of device variants — some of which are available for under $100.
The most impressive growth among smartphone vendors didn't come from the U.S. or South Korea, though — smaller regional players in emerging markets stole the show in 2015.
Meizu, Lava, Intex, Vivo, Tecno, and Oppo all posted growth in excess of 100 percent for the year thanks in part to the swelling middle class in China, India, and Thailand. More established brands like Asus, Huawei, and ZTE also recorded impressive numbers, though far lower than their smaller competitors.
The shift in marketshare has come at a cost for former heavyweights like Motorola, HTC, Lenovo, Sony and Nokia, which all saw shipments contract by 10 percent or more.