After citing $53M in personal debt, Kanye West begs fans to subscribe to Tidal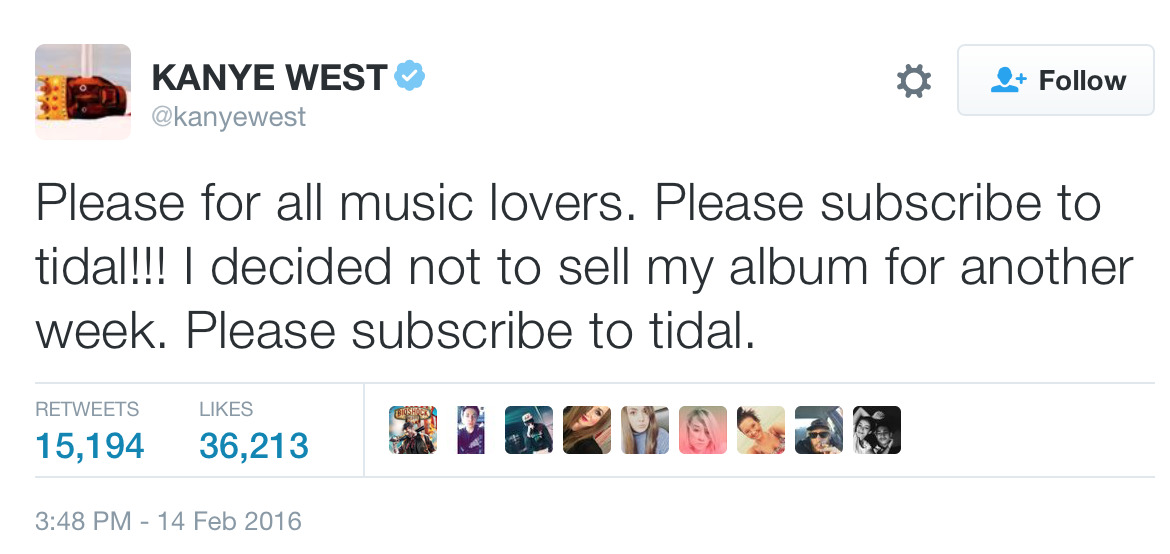 The highly anticipated new album from Kanye West has launched exclusively on streaming service Tidal, and the outspoken rapper took to Twitter to ask fans to subscribe, while also disclosing his apparent financial woes.
West's album was originally available to download from his website, but was quickly pulled. He then revealed that he "decided" not to sell the album for another week, leaving it as a streaming exclusive on Tidal, an Apple Music competitor of which he is part owner.
The release of the new album, "Life of Pablo," pushed Tidal to the No. 1 free spot on Apple's iOS App Store. How many of those free downloads turned into paid subscriptions remains unclear, however — Â as of Monday morning, Tidal ranked No. 31 among the "Top Grossing" App Store downloads.
Prior to pleading with his followers to subscribe to Tidal, West revealed that he is currently $53 million in debt. He then went on to ask Facebook founder Mark Zuckerberg to invest $1 billion "into Kanye West ideas." Google co-founder Larry Page was also named in his quest for cash.
"All you dudes in San Fran play rap music in your homes but never help the real artists..." West wrote in a series of tweets. "You'd rather open up one school in Africa like you really helped the country... if you want to help... help me."
Owned by rapper Jay Z, Tidal launched last April with 17 other artists and bands owning small stakes in the company, including West, Nicki Minaj and Usher. Despite this backing, and exclusives from musicians like Prince and Beyonce, it has struggled to gain marketshare versus players like Spotify, Pandora, and Apple Music.
The service costs $10 per month — like Spotify or Apple Music — but also offers a unique $20 tier with lossless audio. Another distinguishing aspect is that the service pays higher royalties than its competitors, making it more artist-friendly.
Apple revealed last week that its Apple Music subscription service currently has 11 million paid members. Tidal, meanwhile, reached 1 million subscribers last September, but no updated counts have been provided since.