Watch as Apple's 'Liam' iPhone-recycling robot tears down devices for the environment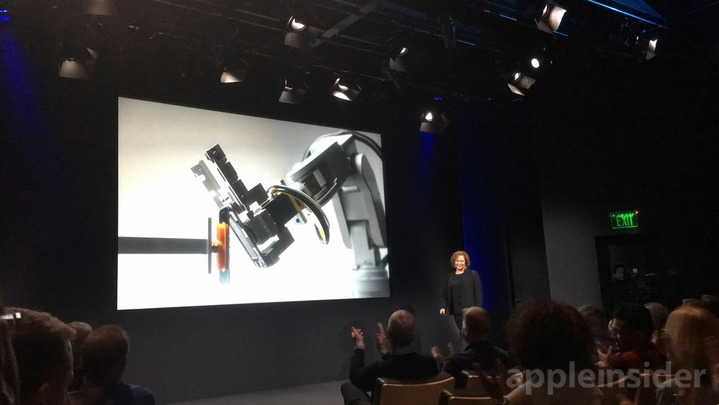 At Apple's March 21 event on Monday, vice president of Environment, Policy and Social Initiatives Lisa Jackson took the stage to discuss the company's environmental initiatives, and debut its latest device: a robot designed in-house specifically to dismantle iPhone into useful materials.
Introduced onstage in a peppy video, "Liam" the robot — more specifically a robotic arm — was specifically developed by Apple engineers to pick apart iPhone and other gadgets, tearing the devices down into discreet modules. These parts, like an iPhone screen or logic board, can then be broken down further to recover materials for reintroduction into the global supply.
Jackson offered up specific examples, saying tungsten from iPhone's vibrator can be recycled into bits used on cutting tools, while silver from the logic board might make its way into vital components for solar panels. Liam also lets Apple target potentially troublesome chemicals like cobalt and lithium, which are culled from the battery.
Finally, Jackson plugged Apple Renew, the marketing name given to the company's reuse and recycling program. Customers can bring their iPhone, iPod and other devices into an Apple Store, or request a mailer online, to take part in a recycling program that is "safe for your data and safe for the planet."