Streaming music usurps digital downloads for first time in 2015, RIAA says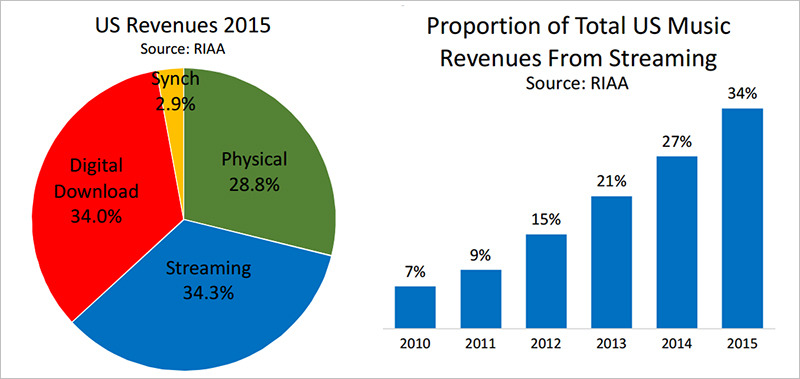 In 2015, streaming services like Spotify and Apple Music generated $2.4 billion for the wider U.S. music industry to surpass sales from digital stores like iTunes, according to new data from the Recording Industry Association of America.
Streaming revenue's share of total industry revenue grew from 27 percent in 2014 to 34.3 percent in 2015 (PDF link), enough to slip by collective digital music sales, which accounted for 34 percent of the market over the same period. A long time coming, and riding a groundswell of momentum, streaming's overthrow of outright digital sales augurs a fundamental shift in user preference.
Breaking down the data further, the RIAA says all sectors of the streaming market grew last year, including revenue from streaming radio services distributed by SoundExchange. Revenues from paid subscriptions for services like Apple Music, Spotify and Tidal, rose 50.3 percent year-over-year, while ad-supported on-demand streaming outlets like YouTube jumped 30.6 percent. With an annual average of 10.8 million subscribers helping to drive $2.4 billion in overall revenue — the first time streaming crossed the $2 billion threshold — the sector was up 29 percent.
By comparison, revenue from digital downloads fell 12.8 percent for singles and 5.2 percent for full albums, ending the year at $1.25 billion and $1.1 billion, respectively. Kiosk, ringtone and music video sales brought in another $64.7 million.
On the whole, the music industry grew 0.9 percent year-over-year to generate more than $7 billion.
The smartphone revolution is thought to have catalyzed adoption of streaming music solutions. And with the rise of attractive cellular data plans, a result of mobile providers' fight for marketshare, music services offering vast content libraries and all-you-can-eat subscriptions have become viable options for a wider demographic.
Apple, whose iTunes platform popularized and currently dominates the digital downloads market, launched its own Apple Music streaming service last year. With an app built in to millions of iOS devices, Apple Music is enjoying a strong debut, reaching 11 million subscribers as of February.