Apple to host pop-punk band Good Charlotte at its WWDC16 Bash
By Daniel Eran Dilger
Tuesday, June 14, 2016, 01:22 pm PT (04:22 pm ET)
Good Charlotte will perform at Apple's Worldwide Developer Conference Bash on Thursday, the company has announced to attendees.


Good Charlotte to perform at WWDC16



The band, founded by brothers Benji and Joel Madden in 1996, is featured in an Apple Music curated playlist.

Apple's annual WWDC Bash wraps up the week long developer convention on Thursday, the last evening for many attendees.

Last year, Apple invited Walk the Moon to perform, and in 2014 the company hosted Bastille, and the year prior to that, Vampire Weekend.
Unbeatable Deals from AppleInsider & Apple's Top Authorized Resellers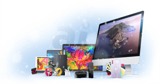 SAVE $1800.00 - Save $100s on the best gifts for Apple fans
Today's Headlines
No news headlines yet today
Lowest Prices Anywhere!