Politico uses Apple's Wallet to distribute breaking 'Brexit' news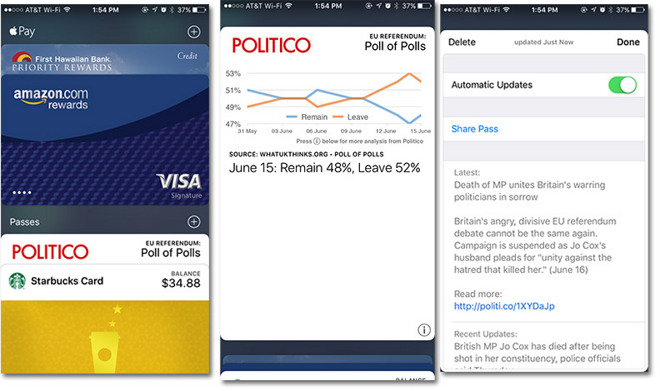 AppleInsider may earn an affiliate commission on purchases made through links on our site.
Political publication Politico is testing out a highly unorthodox news delivery method that leverages Wallet passes to keep readers up to date on the latest poll results and news from Britain's vote to leave the European Union. And it seems to be working.
Apple designed Apple Wallet (née Passbook) to provide iOS device users easy access to credit and debit cards, coupons, boarding passes and tickets, but Politico Europe's EU Referendum Tracker uses the platform for something completely different: a single topic news feed.
As noted by Nieman Lab, using Wallet as a notification platform allows Politico to deliver news without the overhead of developing and maintaining a standalone app. The publication also has an iOS app in the App Store with full support for push notifications, but Wallet comes with unique advantages.
For example, instead of unlocking their iPhone and opening Politico's dedicated app, readers have direct access to Brexit polls and breaking news directly from the lock screen. A double-press of the home button brings up a Wallet's card interface, where the EU Referendum Tracker pass shows a Brexit poll graph and statistics.
Tapping on the small "i" icon in the lower right flips the pass over to reveal an informational section populated by breaking news and an option to turn off automatic updates. Hyperlinks included in breaking coverage are not accessible via Wallet's lock screen view.
"We thought Wallet was simple enough that we could effectively do this without much effort," said Kate Day, Politico editorial director for growth. "In some ways, the limitations help us focus on what we really want to say."
Politico is not the first to use the Wallet platform for something other than its intended purpose. Ad agency Digitas LBI, which collaborated on the EU Referendum Tracker, tested out a similar system for the UK general election last year.
To access the EU Referendum Tracker, simply visit the sign-up website on an iOS device, fill out the required information and click the Wallet link to generate a pass. Users can delete the pass by accessing it from the Wallet app.