Review: Logitech Create Backlit Keyboard Case for Apple's 9.7" iPad Pro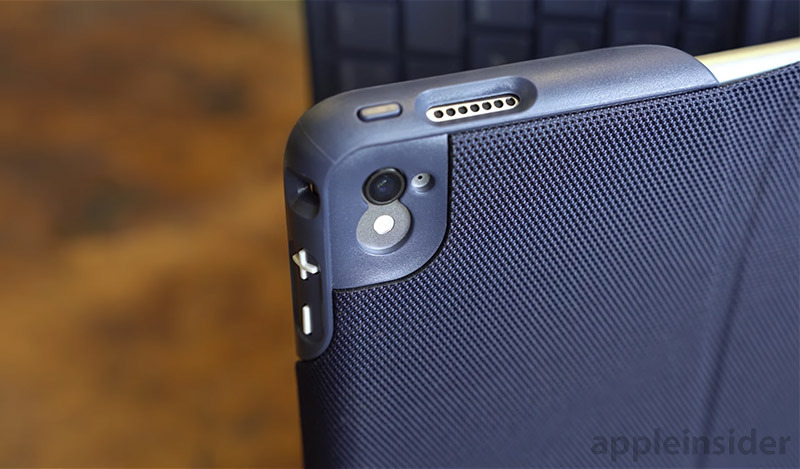 Logitech's Create Backlit Keyboard Case, made specifically for the smaller 9.7-inch iPad Pro, leverages the tablet's Smart Connector port for both data and power, negating the need for a separate battery or pairing process with virtually no key lag.
The outside of the case is covered with a durable, water resistant textured fabric that feels great in the hand. It provides a nice grip and, along with the case chassis, feels durable and well built.
On the sides are cutouts for iPad's speakers, microphones and cameras, with added key pushers for the volume and power buttons. While the volume controls feel great, the power button is a bit stiff. The case makes up for this by having a lock button as well as sensor-based auto lock and unlock features when the case is opened and closed the case.
The inside seam of the case includes a convenient slot to store your Apple Pencil. The rubbery material holds Pencil securely and tucks it out of sight, but allows for quick and easily access when needed.
To insert your iPad Pro, you line the tablet up with the hard edges of the case and press down firmly. The iPad will snap in and hold fairly snug to the case wall. Lifting up the case, the Smart Connector magnets pull the iPad to the cover and click together, automatically pairing.
The Create features a top row of convenient shortcut keys including a home button, brightness adjustment, search and browser keys, backlight settings, music and audio controls, and a dedicated lock button. Unlike Apple's Smart Keyboard, the Create case includes a key mapped to open the iOS soft keyboard for access to emoji, voice dictation and other features.
The Create keyboard keys are smaller and spaced closer together than a standard Apple keyboard, but we found them very tactile. I was able to type almost as fast and accurately with the Create keyboard as I could with my MacBook Air the first time I used this case, and I'm sure after a few days I'll get even better.
Using the Logitech Create on a desk was really great, and it does a fairly good job on your lap as well. My only complaint would be the single 55 degree typing angle. While not a huge deal, it would be nice to have some adjustability.
The backlighting feature, with user-selectable off, low and high brightness modes, is really useful in dimly lit situations. In order to save power, the case will turn off after 8 seconds of not being used, but turns back on instantly with a press of a key. With this feature and direct connectivity of the case, battery drain is minimal.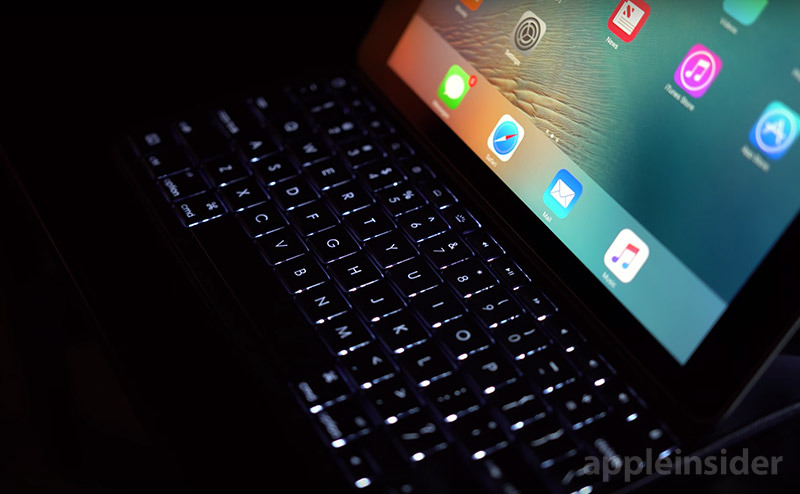 Overall, Logitech's Create Backlit Keyboard Case for the 9.7-inch iPad Pro is a fantastic product. At $129 it's $30 cheaper than Apple's Smart Keyboard and offers more protection and wider set of features. If having a very slim case for better portability is of most importance, Apple's keyboard will likely be a better choice. But If you're looking for a robust keyboard case this is a great option.
Score: 4 out of 5
Tactile keyboard that's nice to type on
Integrated backlight and dedicated media/shortcut key row
At $129, it's cheaper than Apple's option
Bulky and inconvenient to add/remove iPad from case
Two viewing angles, but only one for typing
$129 is still pricey
Where to buy
The Logitech Create Backlit Keyboard Case is available in black or blue and can be purchased for $129 from Logitech and Amazon.com.