Sony readies its first aftermarket receiver with Apple CarPlay support
By Roger Fingas
Monday, August 22, 2016, 12:51 pm PT (03:51 pm ET)
Expanding CarPlay's so-far limited number of aftermarket upgrade options, Sony has announced the XAV-AX100, its first receiver to support the Apple platform.




The device will sport a 6.4-inch, 800-by-480 touchscreen, and include Bluetooth and USB connections, Sony said. The company is also promising features like 55 watts of output, a 10-band graphic equalizer, rear camera support, and the ability to connect external amplifiers for more complex audio setups.

Like many CarPlay-ready devices, the device will also support Google's Android Auto. In either case people should be able to trigger voice commands with a button.

Sony is targeting a late November launch in North America, at a cost of $499.99.

That pricetag may be one of the more important aspects of the AX100, since other CarPlay-compatible receivers often cost $100 or more extra, especially for models that don't use a resistive touch interface.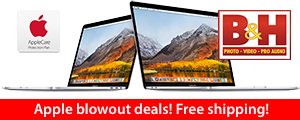 2018 13" Touch Bars
Price
Save
2.3GHz/8GB/256GB (Gray)
$1,649.99+
$150
2.3GHz/8GB/512GB (Silver)
$1,849.00+
$150
2.3GHz/16GB/256GB (Gray)
$1,949.00+
$50
2.7GHz/16GB/512GB
$2,449.00+
$50
2.7GHz/16GB/1TB
$2,849.00+
$50
2018 15" MacBook Pros
Price
Save
2.2GHz/16/256GB/555X
$2,099.00+
$300
2.6GHz/16/512GB/560X
$2,399.00+
$400
2.9GHz/16/1TB/560X
$3,199.00+
$300
2.9GHz/32/2TB/560X (Gray)
$3,999.00+
$700
tr class="model">
2.9GHz/32/4TB/560X (Gray)
$5,999.00+
$700
Click here for dozens more configurations
+ Free shipping within the contiguous U.S.
Lowest Prices Anywhere!

13" MacBook Pros
Price
You Save
3.1GHz/8GB/256GB Gray
$1,679.00
$120.00
3.1GHz/8GB/256GB Silver
$1,704.00*
$95.00
3.1GHz/8GB/512GB Gray
$1,849.00*
$150.00
3.1GHz/16/512GB Gray
$2,099.00
$100.00
15" MacBook Pro
Price
You Save
2.8GHz/16/256/555 Silver
$2,199.00*
$200.00
2.8GHz/16/256/560 Gray
$2,299.00
$200.00
2.9GHz/16/512/560 Gray
$2,599.00
$200.00
2.9GHz/16/1TB/560 Gray
$2,999.00
$200.00
3.1GHz/16/512/560 Gray
$2,799.00
$200.00
3.1GHz/16/2TB/560 Gray
$3,899.00
$300.00

*

price with Promo Code:

APINSIDER

prices.appleinsider.com for more configurations