Apple CEO Tim Cook sells $36M in Apple stock after receiving 5-year RSU bonus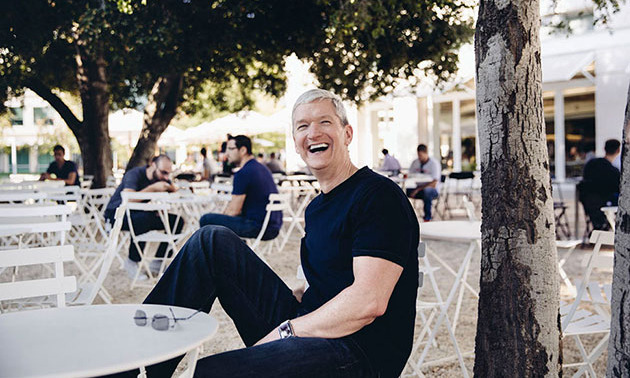 After receiving a sizable bonus of vested restricted stock units (RSUs) for five years of success as Apple's CEO, Tim Cook on Wednesday cashed in nearly a third of his existing stock cache for a $35.8 million payday.
Disclosed in a Securities and Exchange Commission filing on Friday, Cook's award of 1.26 million RSUs — 980,000 time-based RSUs and 280,000 performance-based RSUs — vested on Aug. 24. Prior to this week, the Apple chief had accrued 2.24 million shares of vested stock during his tenure as CEO, part of a 2011 compensation package granting 4.7 million restricted shares. Wednesday marked the fifth anniversary of Cook taking the reins at Apple from late cofounder Steve Jobs.
Cook tends to stockpile awards, but this year sold off 990,117 vested shares worth more than $35.8 million in a series of trades at prices ranging from $106.69 to $107.92. Apple withheld a bit more than half of the 1.26 million shares to comply with minimum statutory tax withholding requirements.
Apple's contract terms stipulate Cook satisfy performance metrics related to total shareholder return (TSR) relative other companies listed in the S&P 500 index over a three-year period between Aug. 25, 2013, and Aug. 24, 2016. To vest in full, Apple had to outperform two-thirds of the S&P 500. If the company landed in the middle third of S&P 500 firms, Cook's 280,000-unit award would drop by 50 percent, and would fall to zero if Apple ended up in the bottom third.
With Cook at the helm, Apple ranked in 78th percentile with a TSR of 67.55 percent for the three-year stretch ending this week, good for 95th place among 430 companies included in the S&P 500 calculations during the period.
Following this week's sell-off, Cook still has 1,309,692 in his trust worth about $140 million at the end of trading on Friday. Future awards are pending, including a batch of 700,000 RSUs scheduled to vest on Aug. 24, 2021. Wednesday's 280,000-unit award was the first of six performance-based RSU packages set to vest in annual installments through 2021.