Apple CEO Tim Cook touts encryption, AR at Utah Tech Tour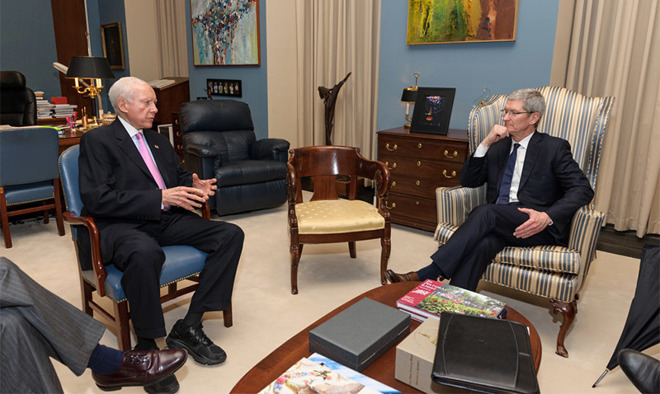 At Sen. Orrin Hatch's Utah Tech Tour on Friday, Apple CEO Tim Cook hit the usual talking points recited at other recent interviews, reaffirming Apple's commitment to encryption, augmented reality and making the best products possible.
As seen in the video below, Cook started the session by thanking Hatch and those gathered, jesting that he was concerned no one would show up. Judging by the response, it sounded like the room was near capacity.
Cook said he visited a nearby Apple retail store, whose high energy staff is a good representation of the overall Utah tech community. Quoting some stats, the executive said there are over 50,000 iOS developers in the state, some of whom were on hand for the event.
Cook fielded a few questions submitted online, including one from a sixth grader who asked how she can aspire to be Apple's CEO. Another asked which course Cook believed was most important throughout his education (it was ethics).
As expected, the encryption debate cropped up midway through the Q&A, with one person asking what steps, if any, can be taken to ensure private and secure in digital communications. More specifically, Cook was asked whether consumers can have a reasonable expectation to privacy given the state of encryption.
"The answer to the last question is: yes, you do if you're an Apple customer," Cook said.
Encryption is one of the biggest issues facing our modern world, from personal devices to cloud storage to electricity grids and national defense systems. Though some have made encryption out as a negative — national security hawks — encryption is "inherently great," Cook said. In many ways our society would not thrive without these digital safeguards.
"As you can tell by our actions this year, we throw all of ourselves into this," he said, alluding to Apple's court battle wth the FBI and U.S. Department of Justice. "We're very much standing on principle here."
Being an event serving and touting the Utah tech community, Cook was asked what advice he would offer to a startup. Every company should consider three objectives: being the best, being the first and making the most. For Apple, being the best trumps the other two "by far." He reminded the audience that iPod, iPhone and iPad were not the first in their respective product categories.
"And Apple didn't have the first tablet, as a matter of fact Microsoft was shipping tablets decades before — no one used them because they weren't any good — but they did it," he said. "For us, our North Star is making the best products that really enrich people's lives. And if we can't do those, we pass."
Moving on to augmented and virtual reality, Cook said AR will "definitely happen," but it might "take a little while" due to technological challenges. He expects AR to hit the scene "in a big way." Much like smartphones are now a common sight, so will be AR systems, though adoption is contingent on creating engaging experiences.
"I do think that a significant portion of the population of developed countries, and eventually all countries, will have AR experiences everyday," Cook said. "And it will almost be like eating three meals a day."
VR will likely be less popular in comparison mostly due to form factor restrictions. That being said, Cook is excited about the impact VR might have on education and gaming.
The last question came from Hatch, who asked Cook how Apple maintains late company cofounder Steve Jobs' spirit of innovation alive. To that point, Cook reminded the audience that Jobs' old office is still intact.
"He embodied who we are, it was his vision that Apple should make the best products and it was his vision that they should enrich people's lives," Cook said. "Lots of other things will change with Apple, but that will never change."