First look: Apple's new MacBook Pro with Touch Bar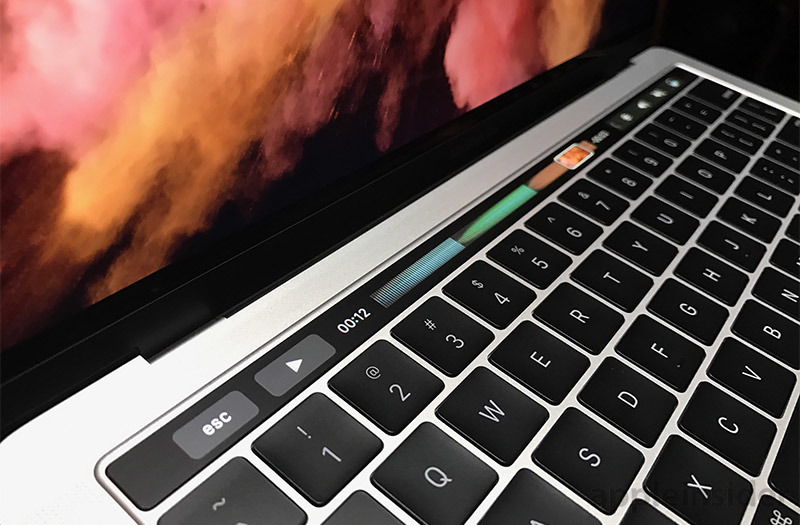 As expected, Apple refreshed its MacBook Pro lineup on Thursday with thinner designs, beefier components and the hotly anticipated multitouch Touch Bar. AppleInsider covered the event live and was able to go hands-on with Apple's latest hardware after the keynote.
This year's 13- and 15-inch MacBook Pro revamps are a respective 17 percent and 14 percent thinner than their predecessors, a significant change easily apparent when picking up the device. Further, with 23 percent and 20 percent less volume, respectively, the two new MacBook Pro iterations feel substantially lighter in the hand.
The real star of the show, however, is on the inside. Sitting at the top of a wide-button keyboard with second-generation butterfly mechanisms is the Touch Bar, a configurable and adaptable multitouch Retina-class sub-display that offers unparalleled control over system and app functions. The long, rigid display strip runs nearly the entire length of MacBook's keyboard, save for the small, depressible Touch ID power button just above the delete key.
In our short time with the Touch Bar, we came away impressed with the component's ability to surface features and functions that might otherwise be lost in menus or tool palettes. As demonstrated onstage today, the Touch Bar also frees up screen real estate, allowing users to go fullscreen without obscuring their work.
Being integrated directly above the keyboard makes it natural to "chord" Force Touch trackpad selections and TouchBar controls while working in a full screen interface. Contextual content makes the experience all the more engrossing, actually adding to MacBook's usability rather than distracting from it. Users are able to customize toolbars to a certain extent in Apple's system controls and first-party apps, though more robust options are expected to debut once third-party developers begin rolling out updates supporting the new hardware.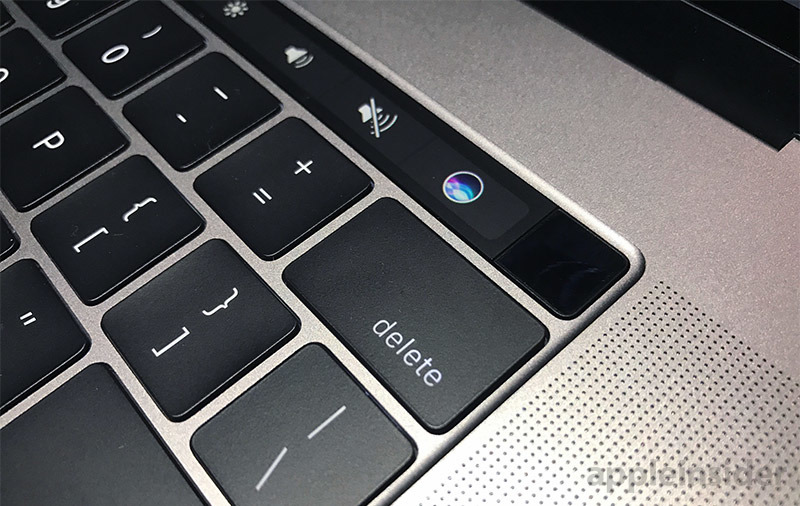 Overall, we found Apple's Touch Bar solution much more intuitive than a full-fledged touchscreen display. It's easier to rest your hands on the trackpad and Touch Bar than constantly reaching up to interact with a screen interface.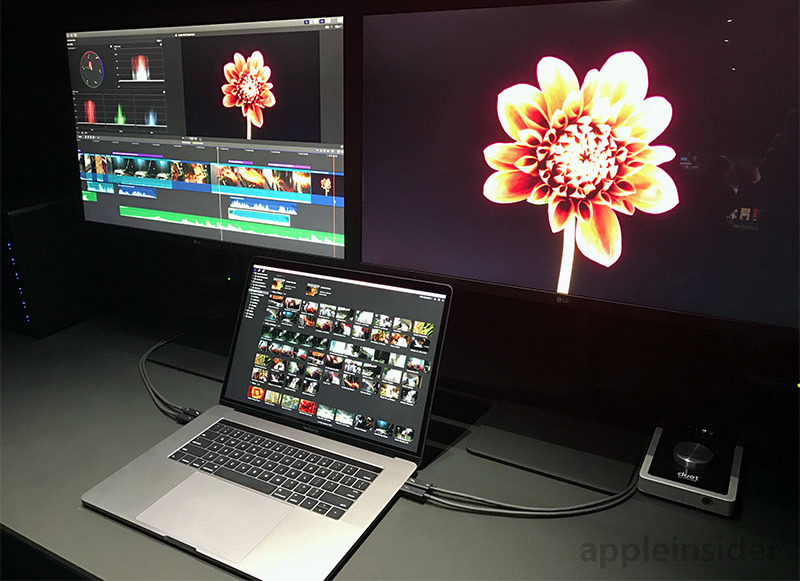 Apple also showed off the Pro's raw computing power, touting the first single-cable solution for 5K displays. The 13-inch model supports one 5K display, while the 15-inch version can drive two ultra high-resolution monitors simultaneously.
Performance feels snappy, as is usually the case with new hardware, but we were particularly impressed with MacBook Pro's ability to crunch through high-resolution video content. The process is made more intuitive with Touch Bar, which in Final Cut puts a scrubbing bar, visual controls, editing tools and more at your fingertips.
With fast processors, speedy storage and an ample amount of RAM, the new MacBook Pro models are Apple's fastest laptops ever. Combine that with the Touch Bar and extra large Force Touch trackpad, and we believe the MacBook Pro package, in both 13- and 15-inch iterations, represents a long awaited return to form for Apple's Mac division.