Supreme Court sides with Samsung over Apple, says payments shouldn't cover whole device profits [u]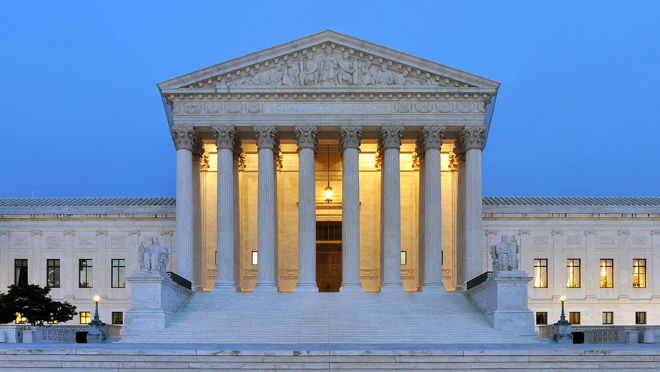 In a unanimous decision, the U.S. Supreme Court on Tuesday ruled in favor of Samsung in a long-running dispute with Apple, arguing that design patents can only cover components of a smartphone, and not the entire product. [Updated with Apple statement]
The case will now head back to a lower court to determine what Samsung should pay, USA Today said. An original 2012 trial verdict levelled almost $1 billion in damages against the Korean company for violating iPhone design concepts, but this amount was later reduced to about $548 million. Samsung then decided to challenge $399 million of that at the Supreme Court.
Apple had contended that Samsung should hand over the whole profits from infringing devices. Samsung, though, suggested that this was ridiculous, likening it to forfeiting the whole profits of a car because of an infringing cupholder.
"A smartphone is smart because it contains hundreds of thousands of the technologies that make it work," an attorney for Samsung once argued.
Legal action against Samsung began under former Apple CEO Steve Jobs, who infamously threatened to go to "thermonuclear war" over Google's Android platform — used by companies like Samsung — claiming it was a "stolen product," and that he would even be willing to spend all of Apple's cash reserves to "destroy" it.
Jobs's hatred of Android helped push a plethora of lawsuits around the world, against Samsung and other Android device makers, but legal battles eventually scaled back to a handful of Samsung issues in the U.S. The 2012 case has been Apple's biggest victory so far.
Samsung was accused of going a step further, deliberately modeling the look of its phones after the iPhone in both hardware and software.
Update: "We remain optimistic that the lower courts will again send a powerful signal that stealing isn't right," Apple spokesman Josh Rosenstock said in a statement.