Apple's Federighi suggests GPU issues on 2016 Retina MacBook Pro fixed in macOS 10.12.2

In email response to a customer regarding GPU anomalies associated with the Touch Bar MacBook Pro, Apple's senior VP of Software Engineering Craig Federighi suggested that the problem is solved in the latest macOS 10.12.2 beta.
In the email, sent to a MacRumors forum member, Federighi reportedly noted that he believes that everything software-related has been rectified. The executive declined to mention any specific fixes applied in the update.
Problems are inconsistent among users, with reports spanning both the 13-inch and 15-inch MacBook Pro. In an otherwise unaffected machine, some symptoms can be induced using non-updated software, but users are also reporting glitches in the login screen, as well as in Apple's own Photos app.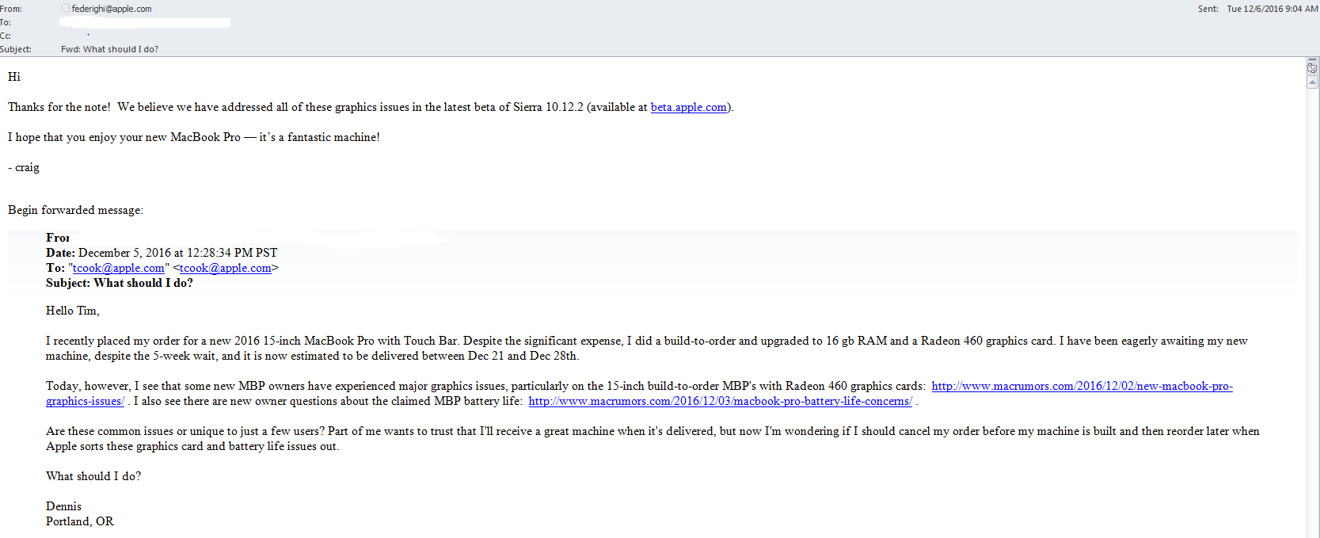 The most likely culprit for the graphical distortions is the hand-off between Intel's integrated graphics chip and the discrete Radeon Pro GPU. Intel issued a Windows-based update for Skylake integrated graphics earlier in December, which may have been folded into Tuesday's macOS beta.
AppleInsider has examined the new Sierra beta, and a large amount of the GPU drivers have been modified — but by how much is impossible to tell. However, in the one case of profound distortion out of eight machines we have access to, the beta has in fact fixed the problem the user was having with subscription Adobe offerings.
The problem is still reproducible on some significantly older software dating back to OS X 10.8, however.