Netatmo debuts HomeKit-ready Smart Smoke Alarm, other smart home products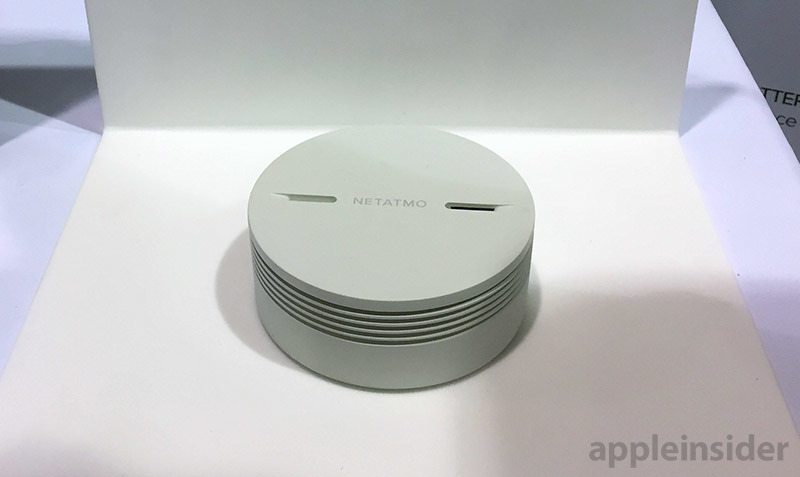 Netatmo extended its HomeKit-enabled product offering at CES on Tuesday with the debut of the Smart Smoke Alarm, a competitor of Nest Protect, as well as an accompanying indoor siren and other smart home products developed through partnerships with French firms Velux and Legrand.
Like similar products from First Alert, Netatmo's Smart Smoke Alarm features Wi-Fi and Bluetooth connectivity, allowing users to receive — and take action on — real-time alerts remotely on their smartphone. With support for Apple's HomeKit protocol, the device is even more useful.
In addition to smoke alert push notifications sent directly to iOS lock screens, complete with relative location in a house, HomeKit compatibility means smoke alarms trigger preconfigured device scenes. For example, users might create a visual alert by configuring connected lights to flash or turn on if the Smart Smoke Alarm detects smoke.
On the inside is a built-in battery good for ten years, an 85 decibel siren and status LEDs. The device automatically performs periodic self-checks and generates reports to let users know their hardware is functioning as intended. Integration with IFTTT is also included.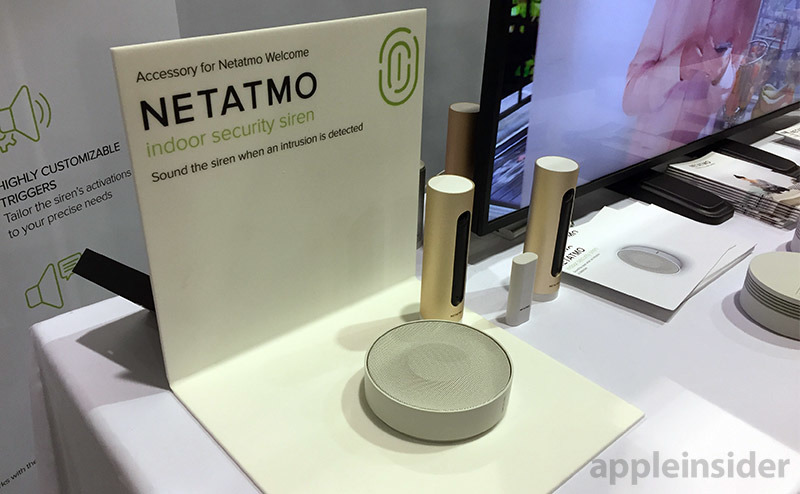 In addition to the smoke alarm, Netatmo introduced the Indoor Security Siren, a go-along with the company's Welcome camera and door tags. The wall- or ceiling-mounted unit sounds a 110 decibel alarm and sends out a push alert when Welcome detects an unrecognized face or a tag is triggered.
The Smart Smoke Alarm and Indoor Security Siren are due for release this year at as yet undisclosed prices.
Finally, the "with Netatmo" program was announced as an initiative that merges the firm's smart home technology with established brands, the first two being French industrial firms Velux and Legrand.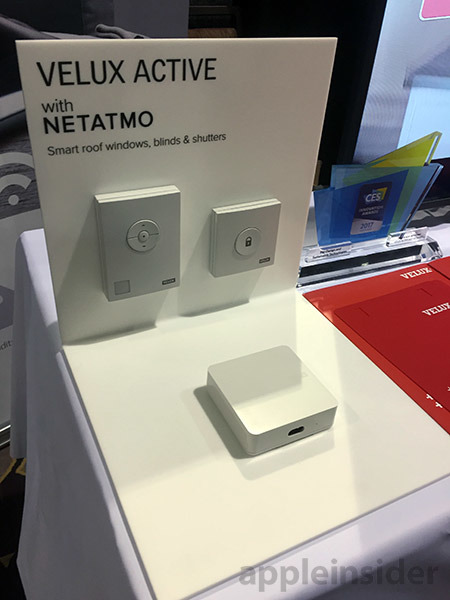 The first product, Velux Active with Netatmo, is described as a centralized window control center that automatically opens and closes roof windows, blinds and shutters depending on input from sensors measuring light, temperature, humidity and air quality. Compatible with motorized roof windows, the system promises to maintain an optimal indoor environment while saving energy.
Legrand's offering, Celiane with Netatmo, is a range of in-wall switches and sockets limited to the French market. The system is controlled via a central master switch or through HomeKit's Siri integration.
Both Velux and Legrand's with Netatmo lines will debut later this year.
Netatmo said it expects to announce additional "with Netatmo" partnerships in 2017.