Google's Chrome Canary web browser adds MacBook Pro Touch Bar support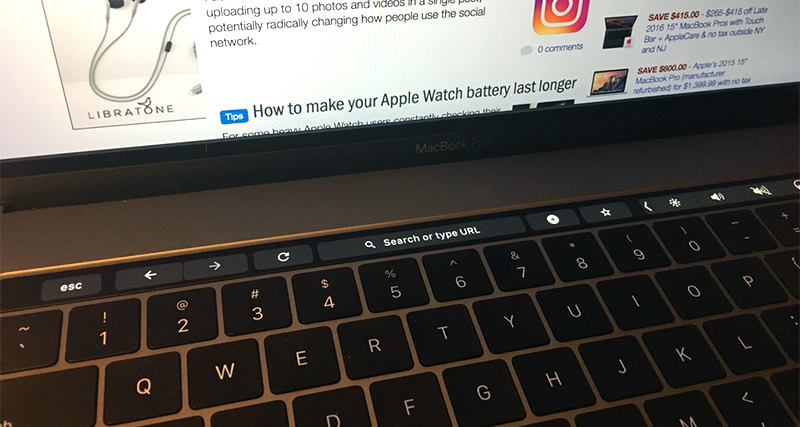 AppleInsider is supported by its audience and may earn commission as an Amazon Associate and affiliate partner on qualifying purchases. These affiliate partnerships do not influence our editorial content.
As third-party developers slowly incorporate support for Apple's new MacBook Pro Touch Bar, Google on Wednesday integrated assets for the OLED control strip in the latest version of its Chrome Canary experimental web browser.
With Google baking Touch Bar support into Chrome Canary version 58.0.3020.0, the company is likely planning to integrate the feature into the upcoming Chrome 58 update, expected to launch later this year.
Touch Bar operation in Chrome Canary is similar to, but not as robust as, Apple's own solution for the Safari browser. In Canary, Touch Bar displays a series of static virtual buttons that basically mirror onscreen controls found at the top of app window. Next to an escape key are Touch Bar buttons for back and forward browser control, refresh page, open new tab and add bookmark. A large central button labeled "Search or type URL" is situated between the refresh and open new tab keys.
Canary's in-app controls are flanked by Apple's standard system assets including the expandable control strip for configuring volume, screen brightness, Launchpad and more.
The implementation is barebones compared to Safari. Apple's first-party browser includes Touch Bar support for displaying a list of favorite webpages, each of which is represented by a small icon. Safari also sports built-in media navigation tools for scrubbing through videos and audio, something currently missing in Canary.
Whether or not Google plans to incorporate more sophisticated Touch Bar controls into its Chrome browser is unknown, though user feedback gleaned from Canary testing will likely play a role in that decision making process.
The latest Chrome Canary version can be downloaded for free from Google's website. Potential users should be wary, however, as the app crashed multiple times on AppleInsider's MacBook Pro with Touch Bar testbed.