Fitbit intros iPhone-connected Alta HR, plans sleep tracking updates for current wearables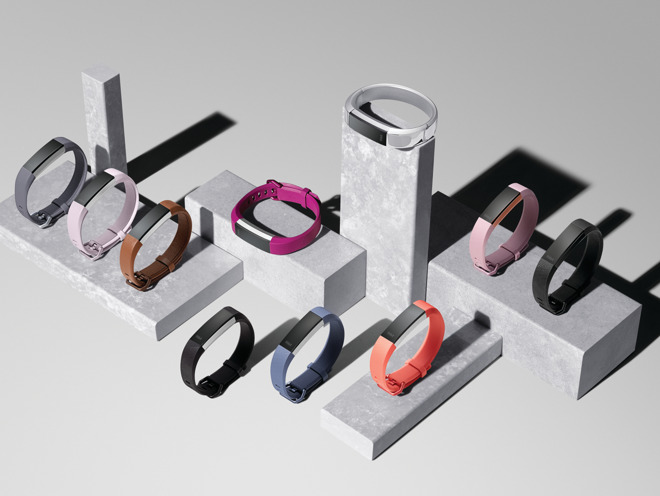 Fitbit on Monday revealed the Alta HR, an upgrade of its more fashion-oriented fitness tracker, plus plans to update the software on two of its other devices with better sleep tracking.
The Alta HR introduces a continuous heart rate monitor, using a specially-designed chip to keep the device thin, Fitbit said. The technology should provide more accurate measurements of calorie burn, particularly when doing exercises that don't involve steps — two given examples being yoga and stationary biking.
Notably the Alta HR still relies on automatic rather than manual exercise detection, making it less suitable for activities like weightlifting. It also appears to lack full waterproofing, though it should be sweat- and shower-resistant if it follows its predecessor.
Owners will also be able to see heart zones on the device and in the iPhone app's exercise summaries. The app should likewise offer resting heart rate data and trends.
New sleep tracking abilities enabled by the heart rate technology include estimates of time spent in light, deep, and REM sleep. The mobile app is simultaneously getting Sleep Insights, which will coach people on how to get better rest. It may for instance suggest more exercise, or warn people if they're sleeping too much on the weekend to compensate for short hours during the work week.
The Alta HR should ship in early April for $149.95, $20 more than the previous Alta. Two special-edition color combinations will cost $179.95.
Later in March, meanwhile, Fitbit will be releasing software updates for two other HR-equipped devices — the Blaze and Charge 2 — bringing them the same sleep stage detection.
While still the world leader in wearables, Fitbit has suffered major setbacks in shipments in recent months. The company is expected to more directly compete with the Apple Watch in the near future by releasing a true smartwatch.