'Can't Stop, Won't Stop: A Bad Boy Story' confirmed as Apple Music exclusive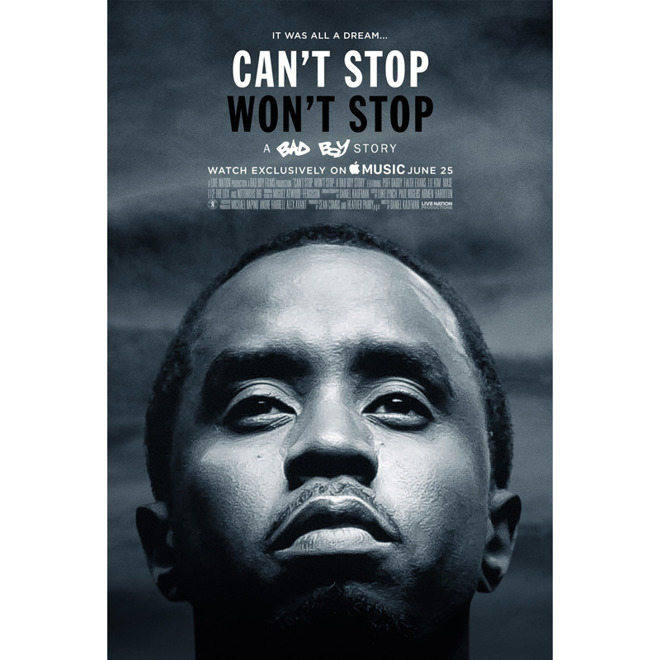 AppleInsider may earn an affiliate commission on purchases made through links on our site.
Almost immediately validating rumors, a new documentary on Bad Boy Records — "Can't Stop, Won't Stop" — has been announced as an Apple Music exclusive, arriving on June 25.
The film is centered around Bad Boy owner Sean "Puff Daddy" Combs, the rise of the label during the 1990s, and efforts to put together 20th-anniversary shows in 2016, according to Billboard. The documentary includes behind-the-scenes moments and interviews with industry executives, such as now-Apple Music head Jimmy Iovine.
"I went to the [Bad Boy Reunion] concert and thought it was incredible," Iovine told Billboard. "I think Puff and Bad Boy's story is incredible and one that a lot of people can relate to in any genre or in any business. His story is powerful. He really overcame a lot to get to where he's at today and the documentary shows that."
Apple will hold onto exclusivity for at least a year.
Echoing statements made to Bloomberg, Iovine promised that Apple has "a bunch of other stuff that we can't talk about yet because the deals aren't done."
Bloomberg said on Thursday that Apple may have up to 10 original shows and documentaries planned for 2017, other known titles being "Carpool Karaoke," "Planet of the Apps," and documentaries about Clive Davis and Cash Money Records.
The same report claimed that the push for original video on Apple Music is so strong that the "iOS 11" Music app will be designed to highlight it.
"Can't Stop, Won't Stop" will see an advance screening tonight at the TriBeCa Film Festival, currently ongoing in New York City.