Google adds iTunes, Apple Music shortcuts & more to iOS search cards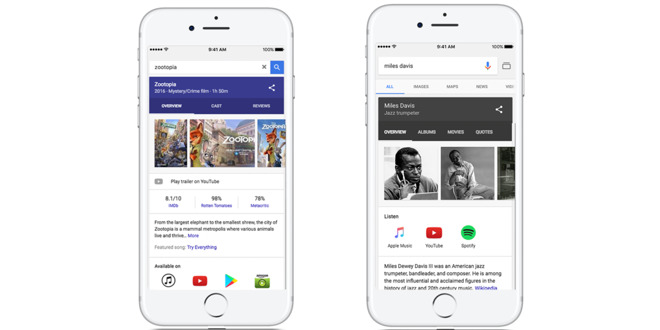 AppleInsider may earn an affiliate commission on purchases made through links on our site.
Google on Thursday began adding streaming service links to the "knowledge panels" it displays in iOS search results, among them ones for Apple Music and iTunes.
When searching for music, movies, or TV shows, knowledge panels may now include icons pointing to services where the media is hosted, Google said. Looking for the movie "Zootopia," for example, will offer quick links to services including iTunes, YouTube, Google Play, and Amazon Video. Some other services popping up in results are ABC, Hulu, Pandora, Vudu, and Spotify.
Movie and TV results should display pricing where applicable. With music, Google may link either directly to content or to "artist-seeded radio," depending on the service and a person's subscription plan.
Google has included such links in knowledge panels before, but only for Android and desktop users. In fact some iOS users may have to wait, as the updated results only appear to be rolling out gradually.
The change could eventually boost traffic to Apple's services, since the lead results in Google music and video searches are often IMDb or Wikipedia pages, or else official websites.
Google typically keeps parity between iOS and Android features where possible, but often brings new technology to Android first. With Google Maps, for example, it only recently brought Timeline support to the iPhone and iPad.