Apple's iOS 10, Siri & HomeKit bring accessibility to a quadriplegic man's entire home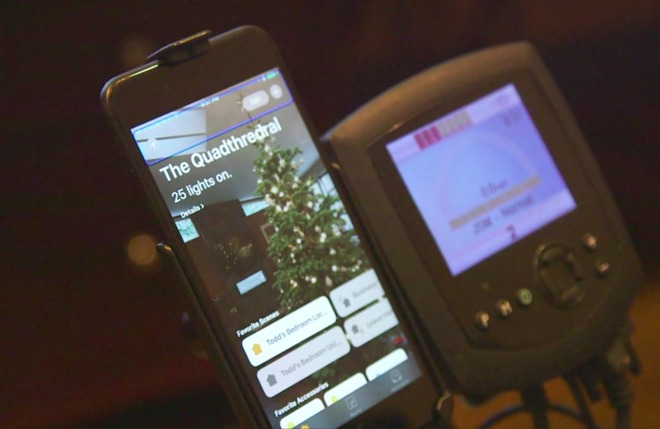 AppleInsider is supported by its audience and may earn commission as an Amazon Associate and affiliate partner on qualifying purchases. These affiliate partnerships do not influence our editorial content.
Todd Stabelfeldt has been paralyzed from the shoulders down since a gun accident at age 8 severed his spinal cord, leaving him confined to a wheelchair as a quadriplegic. Using iOS Switch Control, he's gained new abilities and independence through accessible technology. And now— using HomeKit and Siri— his entire home has become accessible.
In a profile by Chiara Sottile for NBC News, Stabelfeldt demonstrated his ability to navigate iOS using Siri and Switch Control, a feature that enables users to bypass their disabilities using alternative Bluetooth-connected input devices.
"I use voice recognition on my iPhone, pretty much every day all day," Stabelfeldt said, adding that he sends over 100 texts on an average day completes a phone call about every six minutes. Before Siri, the couple had to rely upon caregivers to relay messages. Now they can communicate directly.
Accessible tech has also empowered Stabelfeldt to run his own IT consulting business and a charity, the TSM Foundation, designed to help others who use a wheelchair.
Throughout his home, Stabelfeldt and his wife Karen have also taken advantage of Apple's HomeKit to automate the real world: opening doors, activating locks, turning on lights and closing shades.
His automated home appears in the new iOS 10 Home app as "the Quadthedral," taking advantage of customized scenes to trigger a group of automation tasks, such as opening the garage, disabling the security system and turning on entry lights when arriving at home.
Sarah Herrlinger, Apple's senior manager of accessibility policy and initiatives, stated in the report, "We put a lot of time and effort into making sure our products are as accessible as possible for all users. For some people, doing something like turning on your lights or opening a blind or changing your thermostat might be seen as a convenience, but for others, that represents empowerment, and independence, and dignity."
Apple's award-winning Accessibly
Apple has long pushed to make open accessibility a key feature of its hardware products and software development platforms.
Apple began bundling VoiceOver, an interactive screen reader for users with visual or motor disabilities, on its iPods, iOS devices and Macs for free starting with OS X 10.4 Tiger in 2004, followed by support included in iOS for the 2009 iPhone 3GS and various iPod models including the iPod nano released the same year.
Since then, Apple has developed assistive technologies including 2011's Siri— which debuted on iPhone 4s; Switch Control for iOS and Macs; the and last fall, Live Listen for users with hearing impairments.
Siri expanded to support Eyes Free use in cars starting in 2012, followed by CarPlay in 2014. Siri has also become a key feature in the company's emerging business of wearables, both with Apple Watch and the new AirPods, where Siri serves as the primary user interface. "Apple has done more for accessibility than any other company to date"
Mark A. Riccobono, president of the National Federation of the Blind, stated that "Apple has done more for accessibility than any other company to date."
The comment echoed praise from blind-from-birth performer Stevie Wonder, who in 2011 told his audience, "I want you all to give a hand to someone that you know whose health is very bad at this time. His company took the challenge in making his technology accessible to everyone. In the spirit of caring and moving the world forward, Steve Jobs."
He added, "because there's nothing on the iPhone or iPad that you can do that I can't do. As a matter of fact, I can be talking to you, you can be looking at me, and I can be doing whatever I need to do and you don't even know what I'm doing!"
Last year at its Worldwide Developer Convention, Apple hosted accessibility advocate Haben Girma, who spoke to attendees about the value of designing products with disabled users in mind.